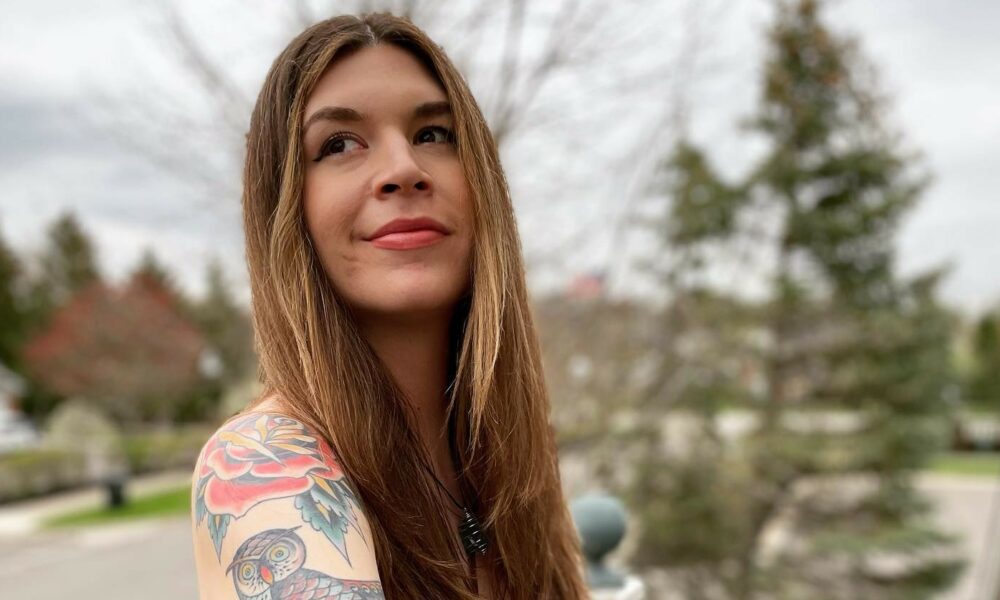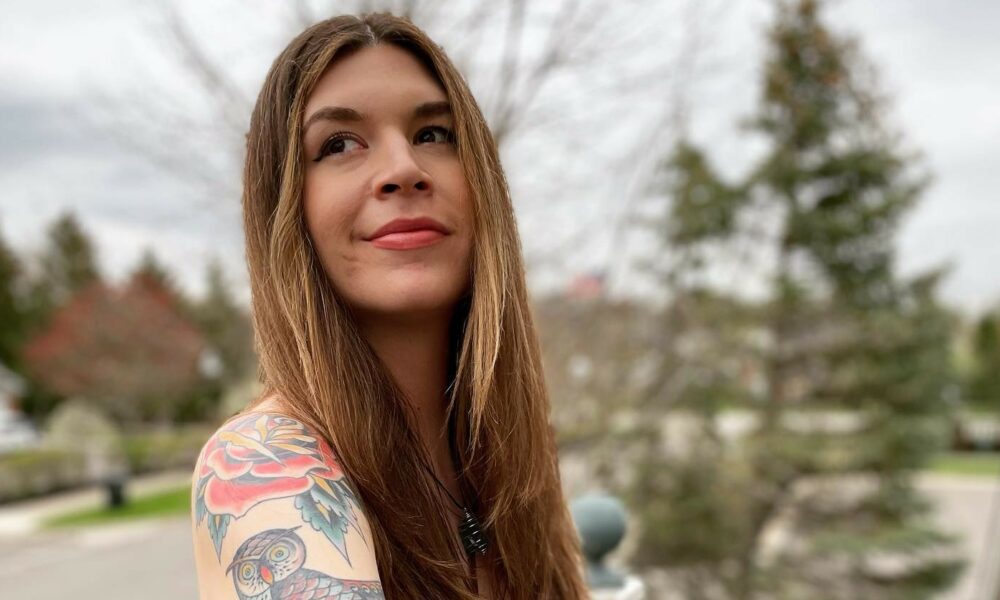 Today we'd like to introduce you to Joanna Sterling. 
Hi Joanna, it's an honor to have you on the platform. Thanks for taking the time to share your story with us – to start maybe you can share some of your backstories with our readers?
I have been playing music and creating songs for as long as I can remember. When I was little, I would make up songs and sing them all the time; it seemed to be that these songs would just pop into my head and visit and I'd do my best to translate them with my voice. When I was a bit older, I began to learn different instruments: first the violin and then the piano, which became my favorite. I could spend hours lost in a creative haze, just playing they keys and making sounds that were enjoyable to my ears. Although I started by taking piano lessons, I had a difficult time with the rules and regulations that my teacher tried to help me embody as a pianist. I sort of neglected the exercises I was supposed to practice, and always struggled with reading traditional sheet music. However, as an auditory learner, I was able to listen to my favorite songs on my Walkman (I know I just aged myself) and translate them to piano in my own way. I ended up stopping piano lessons at 13 and began my journey as a songwriter. 
It was a solitary craft at first, and I would wait until my whole family was out of the house to sit down at the piano and play and sing and write. I created my own private world of music that I could enjoy without the fear of judgment and couldn't imagine playing in front of others. This started to change when I was 16, and I signed up for a Rock Band summer music camp. During this camp, I was finally able to share my songwriting with an audience and although I was nervous as hell, I immensely enjoyed the rush of performing. I continued to play occasional shows during my college years in cafes and private music events, but I mostly kept playing and writing for myself. At 23 years old, I fell in love with the guitar and began playing that as my primary instrument. 
At 24, I started working with two of my musical friends Phil and Dylan who agreed to help me start a band. Phil played guitar and bass, and Dylan played the drums. We decided to center our act around my songwriting, and called ourselves "Joanna and the Jaywalkers." We gained a bit of momentum moving into 2015 when my friend April lent their vocal skills and played viola. At that point, I realized how magical stringed instruments were in my songs and since then, I can't imagine playing without strings. Sadly, April moved away at the end of that year, and we took a brief hiatus as a band. 
Then in 2017, with encouragement from some of my best friends, I decided to re-ignite my musical persona and finally work toward recording a professional album. This time I collaborated with a new friend Anthony, a fantastic cellist who has been an integral part of my music life ever since. I got together with Anthony, Dylan, and a new friend Michael who played bass, and the four of us recorded the first Joanna & the Jaywalkers album "The Open Sea Before Me" at Solid Sound Recording Company in Ann Arbor, MI. In April of 2018, we released our album. Our album release party was held at Cultivate Coffee and Taphouse in Ypsilanti, MI and was one of the most magical nights of my entire life. All of our friends, family, and community came out to support us that night, sang along to our original songs and covers, and we nearly sold out of physical CDs and band t-shirts. I had never felt so supported and exhilarated from a musical performance. 
And the rest was history. Since 2018, some of my band members have changed due to moving away and other life circumstances, but I remained active in the Southeastern Michigan music scene. We got the chance to play one of my favorite venues, The Ark in Ann Arbor, MI, and also got to play some incredible events such as the Ann Arbor Summer Festival. In 2020, we were getting geared up to record the second Joanna & the Jaywalkers album, but due to COVID-19, we ended up postponing the project. 
During the pandemic, I got the chance to go inward with my music again. I began writing more and honing my skills as a guitarist and vocalist by taking lessons on Zoom and developing my craft. I decided it was time for a shift. While I absolutely loved being the frontwoman of my own band, and I am eternally grateful for all of the musicians that have been by my side during this musical journey, I knew I eventually wanted to market myself as a solo artist. This was incredibly important to me because I took so much inspiration from female solo artists spanning from the '60s to present day. Some of my all-time favorites include Tori Amos, Joni Mitchell, Fiona Apple, Ani DiFranco, Jewel, and Alanis Morissette. I wanted to. make music like them, yet also offer my own unique perspective and voice as a trans woman. I never had a trans woman icon to look up to in the musical sphere I was interested in, so I decided I wanted to become the musical idol I needed when I was growing up. 
So, in 2022, Joanna Sterling was born. While Sterling is not my legal last name, it was the middle name I was born with and honors my departed grandmother's maiden name, who was one of the most loving and caring souls and also a force of nature. I wanted to honor my past, along with my grandmother, by embarking on a new musical journey as Joanna Sterling. I continue to play live as a solo act, as a duo with my ride-or-die musical partner Anthony Marchese, and as a full band (these days consisting of Anthony, Mel Clark on vocals, Adam Har-Zvi on double bass, Lauren Pulcipher on violin and Amin Lanseur on percussion). We are currently recording a new album, the first under the new name, and are so excited to release it in the Fall of 2022. I can't wait to see what the future holds for my musical life and no matter what, I plan to continue playing, singing, and writing for the rest of my life. 
We all face challenges, but looking back would you describe it as a relatively smooth road?
Absolutely not. Being a professional musician is a ton of hard work, and there have always been curve balls thrown my way when it comes to expanding my musical career. Since I haven't achieved the status of a musician to make it my sole source of income, I have also pursued a career as a Clinical Social Worker, and currently, work full time in addition to running a small private practice as a mental health therapist. I absolutely love my job, though the demands of being a therapist can be pretty overwhelming at times, especially in regards to the pandemic which has taken a huge toll on everyone's mental health. However, playing music is my own version of therapy and I've tried my best to make as much time for it as I can. 
Some other difficulties have come from the changes in the layout of my band. I've had the opportunity to play with dozens of musicians in the last decade, though due to life circumstances, many times people have moved away or had to stop playing in the band for personal reasons. So, there is a constantly changing landscape of bandmates and format that we've had to adapt to. Also, it's been a bit tough to gain momentum of course with the pandemic, which has limited our options for playing live and getting out there. We are seeing that change a bit this summer, and have a pretty full schedule of shows, so we are excited and hopeful that this will change for the better. 
Appreciate you sharing that. What else should we know about what you do?
I am a singer-songwriter and a multi-instrumentalist (mostly guitar and piano). I am known for playing original music in the Southeast Michigan music circuit, formerly as head of the band Joanna & the Jaywalkers, and more recently as the solo artist Joanna Sterling. 
I don't know exactly what sets me apart from others in that I think there is a plethora of talented and amazing artists that work and perform in my community, that I'm constantly inspired by and in awe of. However, I do think I offer a unique perspective. While there are a great deal of folk singers who play in a chamber-style ensemble, and there are a great deal of trans artists, there aren't a whole lot of artists who are in both of those categories, and I'm happy to occupy that space. Being a visible trans artist is super important to me because I want trans kids to see an example of a happy trans adult living a full and rich life, being able to express herself fully and authentically. It was scary to be open about my experience due to the intense transphobia that exists in our world, but the hate I've received pales in comparison to the immense love and support that I continue to cherish. 
I'm most proud of staying true to myself, as an artist and an individual, and always keeping my music honest and truly representing who I am. 
Can you talk to us a bit about happiness and what makes you happy?
Happiness is kind of an obscure concept to me. Sometimes it feels like we are all reaching for this unobtainable standard to be "happy." But the fact is, life is full of stress and sorrow and pain that I don't think we can ever escape from. 
Joy is another thing entirely. Joy is something that I believe is always available to us even in the darkest of times. To me, joy is getting an audience to sing a section of my song and harmonizing with them. Joy is the rush of a performance that I know went well and leaves me glowing. Joy is smiling and laughing and joking with my loved ones, or sometimes simply being on the couch with my partner and our cats watching RuPaul's Drag Race. 
As heavy as life can get sometimes, it's the simple pleasures that I try to be present with and to find joy in, even when it seems hard to do so. 
Contact Info: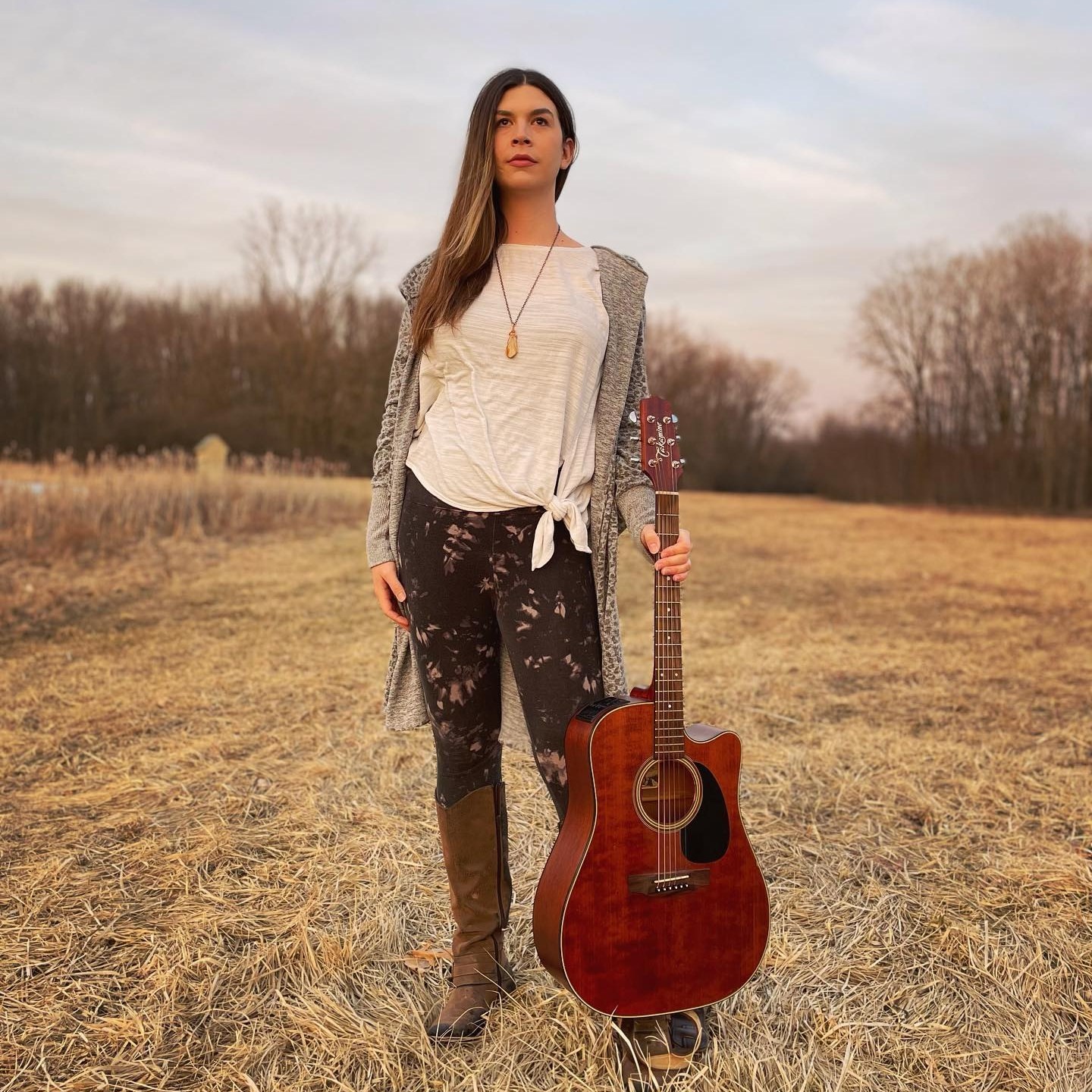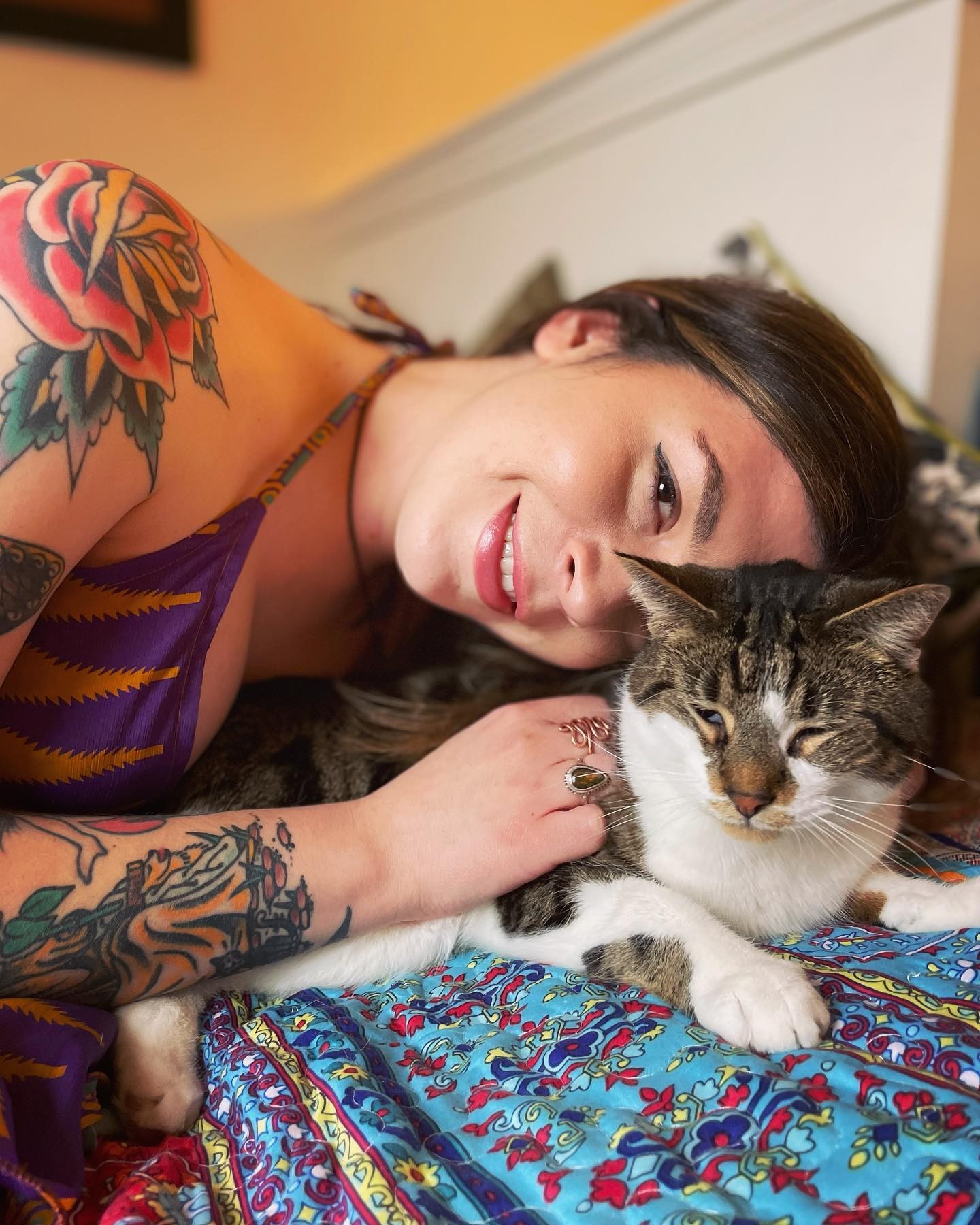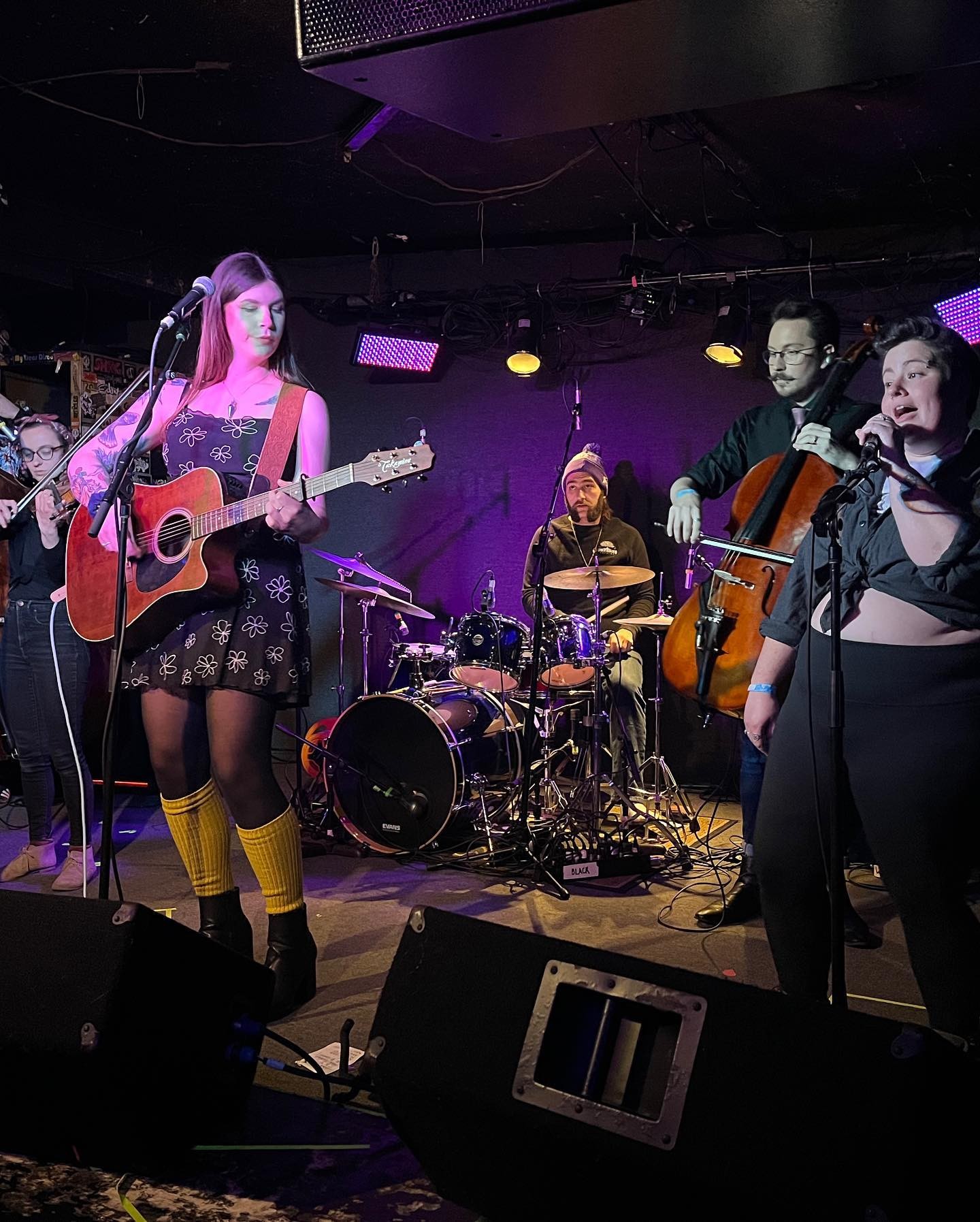 Image Credits
Mel Clark
Suggest a Story:
 VoyageMichigan is built on recommendations from the community; it's how we uncover hidden gems, so if you or someone you know deserves recognition please let us know 
here.