Today we'd like to introduce you to Kelly Hartman.
Hi Kelly, so excited to have you on the platform. So, before we get into questions about your work-life, maybe you can bring our readers up to speed on your story and how you got to where you are today?
My career & love for networking started right after graduating high school, I was the only one hired in my department without a college degree to "prove" my skills, so I was determined to do a great job for my employer and customers. I wanted people to get to know me, like me and trust me. I have never been a "surface" level type of person. For me, it's all been about building long lasting and meaningful relationships.
As a lifelong product junky I always liked trying new products and then sharing them with others. I found myself referring my lady entrepreneur friends, talking about their products, and always thinking about who I could connect them with.
I have always enjoyed seeing others succeed and live up to their potential. I also know the importance of being surrounded and supported by encouraging women and wants everyone else to experience that as well. I saw a need to help build each other up. "We all have something valuable to offer each other, we just need to be introduced to the right people."
During my years in sales and marketing, I attended networking events, and referral groups, and was involved in Chambers – an Ambassador and Leadership graduate for the A2Y Chamber of Commerce. "Networking and building relationships are keys to success". For some, it can feel overwhelming or uncomfortable to attend these types of events.
I thought it would be fun to start a sisterhood where everyone would feel welcome and like they were just hanging out with friends. Be able to lean on each other for ideas, questions, and referrals. What better way than to introduce friends that have their own business and start their own referral group.
I started Boss Ladies back in 2017 and I created it, in part, because I'd come to realize just how important networking had been for my career up until that point. In my previous professional endeavors, it was important for people to know, like, and trust me. Networking was always my answer to that. And while it came naturally for me, I knew it wasn't easy for everyone. I was also driven to help other female entrepreneurs, in particular, and to create an environment where networking was the core mission.
While there are other networking companies out there, Boss Ladies is for women to empower other women. One of our taglines is "collaboration over competition". We work every month to build a community of comradery between women entrepreneurs.
Covid was a time of self-reflection for me personally as well as for my business. While we stayed busy hosting virtual networking events, it afforded me some extra time to map out new growth strategies. One thing I'm excited about is our goal of expanding to other metro areas outside of Michigan. Thus, streamlining everywhere is our goal. I'm excited to expand Boss Ladies' reach and help more female entrepreneurs.
I also officially launched my 2nd business: https://kelhartman.com/
Would you say it's been a smooth road, and if not, what are some of the biggest challenges you've faced along the way?
Definitely not! Things may seem smooth and easy for me now, but they weren't always this way.
My plan 5 years ago was not to start a business and become an entrepreneur, although many times I would dream about it, along with the freedom it would bring. My goal at the time was to do something fun as I searched for a new career path. However, God had a different plan. This is where Pray.Wait.Trust comes in. 🙂
In my previous professional endeavors, it was important for people to get to know, like and trust me. Networking was always my answer to that. And while it came naturally for me, I knew it wasn't easy for everyone. I was also driven to help other female creators, in particular, and to create an environment where "networking" was the core mission, but done differently, fun, welcoming and uplifting.
This was a big idea that happened in small space (my then condo) our first networking meeting where what we now call a "Connect" – began.
I came up with a cute little invite, an agenda and talked to my friend Laura about a logo, tag-line, etc. because doing it big and being creative for events whether it was for my friends or a work event is what I have always enjoyed and been known for doing well.
While I had a master plan of how the event would go and how I would get people to interact—down to the very last detail!—the women started connecting organically. We were trading experiences and backgrounds and making connections.
I will never forget standing in my kitchen looking out at the ladies in my living room with tears in my eyes & thinking WOW there's something really special and bigger here. There was a desire and a need so in that moment I decided to go for it!
Like many entrepreneurs, when I started my business, the first few months without much income was terrible. Over the next few months, I continued the Connects and took a brief business course at Build Institute Detroit. However, making major changes in my personal lifestyle to follow my dream was also hurting my self-confidence.
Remember, I didn't start this business with capital. In order for me to continue, I had to get creative to generate funds. I moved out of my home and turned in my lease vehicle. I was used to nice material things, but now my new business was where my heart wanted to follow and the freedom I wanted. I have to admit, it felt terrible at the time.
What I did have was alot of "tools" and previous connections (this is where using what you have comes in to play). From my previous careers I knew how important it was to stay organized & track leads – I started structuring with a project management system. A previous co-worker was working for Cheddar up – the easiest way to collect funds and forms, so we connected to make a plan on that end while I also began building my email list and social media pages.
My first year I set a pretty lofty goal of 100 members. At first, no one subscribed to my list but with consistency my list started to grow. And guess what?!! I exceeded my goal with 150 members in the first six months of launching as a full-time business and became the 1st networking group specifically for women entrepreneurs in MI.
I'm thankful for the power of community and success we reached due to the founding members that believed in the mission and helped spread the word which really helped build the business.
Previously, I shared my start-up struggles with you but I what I didn't say was that three years ago at this time I didn't have a working vehicle to get to MY OWN event! This is hard for me to share, but I have promised this community I would tell more of my story and keep it real.
I wanted to help female entrepreneurs, but the truth was, I needed to get my own business up and generating income. The R.O.I. was poor, even though the events were a hit and they were providing the platform to make these amazing connections and collaborations happen. The worst part was that it broke my self-esteem. And I almost gave up.
I'm a very nostalgic person, so of course telling you this I began looking back at pictures. I came across a picture and was like omg that was the "Connect" Event where I had to take a Uber!
Yes, to my own event I took an Uber 30 miles b/c the vehicle I was borrowing – a HUGE Ford Diesel Truck during the transition of turning in my lease vehicle and buying a pre-owned vehicle (7 long months) wouldn't start AND to top it off.. it was freezing cold, icy and snowing! ❄️
I vividly remember the drive there and the Uber driver trying to make small talk with me, but all I could think about is – what will people think when I get dropped off by Uber? How embarrassing! I'm the Founder of a company and I don't have a nice vehicle, designer clothes or my own nice home anymore… ETC.
Today, I look back on this "event" so different.
In the picture that I came across – I see my friend, my mentor, my Heather, in the back row smiling and happy. Heather was sick with cancer, BUT she still showed up to the Boss Ladies Connect – driving just as far as my Uber ride and in the snow. She had a cane to help her walk, felt awful from chemo, but never felt sorry for herself!
I saw her pull up and went outside to walk her in. She held on to my arm and told me like she always did, how proud she was of me for starting Boss Ladies and how much she always enjoys the events + the ladies that she meets. Thinking about her determination, positivity and love for experiences and relationships, not material things made all my previous negative thoughts quickly disappear! We walked in with our arms linked and I felt like a "Boss Lady" again!
Ya'll this entrepreneurial journey has been a trip, am I right?! Lol – in year 4, add in a global pandemic to see how I weather this storm! But this is what we have to do to see the sunshine.🌞 This was motivation for my business. I had to keep going but, I also knew I had to change direction quickly or everything I worked for would dissolve.
I did a lot of research over a six month period on how I could save ladies time, while accomplishing more and how to help grow their network even more.
That's when I came up with the idea to have VIRTUAL CONNECTS!
Yep, these launched in December 2019, prior to the Pandemic – thank GOD!!!
Thankful this new option would not only help with connecting women from all the cities we were currently in, so they didn't have to commute and be gone from their family or business. Plus, summer has always been low attendance because kids are out of school and summer vacations but, now this would also allow me to connect more ladies all around the world.
So far, I have shared parts of my story about how Boss Ladies Referral Crew came to be and my biggest take-aways. These are to: always show up and do the best with what I have, AND to follow His voice when I pray about something. Even if it sounds crazy to others.
For me this was taking the business world wide through virtual platforms before the Pandemic, which was the key to growing in my personal life and business. Plus the feedback about community, connections, local touch points and camaraderie from the BLRC members were driving me to make this work!
Also, life changing for me personally was being able to become a "snow bird". Holding virtual events from anywhere let me spend time with my friends and family that are all spread out and enjoy the sunny Florida weather in the winter months ~ knocking out that seasonal depression.
I know entrepreneurship isn't easy but, keep pushing through your pain to find your passion. Before launching Boss Ladies Referral Crew 5 years ago as a business, it was a passion project. I am in the next stage of building another business (more to come on that) and it blows my mind to think how much I've been through and how far I've come.
Remember the saying, "If you want to go fast, go alone. If you want to go far, go together!" We all have phases of struggles and breakthroughs. Support those around you, even those that you think may not need it…those are probably the ones that need it the most.
Here's a takeaway, "Do the best with what you have and represent the greatest version of you regardless of where you are on your journey."
I hope my breakthrough will inspire you! <3
Alright, so let's switch gears a bit and talk about your businesses currently. What should we know about your work?
What I hear from so many ladies is that BLRC is very welcoming to all, the ladies always make a connection, and they can tell that I am truly passionate about connecting them and all the other help I give along the way. I believe that's what sets me apart. People can feel when you really care and want to help them.
I started Boss Ladies Referral Crew in order to offer the most welcoming community of camaraderie for female creators to connect with other dreamers, passion project go-getters, solopreneurs + entrepreneurs. build relationships, collaborate, support, learn, inspire and refer to each other.
BLRC is dedicated to supporting ladies by helping build relationships, and business audiences, collaborate, inspire and refer each other with our Connects + keeping skills sharp with our Masterclasses by learning from experts across countless industries. We aim to support you and help your brand be seen as a reputable and trusted source.
The ladies of the Boss Ladies community described me as unstoppable, connected, genuine, uplifting, compassionate, engaging, tenacious with all heart, inspiring, faithful, authentic, and kind.
I love having a community (BLRC) and now being able to help one-on-one. During covid, I focused on maintaining the community and reaching out to each member to see how I could help them. This is what grew into me launching kelhartman.com.
I learned there were basically 3 needs & everything else fell under those categories: Strategy, community, and connections.
As a Start-up & System Strategist with a background in marketing, advertising, sales, project management, franchising & startup companies – including my own for 5 years, leading other boss ladies @bossladiesreferal my idea-generating skills will help put you into action mode.
Overwhelmed with launching a business or feeling stuck where you're at? I help creative female entrepreneurs bring their dreams to fruition. I'm here to help you build your dream business by brainstorming, strategizing, fresh ideas, tools & connections.
I am your struggle solution! All of my experience and relationship building in my careers and years in networking (since I was 18 years old), have established me as an expert among my peers. I enjoy seeing others succeed and live up to their potential. I also first-hand know the importance of being surrounded and supported by encouraging women and I want everyone else to experience that as well.
Stay tuned as I am evolving and so is this new venture already …
Check out a few testimonials: Kelhartman.com
Are there any apps, books, podcasts, blogs, or other resources you think our readers should check out?
Insight Timer is my jam! I listen every night before I go to bed – it's part of my nighttime routine. I have found it to help relieve anxiety and fall asleep quicker. Also, love meditations by Amanda Frances – in regards to self-love and money.
Spotify because music is life! In the morning I have meditation music playing, jazz vibes if I'm concentrating & a little hip-hop to get me going!
Pinterest for nail inspo and recipes. I love cooking! It's therapeutic and a love language. ☺
Audible bc I love listening to books over actually reading. I digest better that way. Currently listening to Rich as F*ck by Amanda Frances.
C25K Recently got back to jogging 3x a week. Along with yoga 2x a week. Moving my body energizes me and brings mental clarity.
TikTok – To make fun videos with music showing life. I love being creative.
Contact Info: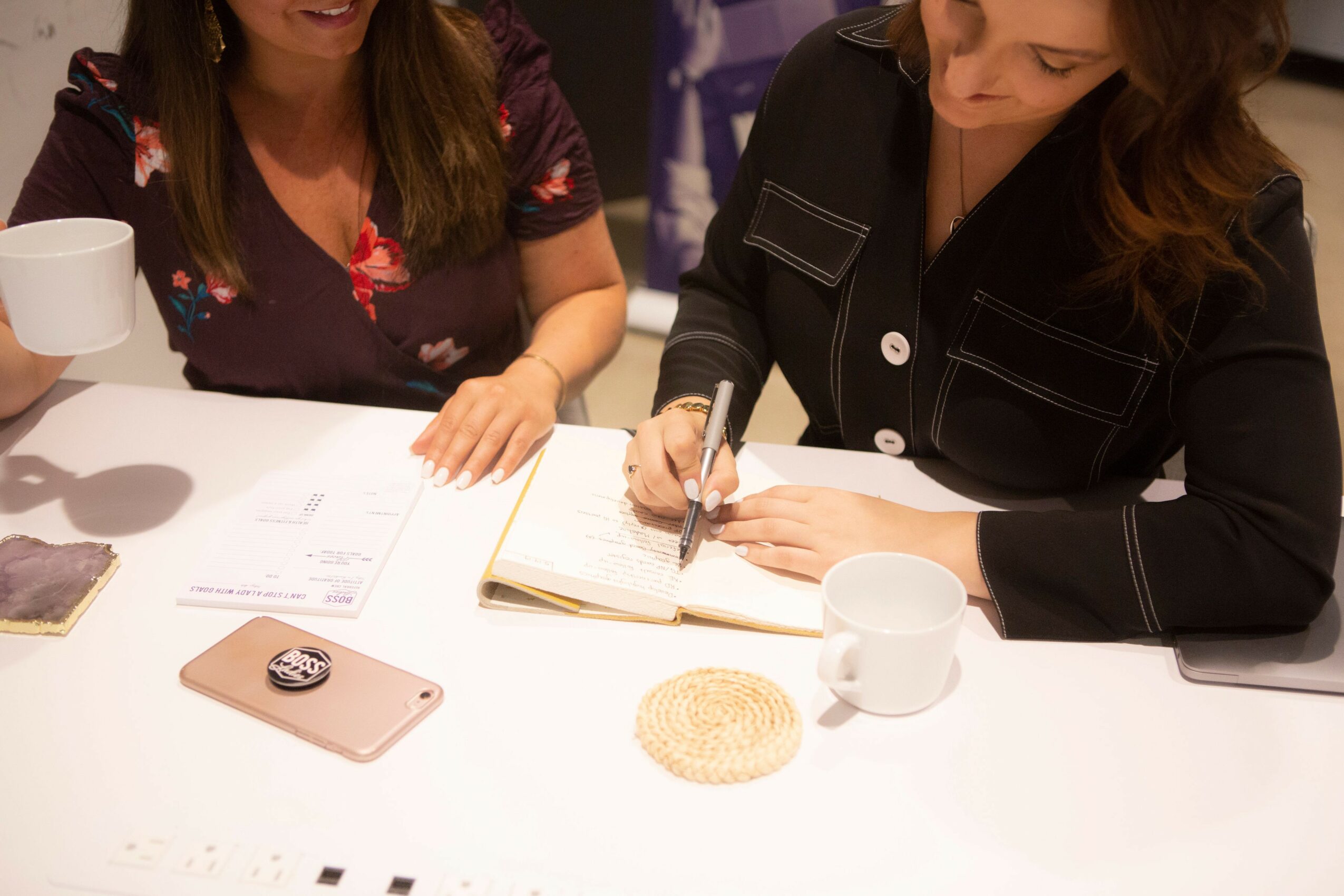 Image Credits
Nikki Closser
Trae Bohlen
Suggest a Story:
 VoyageMichigan is built on recommendations from the community; it's how we uncover hidden gems, so if you or someone you know deserves recognition please let us know 
here.