Today we'd like to introduce you to Christopher Grayer Jr. 
Hi Christopher, so excited to have you with us today. What can you tell us about your story?
Well, I was born Christopher Grayer Jr in Detroit, Michigan. In June 1996 my life was pretty much normal as a kid. I wasn't always the music artist RichNextWeeknd, but I've always had a deep passion for music and fashion since a child, but it wasn't until age 7 when I realized I wanted to create my own music. It started as a coping mechanism to deal with my father's passing as well as my emotions. I would freestyle with my older brother all time after school or with the friends I had after time. From age 7-11 I would freestyle all the time for fun or to vent to myself. When I turned 12 me and my family moved to North Las Vegas, and that's when I started to write music on a serious level. Going by the name "Lil C" I had met my good friend Kue who also had an older brother making music from home in his studio. Me and Kue would write together, learn how to create different melodies and punchlines as well as practice our songs whenever we could. I ended up moving back to Michigan during high school where I continued to write songs and build a bond with my friend Royal but didn't record any songs until I turned 19. At the time, I was in community college but wasn't really feeling it that much. I remember one day being like this doesn't feel right to me, I took my test and went to record my first track to hit the streaming services "1738". I didn't ever go back to community college, but I continued to make music and grow as an artist. From 1738 I went on to make songs on SoundCloud and also release a few more singles on all platforms, Tracks like "This isn't Prom" "Lonely Together," where I was still learning how to mix music from home, I kept them on the services because I like to hear the growth of my art. At first, I mainly was making hiphop/R&B music, but I always wanted to branch off into other genres and even other art forms. In late 2017 I met one of my now band members and close friends he goes by T'Challa. We met at a local pop-up event that he had designed some clothes for, and I told him about some of my music (they also played some tracks at the pop-up). He liked what he heard and wanted to make a track with me later on. A few weeks had past and he invited me to his home studio, and we came up with the track called "Night ride" produced by Tydiditagain. Ty worked on the beat for about 2 hours while me and T wrote as it went on. We dropped a track, and Destin made the cover art for it, but we didn't stop there. We ended up making a pop song called "Too much sauce" it's very upbeat it almost sounds like a house track. We dropped it on streaming services, and it got a lot of great feedback. People would ask us if we're a band because the music we made and how it looked when we were out and about at first, we would say no. Over time we continued to make music together and decided to form the band SAUGE. We are a genre-less band that dive into different forms of art that we also incorporate into our music. Topics that discuss our real lives things that we do and things that interest us. In between forming the band, I also started modeling as well. At first, I used to be really camera shy and didn't like pictures so much. The more I kept getting invited to do photoshoots the more I gave in and became more confident. T'Challa actually taught me how to walk on runways before my first fashion show at "Michigan fashion week". I've done some work with some great brands in Michigan that showed me the undeniable talent Michigan possesses. My second and third runway show was with Deviate fashion. Who has also presented music opportunities to me while modeling their work. I've made a song for a deviate show that was held in New York that hasn't been released yet but was played during the showcase. The showcase included me and 49 other artist of different categories all put in one place. The result ended in being in the New York times with the other artist alongside deviate. Overall, I'm still creating more music solo and with SAUGE. I'm actively doing photoshoots and fashion shows in Michigan as well. Enjoying the journey taking it day by day. 
Would you say it's been a smooth road, and if not, what are some of the biggest challenges you've faced along the way?
There are times when it does seem smooth, but this isn't always the case. I think the hardest times were more so in the beginning stages when I didn't know what I was doing. When I was looking for studios to record in when I didn't have any money to afford studio sessions. I was trying to figure out how to expand my sound and wasn't aware of the resources that I'm aware of now. The will to continue during some points got a little rough as well telling everyone that I make good music with nothing out to show them got difficult. I remember this one time I met Big Sean at a best buy, but during his hall of fame CD signing, everyone was playing him songs and I felt defeated because I had nothing to show him. During times when I did find a studio, I still struggled with recording and having the songs come out the way I wanted them to. I didn't have a professional engineer yet and sometimes would take mixing tracks into my own hands. While learning how to mix music, I would be hard on myself for not being great at it instantly. Honestly, that's the biggest struggle being an artist to me. You want to be great when you start, but all great things take time and patience. There are still a few struggles now like sometimes I get creative block where I don't have any ideas but feel the need to make something new. Promoting as an independent artist gets really expensive, and when it comes to growing audiences, you need good promotion. Everything coming out of pocket along with regular living expenses gets rough at times. When things get to a stagnant point, I try to think of ways to elevate my creativity, and that's what makes these struggles short-lived. 
As you know, we're big fans of you and your work. For our readers who might not be as familiar, what can you tell them about what you do?
Well, I'm a singer/songwriter, music producer, band member, and model. 
My specialty is really hiphop/R&B music 
I'm more known for my music or modeling, catchy chorus lines, and smooth mellow melodies. 
Most people talk to me about their love for my song "1738" which is one of my earliest songs that I released to the public. It ranges from the partying lifestyle that I had when I was younger. Really was just a fun track to make. 
If it's not that, then some people talk about the photoshoots I've done or shows I've walked in. I think one of my personal favorites is when I walked for Michigan fashion week, I think it's because it was the first show I had ever done. 
Each day I become more proud of how far I've come from the start of it all. I used to dream of being on platforms like pandora Spotify and apple music. I used to dream of performing on stage in front of a crowd of people. I used to dream of recording my songs and hearing them out loud. I'm proud to be able to say that I'm turning my dreams into reality with true support and love around me. It took a lot for me to believe in myself and to make it true but I'm glad that I never stopped especially during the struggle moments. I actually put together a show with my girlfriend at DIME Detroit where I headlined called "A Day at the Bank" I performed for an hour Nowell (I featured on his track "insecure") and Royal (amazing lyricist who I wrote with since high school) where featured artist in the show. Me and SAUGE also performed at the Crofoot in Pontiac in June, too those are some of my proudest moments in my music career right now 
I think what sets me apart of others that do what I do is mainly authenticity. My passion for what I do is why I do it not for the monetary value or glitz & glam. My music is a part of my real life no song is a made-up scene or scenario. So, when it gets personal it's like your living life with me. 
Vulnerability in hiphop is pretty scarce that's something I feel I bring to the table with hiphop songs and r&b songs. Being myself is what true creativity is to me I think that most artist create a character to be I'm basically saying in music that being yourself in whatever emotional state you're in is more than ok and way more than enough. I'm the proof that everyone can create no matter your story or where you come from. We are all unique. Like there is only one you there is only one RichNextWeeknd 
Any big plans?
I usually work 7 months ahead I've always have right now I'm working with my band on an EP, and I'm really looking forward to everyone hearing that. I'm also working on a solo EP I call "songs in blue" this is a part of a music series that I started back in 2019 I started with "songs in yellow" followed by "songs in red" which was recently followed by "songs in black". I'm also working on other single tracks I'm looking forward to dropping this new single called "Talk like me" feat De'Von Cannon (My older brother). Who's also featured on a track called "Something" it's great because I'm doing music with the same people I started with. I plan on making music that's live like with a live band, and that makes you feel something inside. I'm working on an album as well, but I plan on taking my time with it, I want to make sure the message is something really touching and cohesive. SAUGE just shot a music video to a single we have coming out called "R.G.W." it's actually our first video as a band, so I'm excited to see how it turns out. I have a few photoshoots I'm excited to see. I know they turned out great. I'm just excited in general I can't wait to see what more I accomplish on the road ahead. I'm also back in school for a few months, so I'm excited to see what it teaches me. I honestly didn't think I'd go back at first, but it's different this time. This is something I want to do. 
Pricing:
Verse/hook pricing: $500+
Ghostwriting: $500+
Production: leases start at $80+ Depending on what type of lease
Exclusive beats: $500+
Modeling: $75hr
Contact Info: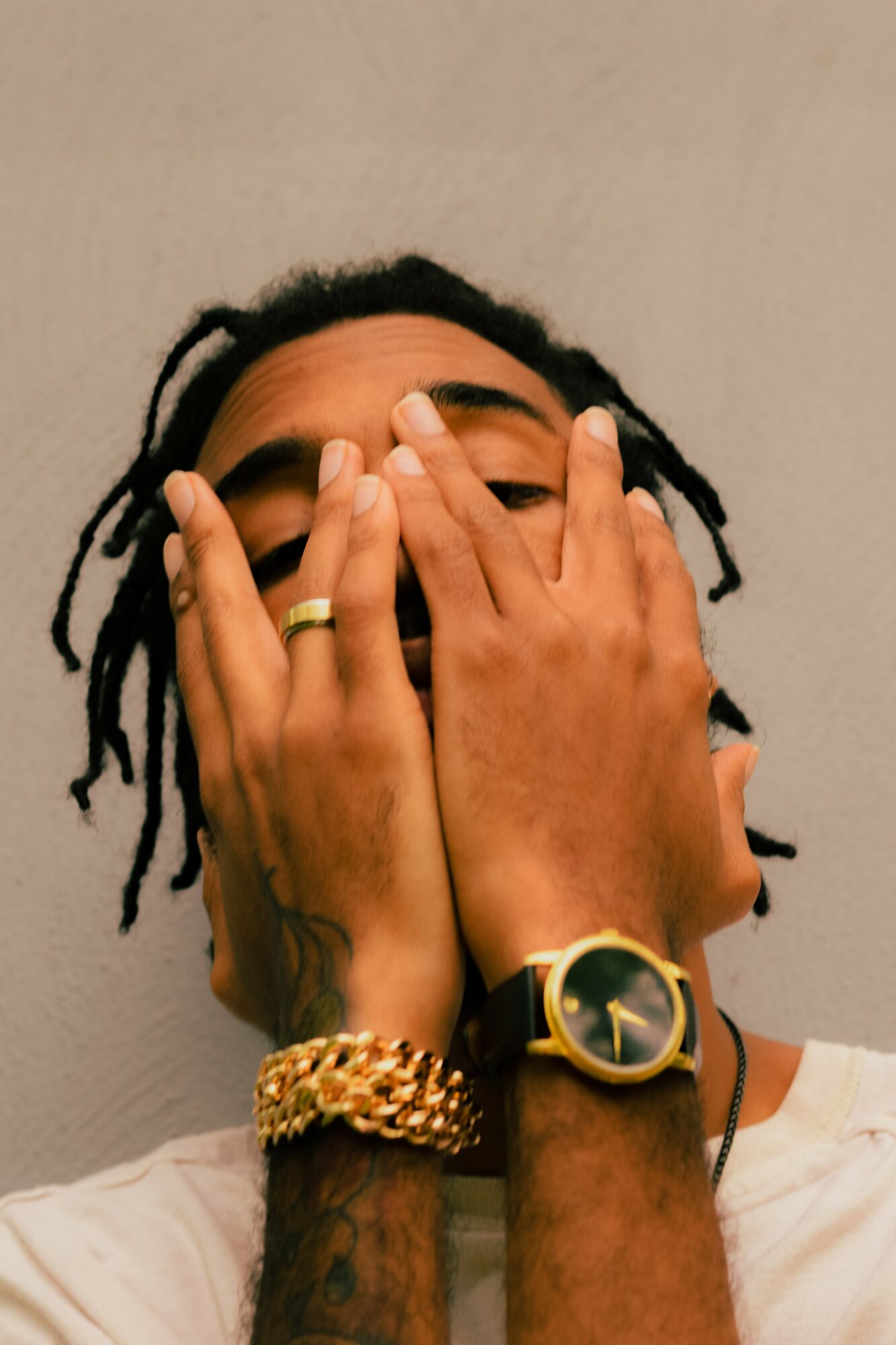 Image Credits
Destin Hinton
ShotbyMatt
Lily Ann Foley
Rated R Robbie
Benzo Be
Agbfoh
Daniel Square
Mello Dez
Suggest a Story:
 VoyageMichigan is built on recommendations from the community; it's how we uncover hidden gems, so if you or someone you know deserves recognition please let us know 
here.