Today we'd like to introduce you to Lisa Sandin. 
Hi Lisa, so excited to have you on the platform. So, before we get into questions about your work life, maybe you can bring our readers up to speed on your story and how you got to where you are today.
Living in a disabled body and moving on the yoga mat, or across the Nia dance floor gives me a unique perspective on how bodies adapt to movement. 
I started teaching yoga to bring yoga to the often-overlooked population of people who are living in bodies that are vintage, disabled, or recovering. The fitness industry has places for healthier bodies. People with heavy or unfit bodies can go there, but they often feel uncomfortable. Programs exist for very senior bodies, but many students feel it isn't enough for their ability. I see disabled bodies either from accident, aging, or birth, not getting enough support in traditional settings. Disabled people have to just figure out how to make it work for themselves. I wanted my studio to be a place where every Body, regardless of ability feels welcome and can create movements to give them relief and joy. 
For fourteen years I've worked to create and keep that intention alive. The Covid years have been very challenging, but I've managed to stay open and continue to teach. Now more than ever I see teaching yoga and Nia as a vital resource for the community. We kept the studio open and I'm more committed than ever to what I do. The downtime under Covid gave me the opportunity to focus on my personal journey and to study and hone my skills. Oddly, I'm grateful for that time. I think I came out of these last two-plus years a better teacher. 
Can you talk to us a bit about the challenges and lessons you've learned along the way? Looking back would you say it's been easy or smooth in retrospect?
Are there smooth roads? Creating a studio space and finding students to support it takes time. I'm constantly challenged to grow, adapt, and learn new things. Every student offers me an opportunity to find a new way to vary a pose to meet their needs. It's always about them and how can I help. Covid was tough. I was shut down about six months. Six months of paying rent and fees without income. How I teach doesn't lend itself to zoom classes. I use lots of tools, blocks, blankets, straps, etc. I connected with my students through online group meditation classes and waited for the opportunity to reopen. I used that time to study and do my own practice. It was quite a productive time for me. I focused on accessible yoga techniques and danced a lot of Nia. I was very happy to reopen, although to do so in my small studio I had to double the number of classes I teach and limit the numbers of students. We've done a lot of classes in masks. The smaller class size allows me to focus more on individual students' needs. 
We've been impressed with Heart and Sole Yoga, but for folks who might not be as familiar, what can you share with them about what you do and what sets you apart from others?
I teach accessible yoga and Nia. My focus is to create a movement practice for everyone regardless of ability. We use tools, visualizations, and infinite variations of poses to move our body in ways that nurture and support. I've had several wonderful teachers. Three specific teachers have greatly influenced me- Bernie Clark, Debbie Rosas and Jivana Heyman. All leaders, they share a common approach- move your body's way. What do you feel and where do you feel it? How can you change it and safely explore finding more. Are you present in your body when you move? Can you create pleasure in moving? I am so grateful to each of them for helping me to find peace with living in my own body. 
For most of my life I was judgmental of my disabled body. The practices of yoga and Nia helped me become more comfortable in my skin and bones. Aging helps me to treat myself with more loving kindness. I care for the place where I live, today's body. I'm aware of the need for conscious movement, breathing, and meditation for the health and healing of my own body. I am so much more than a physical body, now in my 60's, I deeply appreciate the body's elegant design. I revere that we continuously change, adapt, and reframe as humans walking the path towards death. I feel so blessed to have students living in their seventh, eighth, and ninth decades creating a practice for today's body. I learn so much from them and their body's needs. My students have made me a much better teacher. It is my honor to share the practice with them. It is my goal to help them continue life's journey in the healthiest body they can create. Modify, reframe, adjust, accept, be present, that's our practice. 
I created Heart and Sole Yoga as a safe place where we can gather in community and move without judgment or expectations and create a safe practice. Sometimes we don't feel welcome in gyms or fitness facilities when we are recovering or exploring new ways to move. We are in a continuing journey of adapting to today's body, reclaiming movements we have lost after an illness or injury, or in accepting changes that may be permanent and learning new ways to move. My focus is to help each student create movement forms that feel safe at today's edge, support the movement with any tools, straps, blocks, bolsters, chairs, or walls and move into the pose to feel sensation, opening, strengthening, without pain to feel better in their body. It's essential to turn off the judgment and expectations, move the breath, slow the thoughts, and be present in how your body wants to experience the pose today, now, in this moment, this practice. 
When I dance in Nia, my body's way, I am alive with pleasure. Every movement intended to create sensation to explore wearing today's skin. I enjoy the stretch, or the sink rise, or the circling of my hips and the movements of my hands and fingers. I'm so connected to breath, body and the earth supporting me. If I'm a bit asymmetrical, no worries. If my movements are small, that's fine. If I lose the beat and forget to change sides, no harm. Be present and enjoy. Nia is magical. I love that my Nia students laugh, smile, and sweat and find so much pleasure as they move. 
Have I been successful in my creation? I hope so. I think so. I try to make my space accessible to everyone. In fact, I invite you to share your life's journey with me. My ignorance can be changed through my effort. Maybe I've never given your illness, disability, or experience any thought. I'm excited to learn about you. 
Can you share something surprising about yourself?
First of all, I believe Rudolph the red-nosed reindeer was a superhero. When you don't fit in the typical mold, it's harder to find your community, your place in the world. I always felt like I didn't quite fit. In yoga and Nia, I was able to find teachers who helped me to discover my Self. I wanted to create a community where we could all discover our superpowers. Our human design is so elegant, so incredible. Each person's uniqueness is what helps every community thrive, grow, and reframe ideas. I hope that Heart and Sole Yoga is a place for community, a place where everyone can create a practice and support the students around them to find theirs. Each of us can move in our own unique way on the mat and the dance floor. I want all my students to move in their unique way, regardless age, sex, size, health, or even asymmetry, to create healthy lives as we play on our journey together towards death. 
Contact Info: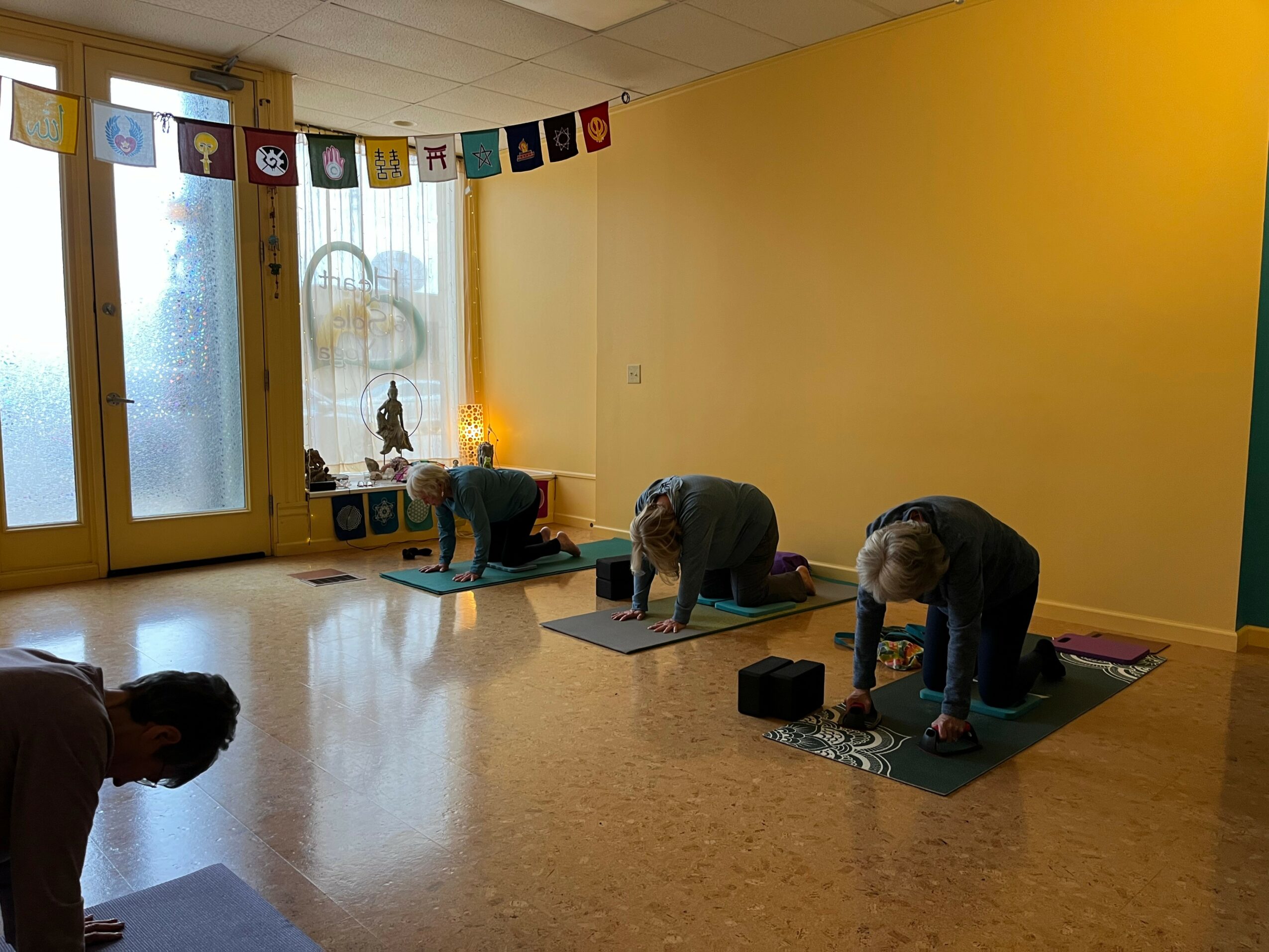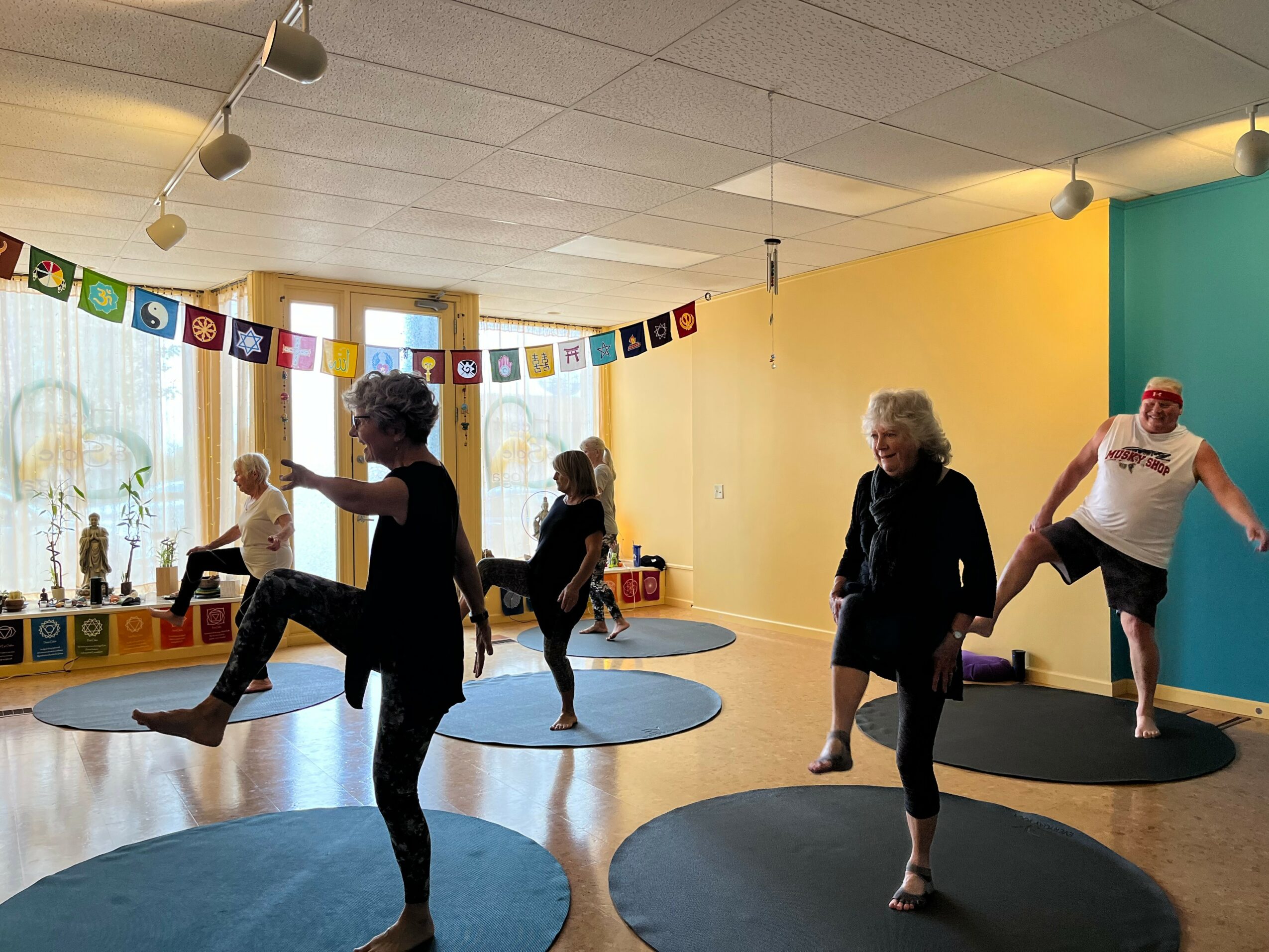 Image Credits
Barb Ross
Mary Allen
Donna Dunstone
Judy Cook
Kathy Parker
Vickie Vogel
Robbie Svegal
Roberta Cline
Peter McHugh
Griz Holbrook
Ginny Hapner
Larry Verberg
Ashley Campau
Dan Bell
Amy Vitello
Jody Carney
Suggest a Story:
 VoyageMichigan is built on recommendations from the community; it's how we uncover hidden gems, so if you or someone you know deserves recognition please let us know 
here.