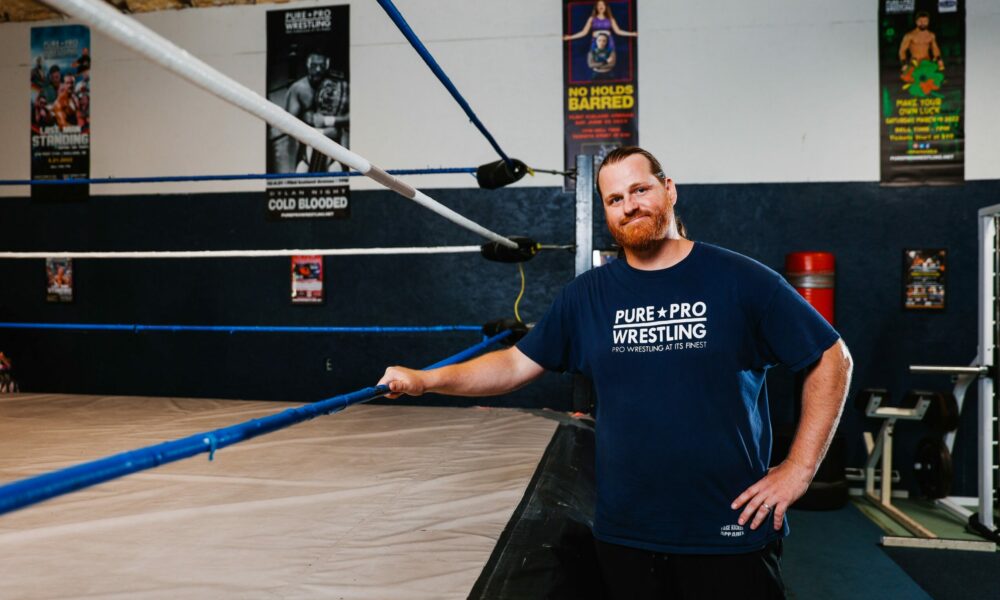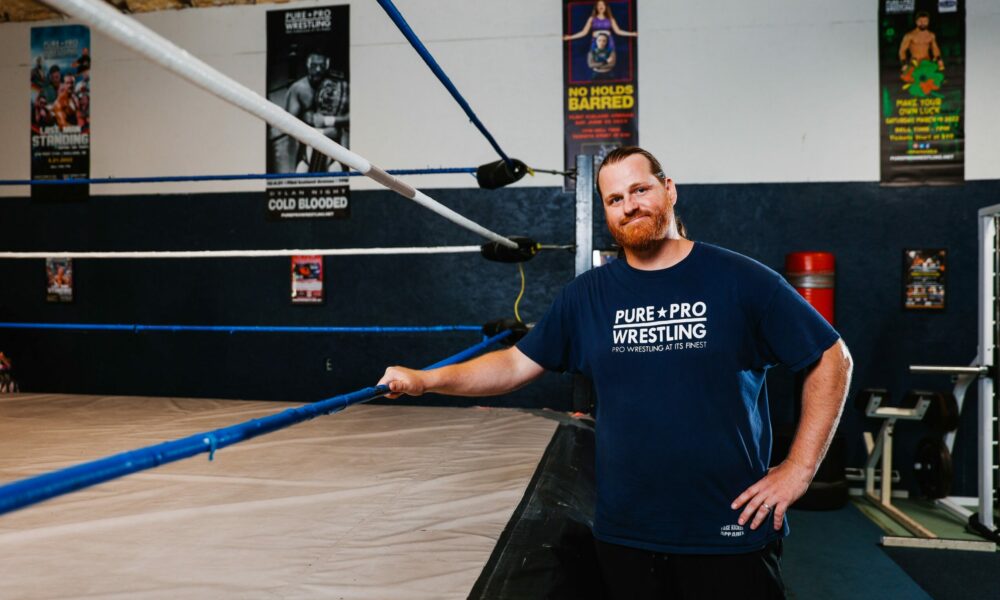 Today we'd like to introduce you to Joe Byrd. 
Hi Joe, thanks for sharing your story with us. To start, maybe you can tell our readers some of your backstories.
My name is Joe Byrd. I am a professional wrestler, promoter, coach, producer, writer, & director. I own Pure Pro Wrestling (PPW), Michigan's largest and only touring brand of family-friendly professional wrestling. For over 15 years, PPW has worked in correlation with schools, nonprofits, military orgs, fairs, festivals, and youth groups to produce live pro wrestling events that serve as community-oriented sources of fundraising. I also run a pro wrestling school that has produced some of the top wrestlers in the nation. We even have a training and performing program for kids! 
It all started for me when I was a child. I grew up watching pro wrestling, and when I was a teenager, a group of my friends and I decided to start our own mock wrestling federation. We would get together at my buddies farm every weekend, put on costumes, and act like outlandish characters. Eventually, we started renting wrestling rings and took our act on the road so-to-speak. At the age of 16, I booked two community centers and put on my first live pro wrestling events. I actually made money too. But in along doing so, I reprimanded at school for "organizing a fight club." 
I was introduced to a pro wrestler who wrestlers in Port Huron. I started lying to my parents, and every weekend my best friend Chad & I would drive in the snow to get our asses kicked by grown men twice our age. And we loved every minute of it. After I graduated HS, I turned down opportunities to play baseball in college and began training for wrestling full time. I also worked 2 jobs and went to college full time. 
My wrestling career stated to show some promise. I was fortunate to travel mostly around the Midwest. I wrestled some in the Southern states and a little in Canada. I was able to be on big shows and work with some of the legends I grew up watching. In doing so, I learned a great deal about the craft. After about 5 or 6 years in my career, I began coaching and promoting events. My in-ring career never blossomed the way I had hoped, but it afforded me invaluable knowledge that in turn, made me a great coach. 
Over time, my promotion grew into a success, and my students infiltrated the independent wrestling world. As they began to gain prosperity, my reputation as a coach grew. My company has become the largest in the state, and my abilities as a coach earned me a job working on a 6-month tour as Head Coach for WWE Hall of Famer & Former World Heavyweight Champion The Great Khali at his training facility in Jalhandar, Punjab, India. 
My business was shut down for a year and a half due to Covid. I honestly thought it was going to be the end of everything I spent the past 15 years sacrificing for. But thanks to the SBA, my local Chamber of Commerce, the Michigan SBDC, and the grace of God, I survived and now flourishing. Now I am pushing to a future where my business can expand and in doing so, grow to be sustainable and managed at a high level. My hope is to create careers that will help others flourish doing something that they love. 
I'm sure you wouldn't say it's been obstacle free, but so far would you say the journey has been a fairly smooth road?
The journey Pure Pro Wrestling & I took to become Michigan's largest pro wrestling company has been full of ups & downs, heartbreaks, trials, and true tribulations. Professional wrestling is a world of its own. It's a private and extensive community of performers, technical people, and fans who encompass an American tradition that has been passed down by had for well over 100 years. It's not easy to break into this business, and it's even harder to prosper. The only way to learn the craft is through backbreaking work in the ring and exhausting hours outside of the ring. As a wrestler, I've had the whole world offered to me, only to have it ripped away in the blink of an eye. As a promoter, I've lost thousands of dollars in a night, had to make decisions whether or not to pay the light bill or gamble my last money on the next show. I've experienced monumental disasters, walls at every turn, and outright failure more times than I can count. And just when I began to enjoy some of the peace that comes with learning your craft and becoming successful, Covid came and nearly destroyed my entire life. I lost every dime of savings. I lost thousands of dollars in profits and growth. And the stress and uncertainty of not knowing if my business would survive broke me down as a person and tested my mental limits daily. I was polishing up my resume to make sure that my wife and four kids could be provided for. When I was able to reopen, I had to rebuild from the ground up. I have been blessed to be able to prosper since then, but I'm still working my way back from the hole Covid put me in. I've got thousands of horror stories that I could share, but this is a magazine, not a novel! 
Great, so let's talk business. Can you tell our readers more about what you do and what you think sets you apart from others?
Pure Pro Wrestling (PPW) is Michigan's largest and only touring brand of family-friendly professional wrestling. For over 15 years, PPW has worked in correlation with fairs, festivals, non-profits, schools, military orgs, youth groups, and ministries to produce community-oriented events that serve as a successful means of fundraising. 
PPW also specializes in professional wrestling training. Nearly all of PPW's wrestlers are home grown talent that trained at "Camp Justice," PPW's training center located in Goodrich, Michigan. PPW is responsible for some of the top talent in the United States. We over a full staff of coaches, top-notch facilities, a common-sense curriculum, the most affordable rates in Michigan, and a flexible schedule w/ classes offered 5 days per week. PPW is the only pro wrestling organization in America to offer a pro wrestling course for kids! In fact, PPW's Junior Grapplers perform on the very same events as the adults do! 
PPW also has an extensive outreach program geared towards empowering children to achieve their dreams while overcoming life's obstacles. Our Ringside Mentors program features motivational speaking and bully prevention assemblies at public and private schools. Our Reading Rules program encourages kids and adults to read daily. Wrestlers visit libraries and schools to encourage literacy and teach the importance of reading. PPW also offers a Health & Nutrition seminar that encourages proper nutrition and fitness. Our Battle Tested program is our veterans outreach branch of PPW. We have several wrestlers who are veterans. Our Battle Tested events provide fundraising for orgs such as the VFW and the American Legion. We also work closely with the veteran community to spread awareness for veteran rights and services. 
And last but not least, PPW has a ministry we're developing called Pro Wrestling Revival. PPW works in correlation with ministries for outreach, fundraising, and fellowship. Our multi-faith-based wrestlers perform and give testimony while encouraging attendees to live a life of faith, love, devotion, and fellowship. 
It should also be noted that PPW is currently developing a streaming platform that will provide free content, VOD, and pay-per-view for audiences worldwide. PPW is also working on expanding our live event schedule and would love to partner w/ schools, fairs, festivals, non-profits, military orgs, arenas, and more to bring family-friendly pro wrestling for a good cause. 
Are there any important lessons you've learned that you can share with us?
As cliché as it sounds, short, simple, and sweet… Never give up. I have a friend whom I confide in times of frustration, disappointment, and grief. He would often tell me the same story of a man who purchased a gold claim. That man dug and dug and dug until he lost all hope in his claim. The next day he sold that claim, and the man who purchased it struck gold on his first swing. He believed in me and encouraged me to NEVER GIVE UP. Those who supported me throughout this journey knew all along what I was sitting on. A claim that would eventually strike it big. I still haven't found a giant nugget yet, but let's just say I'm pulling enough flakes to support my family. And that in its own is a true miracle. 
Pricing:
Training Classes are only $20 per session
Live event tickets range from $10 – $30 on avg
Our Merch is $20 & less
Our booking fee starts at $5000
Contact Info: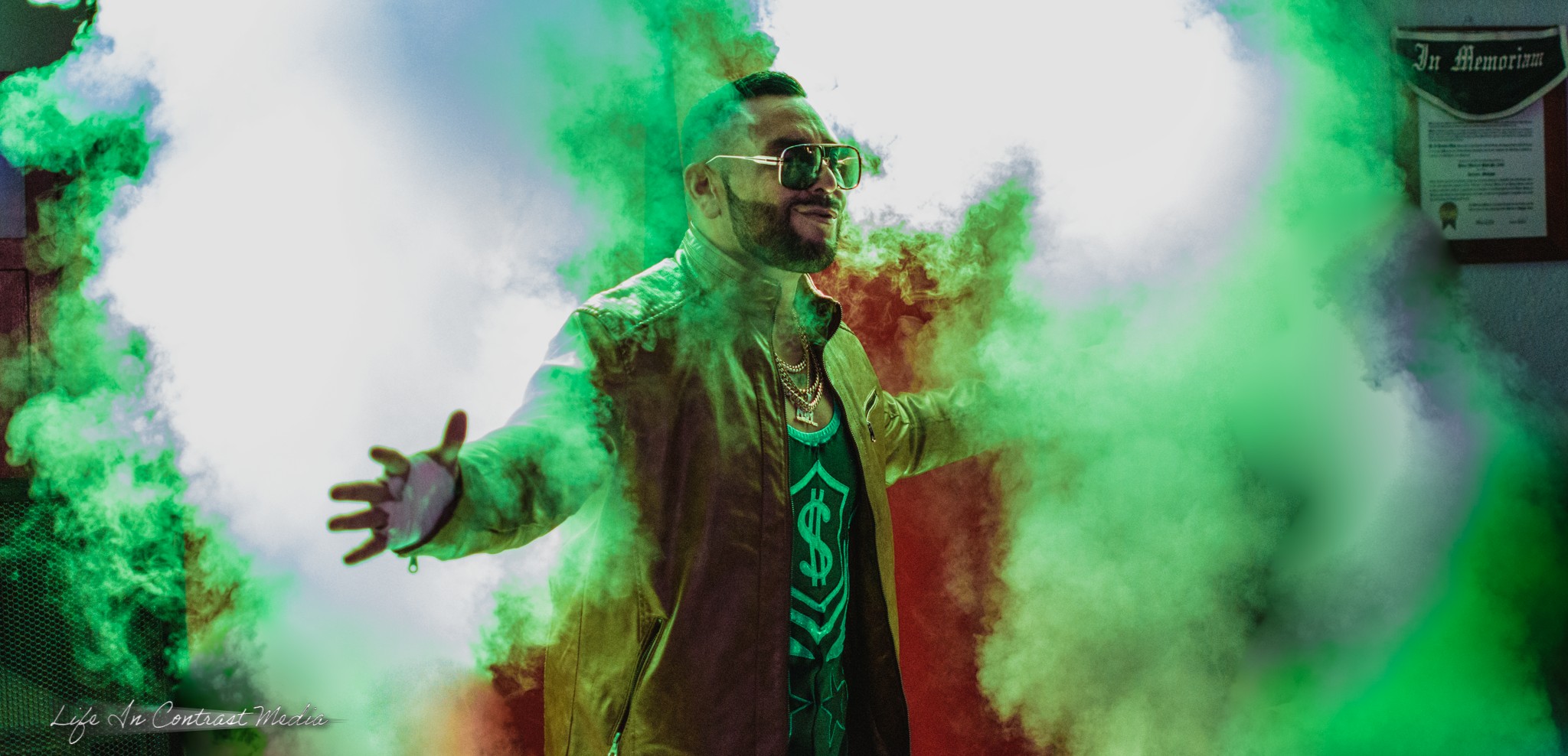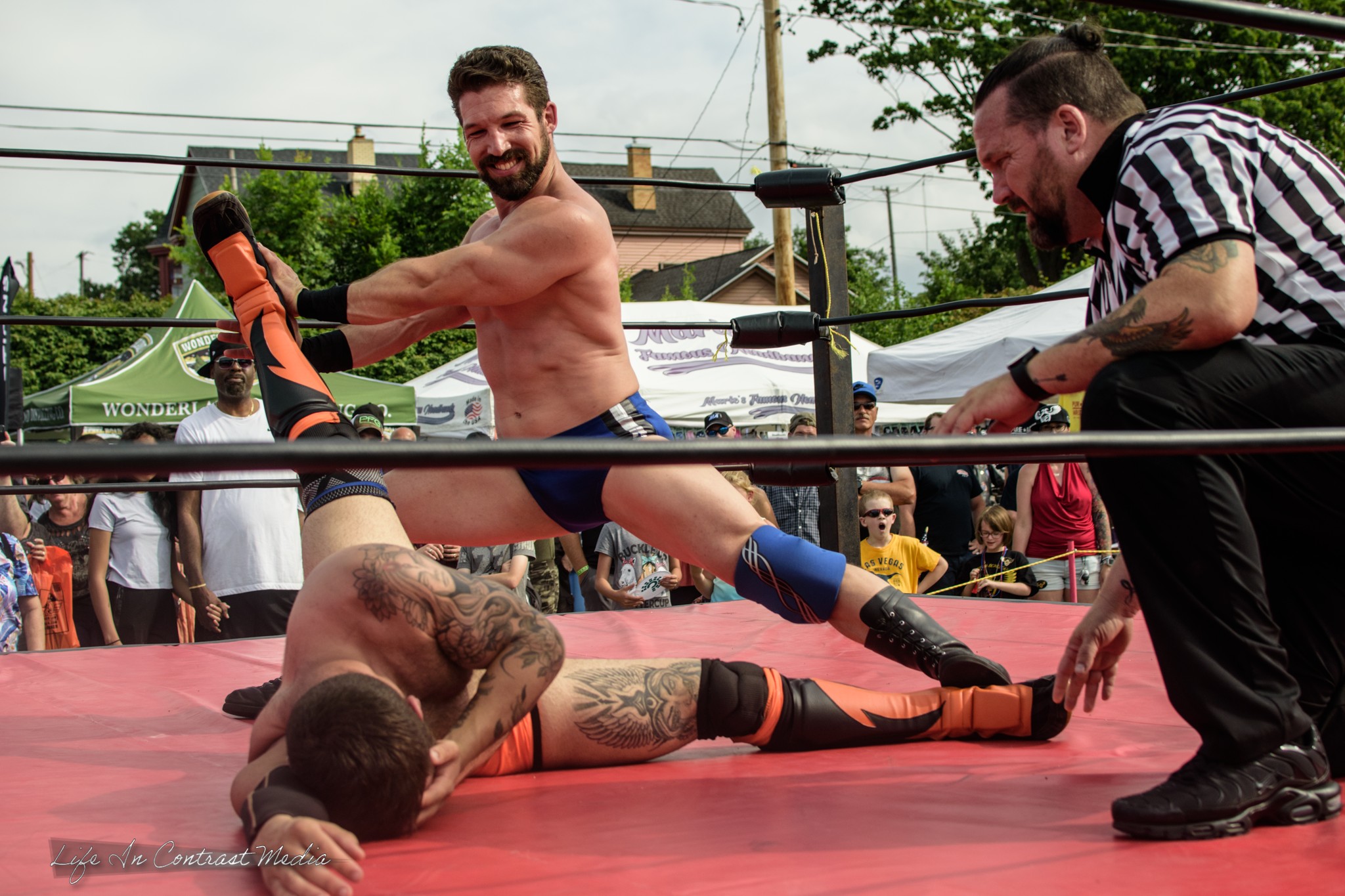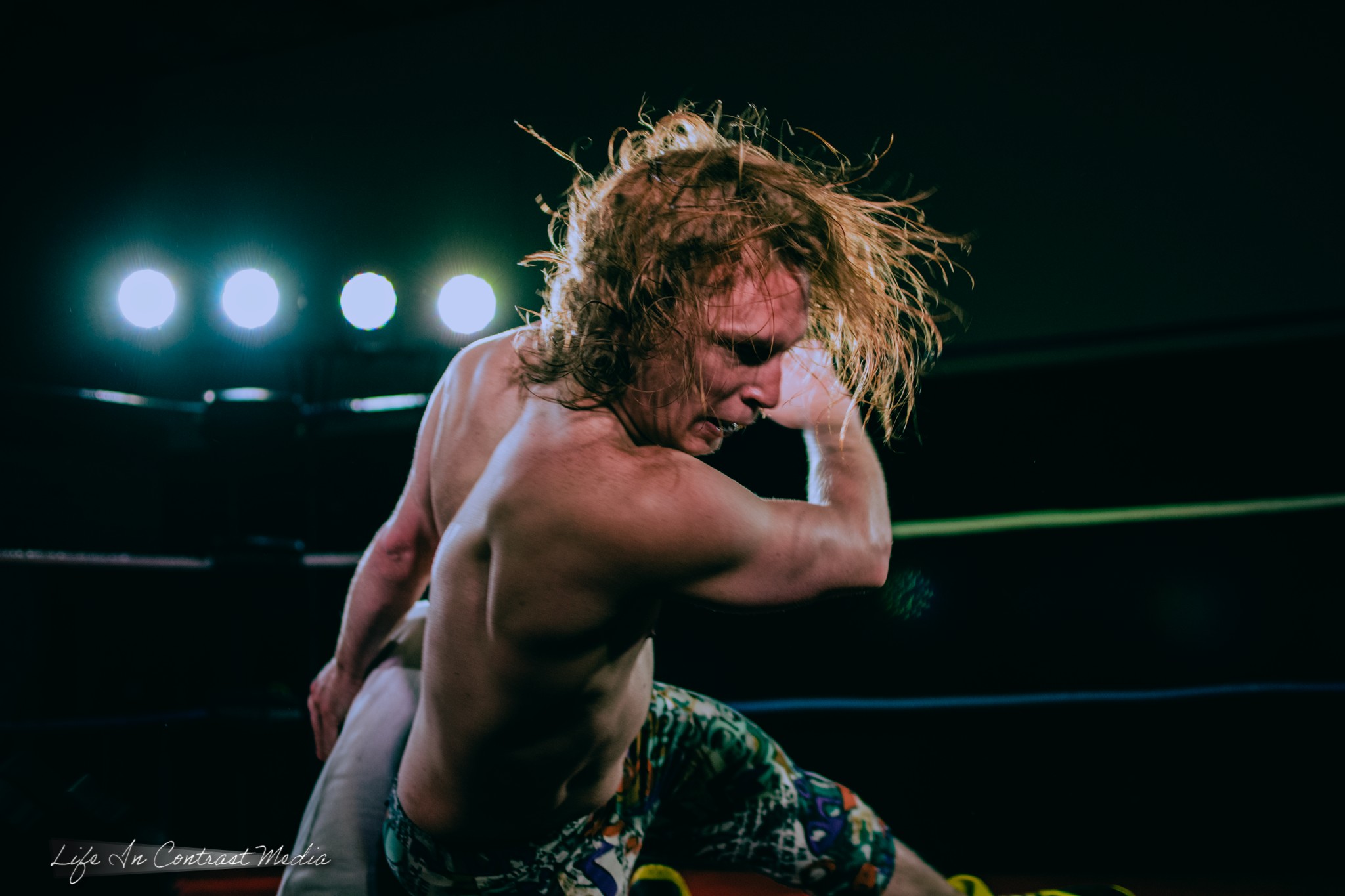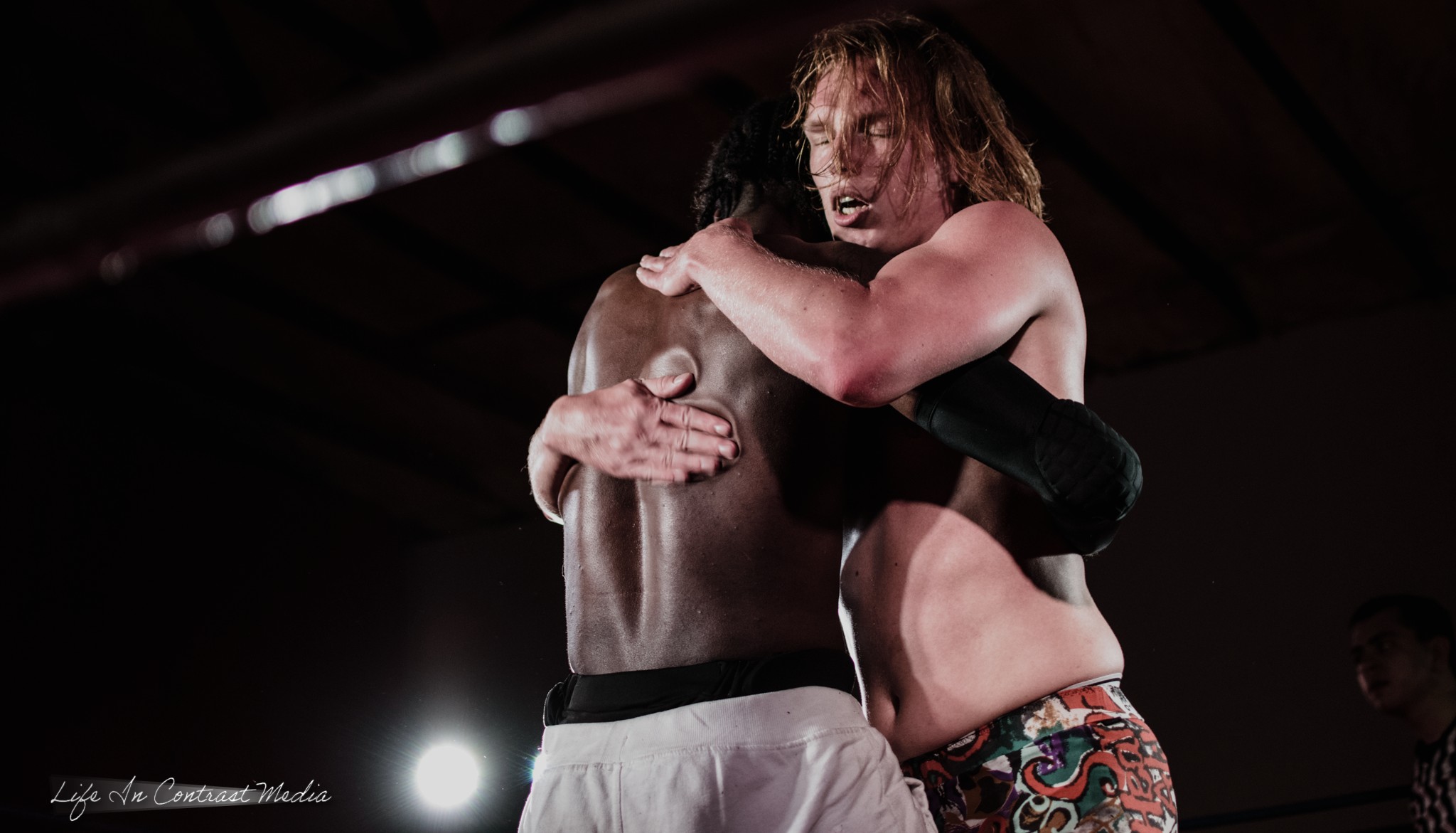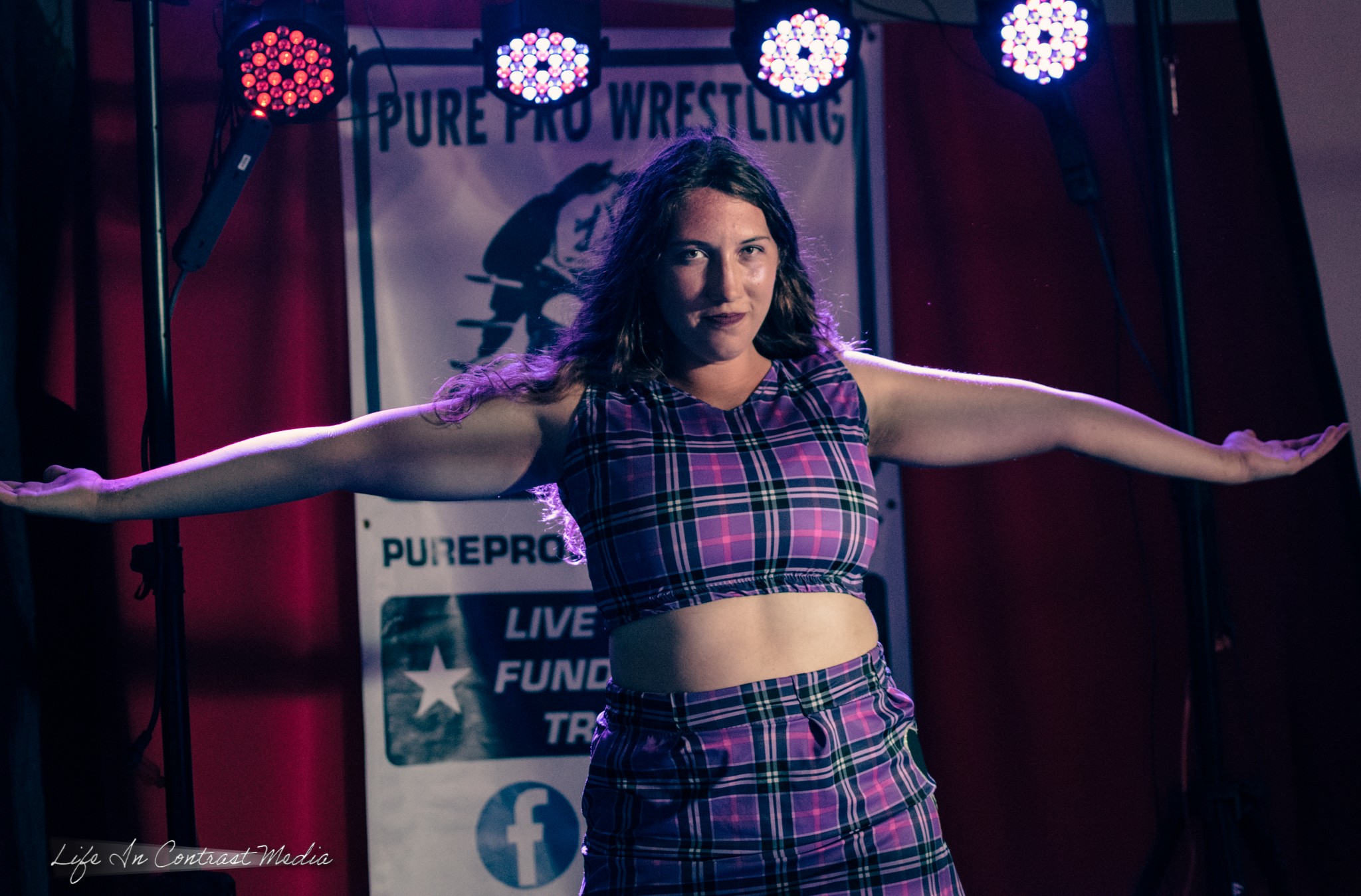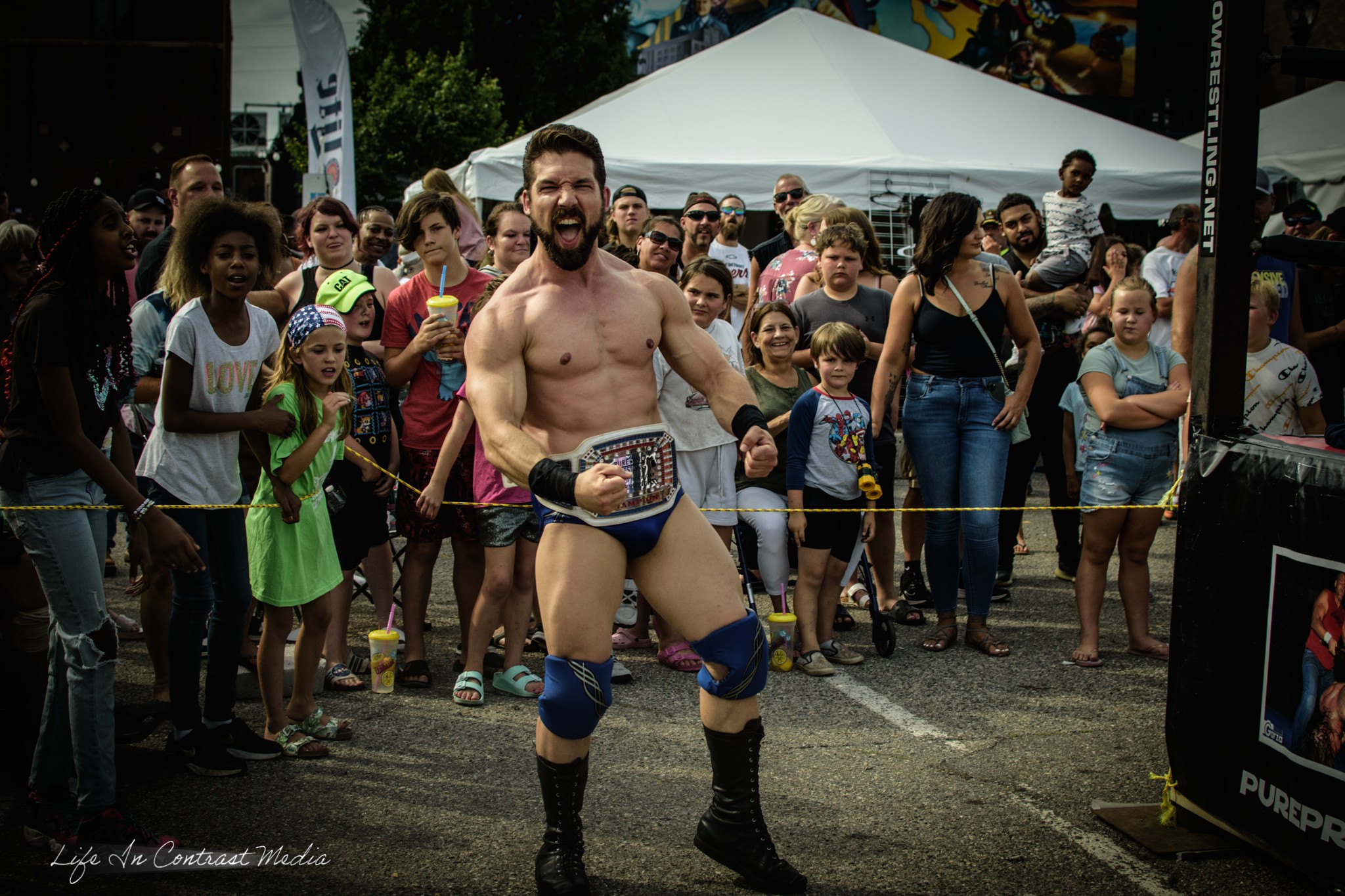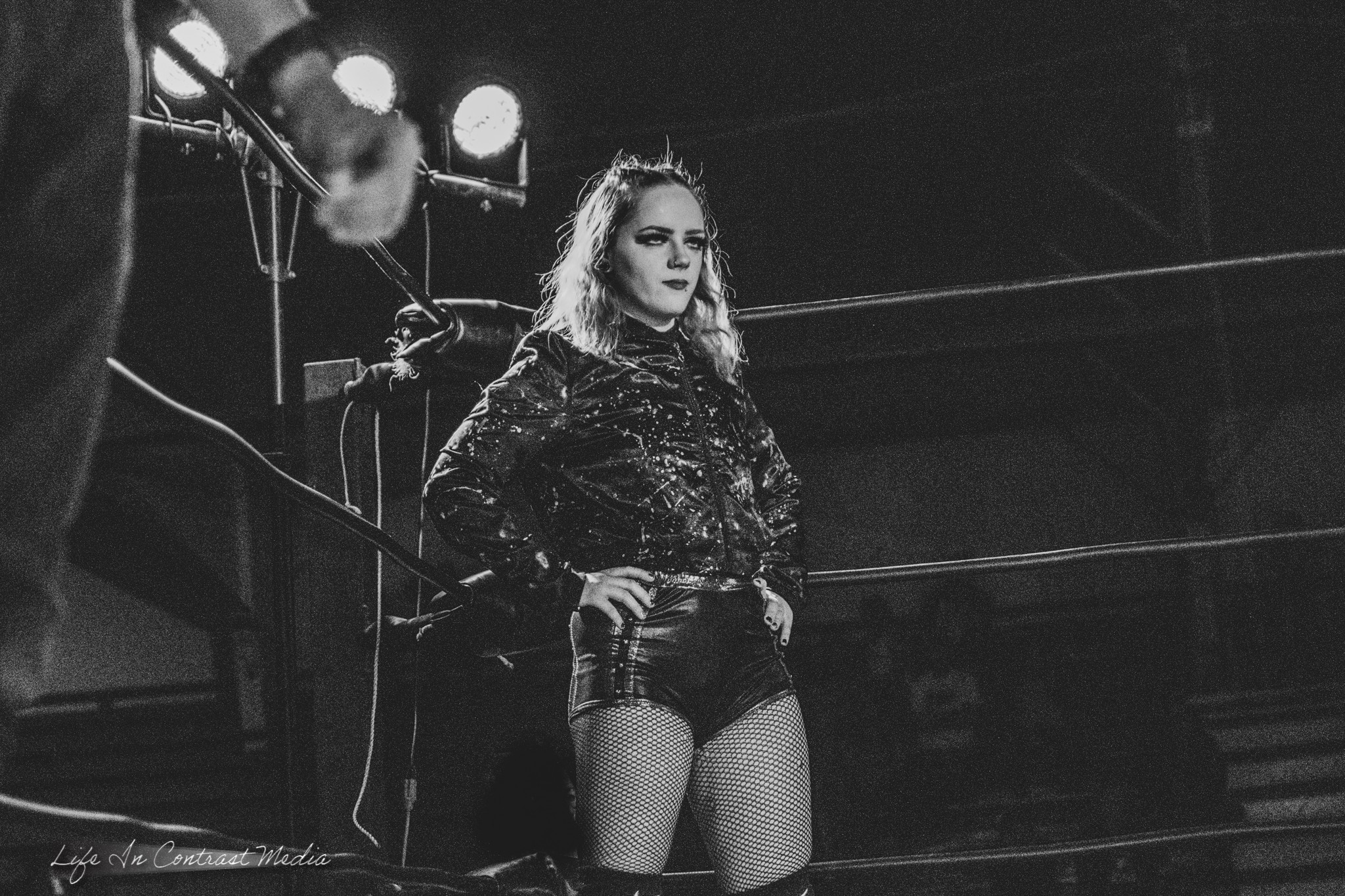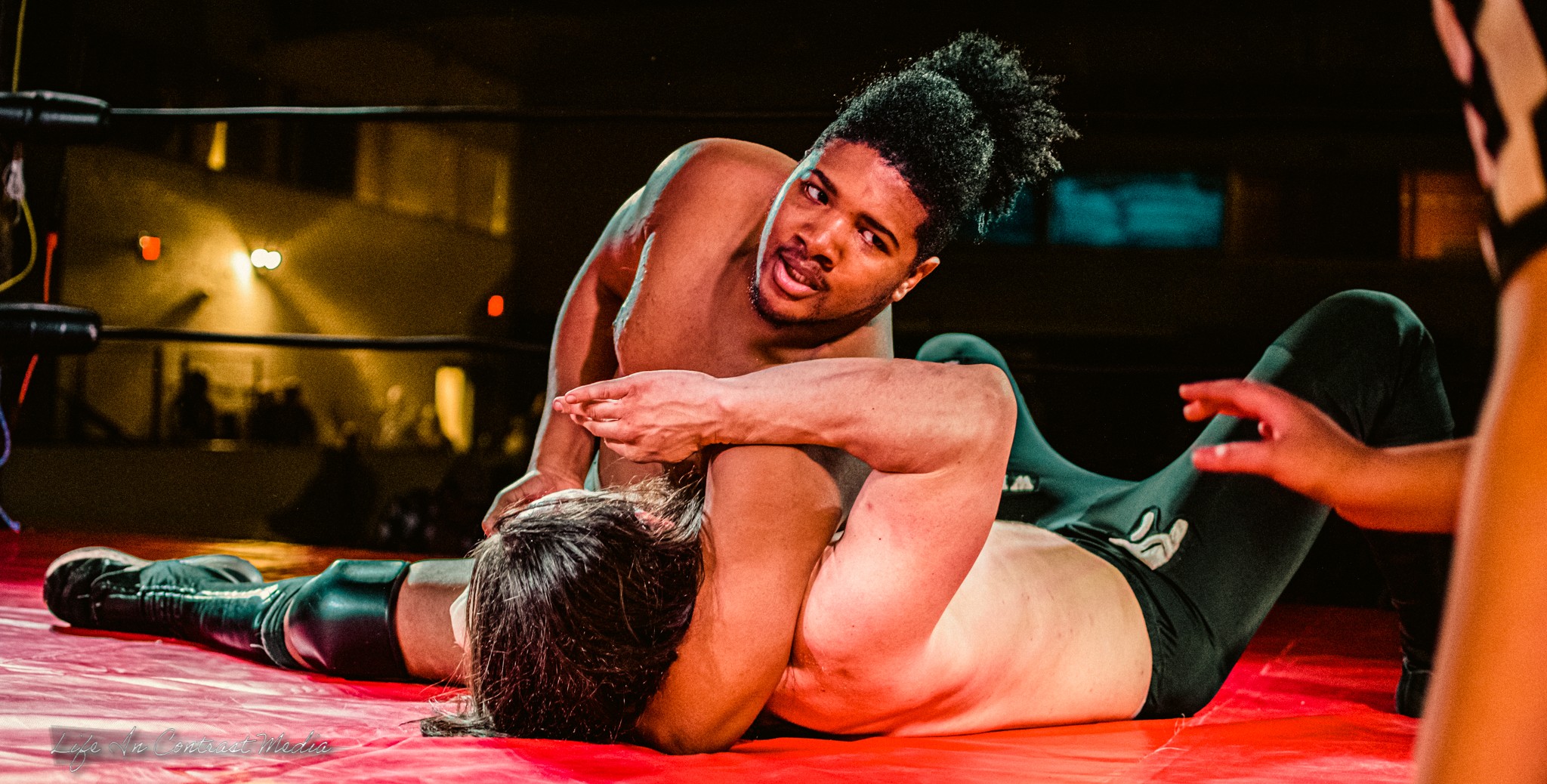 Image Credits
Life in Contrast Media
Suggest a Story:
 VoyageMichigan is built on recommendations from the community; it's how we uncover hidden gems, so if you or someone you know deserves recognition please let us know 
here.