Today we'd like to introduce you to Asanti Martins.  
Asanti, we appreciate you taking the time to share your story with us today. Where does your story begin?
My fashion story starts similar to many other kids who were teased for not having the expensive and/or "cool" clothing brands. Honestly, as a child, I didn't care about having Nike, Jordans, Coogi, or any of the other popular brands. I just wanted to have fun and experience the world. As a matter of fact, I was oblivious to all the popular clothing brands. I wore my father's old clothes and didn't see a problem with them. My parents didn't spend money on material things but instead gave us many more valuable experiences. My brother and I got to go to some cool places and experience the world outside of Detroit. 
Remember how I said I didn't care about popular brands as a kid? That's not entirely true. I didn't care until my peers forced me to care. Middle school is where I learned the importance of wearing the "cool" brands. I was intellectually and creatively gifted as a child. However, I got into fights and was bullied for essentially being different. In addition to being smart, I am half Ghanian and have an African name (Asanti). My peers ridiculed me for these reasons as well. These experiences caused me to lose confidence in myself and pride in my gifts. I felt rejected for being myself and this put me in a dark place. I started to lose myself as I went into high school. 
During my freshman year in high school, my father had a life-threatening stroke that severely deteriorated his health. This put me in an even darker space. However, during my junior year in high school, I began to overcome my internal struggle. I took an interest in my future and made a conscious decision to have a brighter outlook on life. I started to love myself again. Believe it or not, there was no big moment that triggered this revelation. I simply made an internal decision. Then my life started to form around this positive outlook and my life changed for the better. 
I entered college with a positive mindset and I thrived. I started off in community college and eventually graduated from U of M in 2015. I met a lot of awesome people, had some great times, and grew in all facets of my life. Most importantly I learned to be my unapologetic self. While in college, I developed an appreciation and love for fashion. 
I wasn't a broke college student and my parents didn't pay for my schooling. I got a full ride to college and I was a commuter student. I didn't have to pay anything for school. I also got additional refund checks and had a job. Furthermore, I had a surplus of money to spend on whatever I wanted. In hindsight, I wish I would've invested more money. However, I was lacking in financial literacy so I decided to take my fashion to the next level. 
I vividly remember how my peer's treatment affected me growing up. However, I do not hold any grudges. Those situations made me stronger and have taught me a great deal about life. I decided to use my life lessons to teach people to "embrace what makes them different" through the same medium that kids used to ridicule me as a kid. This leads us to the birth of Cleodii Vihjen (Pronounced Cloudy Vision). 
Cleodii Vihjen (Pronounced Cloudy Vision) took me on a whole journey with all the vendor events, fashion shows, photoshoots, classes, and cool people that I met along the way. People are receptive to my brand and my brand's message. Everyone that experiences the brand is ecstatic about it. It surprises me sometimes. Cleodii Vihjen is a light that was created in darkness and I want to share this light of mine. 
I'm sure you wouldn't say it's been obstacle-free, but so far would you say the journey has been a fairly smooth road?
My road is somewhere between smooth and rough. Cleodii Vihjen (Pronounced Cloudy Vision) started off as a partnership. It was 3 of us. However, my other two partners left the company because they weren't committed to the business. We didn't end on bad terms. They just had other passions. However, this didn't stop the party. 
Cleodii Vihjen shines bright in any setting that I put it in. Fashion shows, always end with people seeking me out to purchase my products. Vender events always end with me making a profit. I get great feedback from customers. People like the uniqueness and comfort of my clothing. People love my brand's message because it comes from such a real place. I have amazing supporters who have bought more products from me than I can count (I need to work on my inventory tracking). My photoshoot and video shoots are productive and a great time for everyone in attendance. Ultimately, I've created a solid brand. 
My struggles also include finding the resources needed to take Cleodii Vihjen (Pronounced Cloudy Vision) to the next level. I invest time, money, and resources into my brand. My labors aren't fruitless because I have gotten successful returns. However, personal issues force my hand into my business funds. I know this isn't ideal. This is interfering with my consistency and it's delaying the brand's success. Cleodii Vihjen has the potential to be globally successful if I can get the necessary resources and become more organized. My next success story will be about how I overcame these difficulties. I am in the process of accomplishing this by finding additional sources of business income, separating my personal income from my business income, becoming more organized, and establishing a strong business foundation. 
Great, so let's talk business. Can you tell our readers more about what you do and what you think sets you apart from others?
My business Cleodii Vihjen (pronounced Cloudy Vision) is a brand that sells predominantly clothing. We specialize in lounge and activewear with a unique look that is still functional. We are known for creating comfortable and unique streetwear. Our clothing stands out from the competition because our garments are striking yet wearable. We pride ourselves on being different without sacrificing comfort. Additionally, Cleodii Vihjen's message, "embrace what makes you different,'" evokes emotion. We also enhance the customer experience by offering activities like decorating the hoodie at our vendor events. Cleodii Vihjen wants every customer's experience to be unique and enjoyable. We're creating a culture of accepting people's differences and that's what we are most proud about as a brand. We want to have a positive impact on this Earth.
Be on the lookout for our next collection, I'm really excited about our next collection because we're incorporating many of our customers' requests. We'll have larger sizes, more colors, and even more art. We'll have our new website ready to go in the fall with our new collection. Until then, you can stay updated on our Instagram. Follow us at @cleodii_vihjen or request to be added to our emailing list. Our email is Cleodii.vihjen2@gmail.com 
Are there any apps, books, podcasts, blogs, or other resources you think our readers should check out?
Atomic Habits has been a good book for helping me create consistent habits that help me progress with Cleodii Vihjen (Cloudy Vision). I've also been a part of a couple of major business programs in the city such as Motor City Match and Retail Boot Camp. These programs have educated me on how to specifically help my business and given me worthwhile connections. 
Contact Info: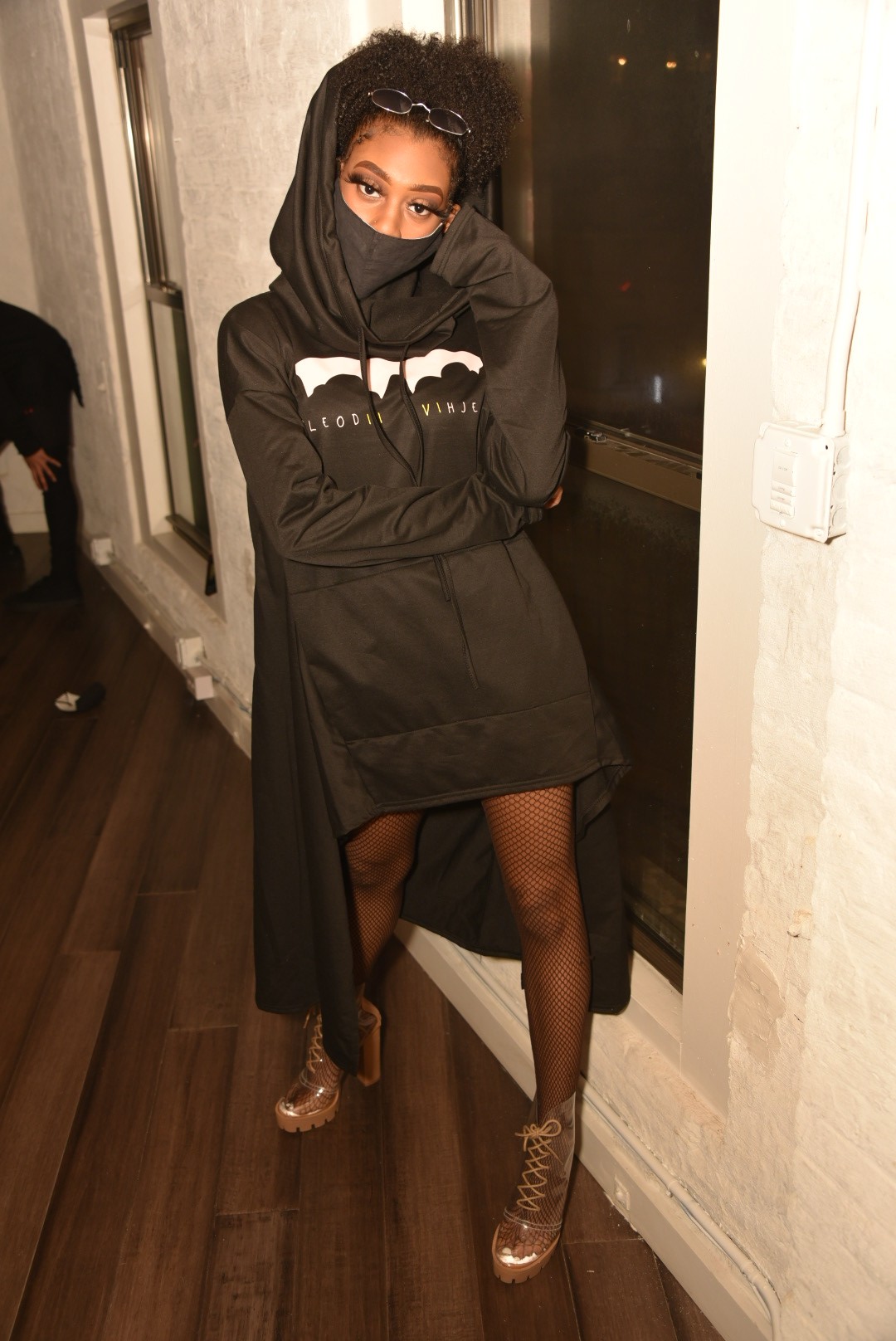 Image Credits
Desmand Denham
Suggest a Story:
 VoyageMichigan is built on recommendations from the community; it's how we uncover hidden gems, so if you or someone you know deserves recognition please let us know 
here.