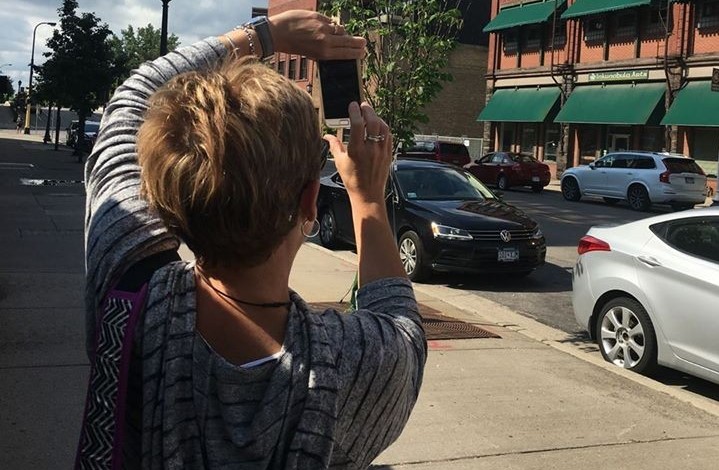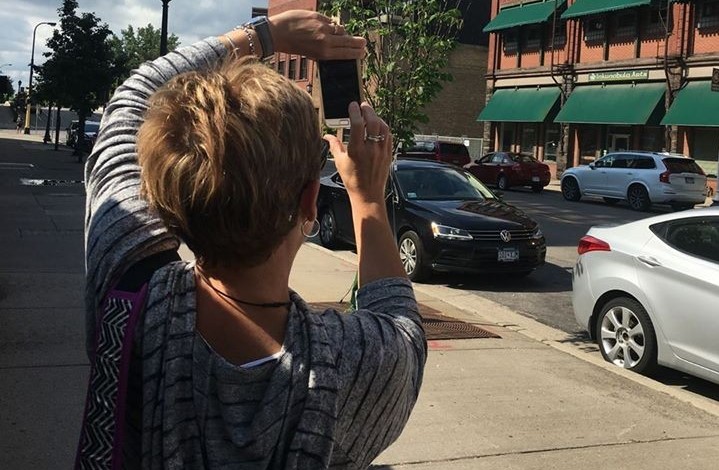 Today we'd like to introduce you to Danna Sanderson. 
Hi Danna, can you start by introducing yourself? We'd love to learn more about how you got to where you are today.
I've always had an interest in historic architecture and "old buildings," but for most of my adult life, I was too busy working and raising my children to think much about anything else. In the fall of 2016, our youngest son left home for MSU, and my husband and I suddenly found ourselves with a lot of extra time on our hands. I had attended a Chamber of Commerce dinner earlier that same year, and the speaker (Mayor Rosalyn Bliss of Grand Rapids) made the comment that it was up to each of us to make the changes we wanted to see. Her message really resonated with me. At that time, downtown Sault Ste. Marie had many vacant and/or neglected buildings. The downtown vacancy rate in the Soo was well over 15% at that time. Through a friend who also happened to be the Downtown Development Authority Director, I had learned the importance of a healthy and vibrant downtown. When a small, historic downtown building went up for sale, I knew it was an opportunity for us to make a positive change in our community. I had to convince my husband we should buy it, but he finally agreed, and we bought the building in October 2016. The final purchase price was right around $30,000, and we thought it was a great bargain. Before we started on the renovation, I looked into various grants and other sources of government money that could help us get the project done. Ultimately, we decided to forgo any support and finance the project ourselves. This allowed us complete control over every aspect of the process. I studied the Historic Preservation Standards and Guidelines put forth by the National Park Service. I understood the Standards and followed them whenever it made sense, but we were able to flex a bit more because we were self-funded. Ultimately, from this very humble building, we learned countless lessons about the restoration/rehabilitation of a historic building. Our goal with this first project was to strip away the layers of "improvements" that had been done over the years and to find the few remaining architectural features that we could restore. In the process, we removed environmental hazards and upgraded all the various systems (HVAC, plumbing, electrical). We installed new windows, a new storefront, new interior, and exterior doors, restored the 100-year-old original maple floors, and uncovered the original brick exterior. We brought everything up to code and made sure the building was safe inside and out. We repurposed materials whenever possible and gave away anything we deemed salvageable (newer insulation, furniture, shelving, gridwall panels, etc.). We did as much of the work ourselves as we could – but we are not skilled builders and had to rely on a variety of professional tradespeople to get the majority of the work done. In truth, we spent FAR too much on this project. But the lessons we learned proved to be invaluable to us. The completed building was beautiful, and the blend of updated elements mixed with historic features really seemed to strike a chord with everyone who toured the finished project. We found a wonderful commercial tenant within a week of completion. We were, and continue to be, very pleased with this simple little building. Interestingly. While we were undertaking this initial rehabilitation project, we were quite overwhelmed by the outpouring of support from the community. People were excited to see the progress we were making, and strangers would often stop by to thank us for what we were doing for our downtown. Through this project, we realized we could make a positive impact in our community by purchasing worn-out historic buildings and bringing new life to them. And that's exactly what we've been doing ever since. 
Our process is part restoration, part renovation, and part rehabilitation. Our goal is to strip away everything that detracts from a building, inside and out, and create a new, modern useable space that still retains as many of the historic elements as possible. To date, we have rehabilitated four historic downtown buildings. We personally opened two retail stores in two of the buildings and opened short-term vacation rentals on the second floor of two of the buildings. We rent commercial space to one retail store and one law office. And right now, we are in the final stages of rehabilitating a 1906 Lutheran church located just a few blocks from the downtown core. People continue to give us credit for helping revive our downtown. I think that's quite generous of them because we have played a very small role in the overall revival of Sault Ste. Marie. But I do like to think we've helped people to see the true value of our city's wonderful historic buildings. Downtown occupancy rates are now less than 6%, there are many new storefronts and businesses, and we remain hopeful the locals and visitors will continue to expand their view of downtown Sault Ste. Marie as a vibrant, interesting, and worthwhile place to be! 
Can you talk to us a bit about the challenges and lessons you've learned along the way? Looking back, would you say it's been easy or smooth in retrospect?
It has not been a smooth road. It has been a challenging road! First and foremost, money is always an issue. Most banks don't want to lend money for historic buildings in poor condition. We've been very fortunate that one of our local banks believed in us and has worked hand in hand with us on every project. But with very old buildings, there are always surprises that you just can't predict until you start tearing into them. And these surprises are almost always bad! Lead paint, asbestos flooring, rotten beams, biohazardous waste, and on and on. We always complete fairly extensive due diligence when we're considering buying a building, but you just can't know everything that you're going to encounter. This almost always leads to frustration and cost overruns. Our lack of sophistication was an issue in the early days – we didn't understand building code and all of the other aspects of property rehabilitation. We didn't know how to navigate the world of plumbers, electricians, HVAC technicians, etc. We did get lucky with our builder – he has a lot of skill and great respect for historic buildings. Rather than try to talk me out of an idea, he works with me to figure out how we can make something happen. And if I have a particularly bad idea, he will gently re-direct me to something more feasible. He's been with us on every one of our building projects, and we could not have done it without his help! In order to save money, we've had to learn to do a lot of the work ourselves. Neither Terry nor I had very well-developed skills when we bought the first building. We were great at the deconstruction, but that was about it. Now we are much more capable of doing things like patching original plaster, restoring old floors, and tiling showers. We watch a lot of YouTube videos! 
Since 2020, we've had major struggles with material and labor shortages. Everything takes longer and costs more. The cost overruns on the church project have been staggering – not because we didn't budget well but because the cost of goods has skyrocketed in many instances. 
We sometimes run into issues with our city building department. They don't have a great grasp of the "rehabilitation" building code, which applies to historic buildings. It differs in some ways from current building code, although not in any way that would compromise the well-being of a building's occupants. I actually had to purchase a copy of the rehabilitation code book in order to educate myself (and occasionally the building inspector) with regard to certain aspects of working on a one-hundred-year-old building. But generally speaking, we've learned to consult with the building department before we do something, rather than to act first and ask forgiveness later. That approach doesn't work! 
We've been injured more times than I can count (never seriously), we've missed family gatherings, outings with friends, trips, events, and time with our kids. Sometimes we're just tired and worn down and we want to rest – but we can't because we've got some deadline that has to be met. We both work full-time "day" jobs, and often we put another 30 or more hours per week into a project. It can be exhausting, frustrating, and discouraging. Day to day, building projects seem to progress very slowly, and it can take months to actually see any noticeable improvement. Fortunately, Terry and I are usually discouraged at different times and have been able to support one another through the really tough times. And we spend a lot of time together, working side by side, to accomplish something so much bigger than ourselves. We know these building projects will not make us rich, but we get SO much satisfaction from seeing a project through to completion. It really has been worth all the struggles! 
Thanks for sharing that. So, maybe next, you can tell us a bit more about your business?
We started Sanderson Land Management when we bought our fist building. This is the entity that buys properties and invests money in rehabilitating them. We have only been around for about six years, but we've completed four historic building projects in that time, with a fifth project underway now. We own and operate two Airbnb rentals in the historic district of downtown Sault Ste. Marie (located in buildings we have rehabbed), with a third vacation rental property (a 1906 church) currently under development. 
Is there a quality that you most attribute to your success?
We absolutely believe in what we are doing!!!
Contact Info:
Facebook: danna sanderson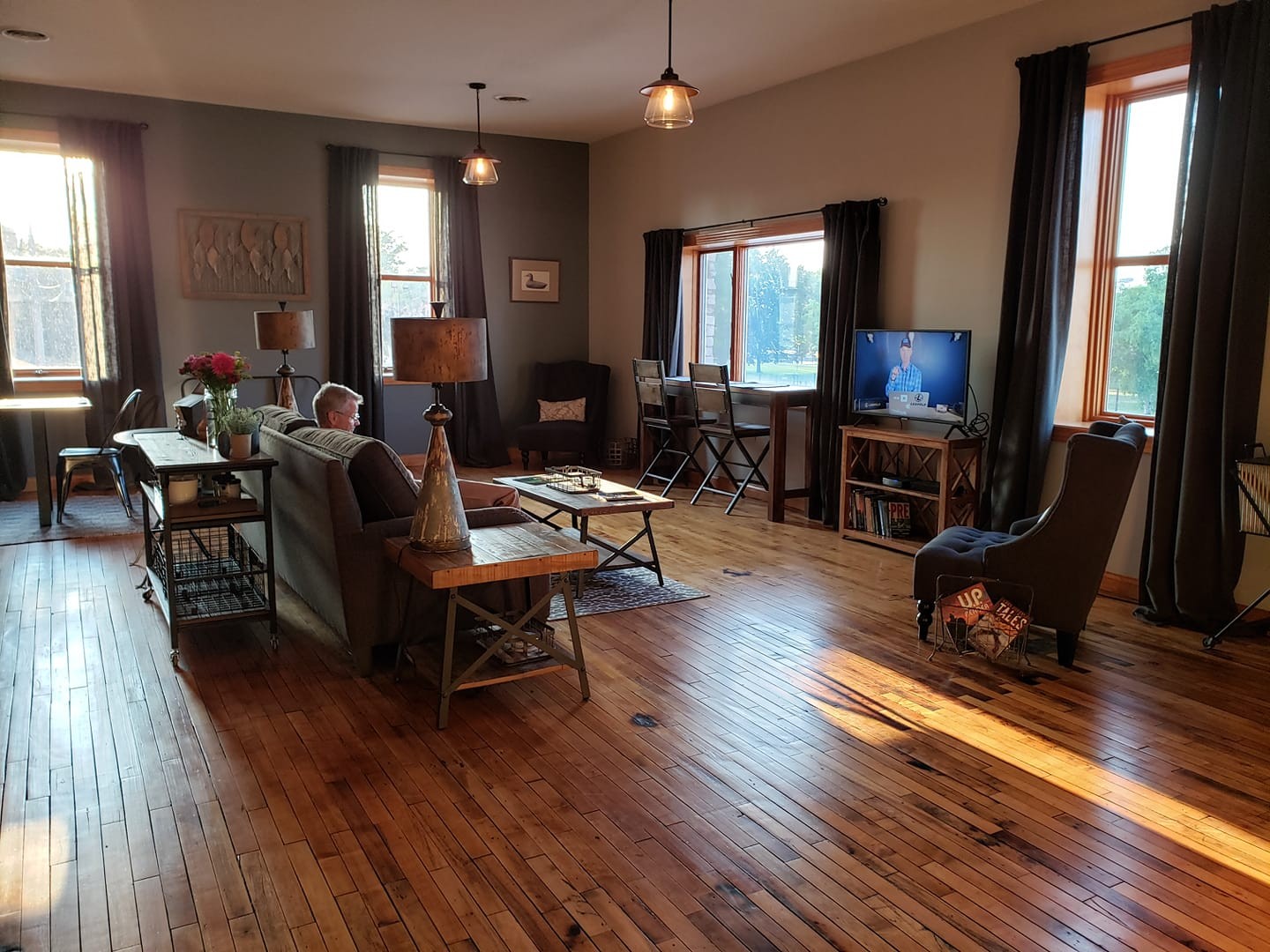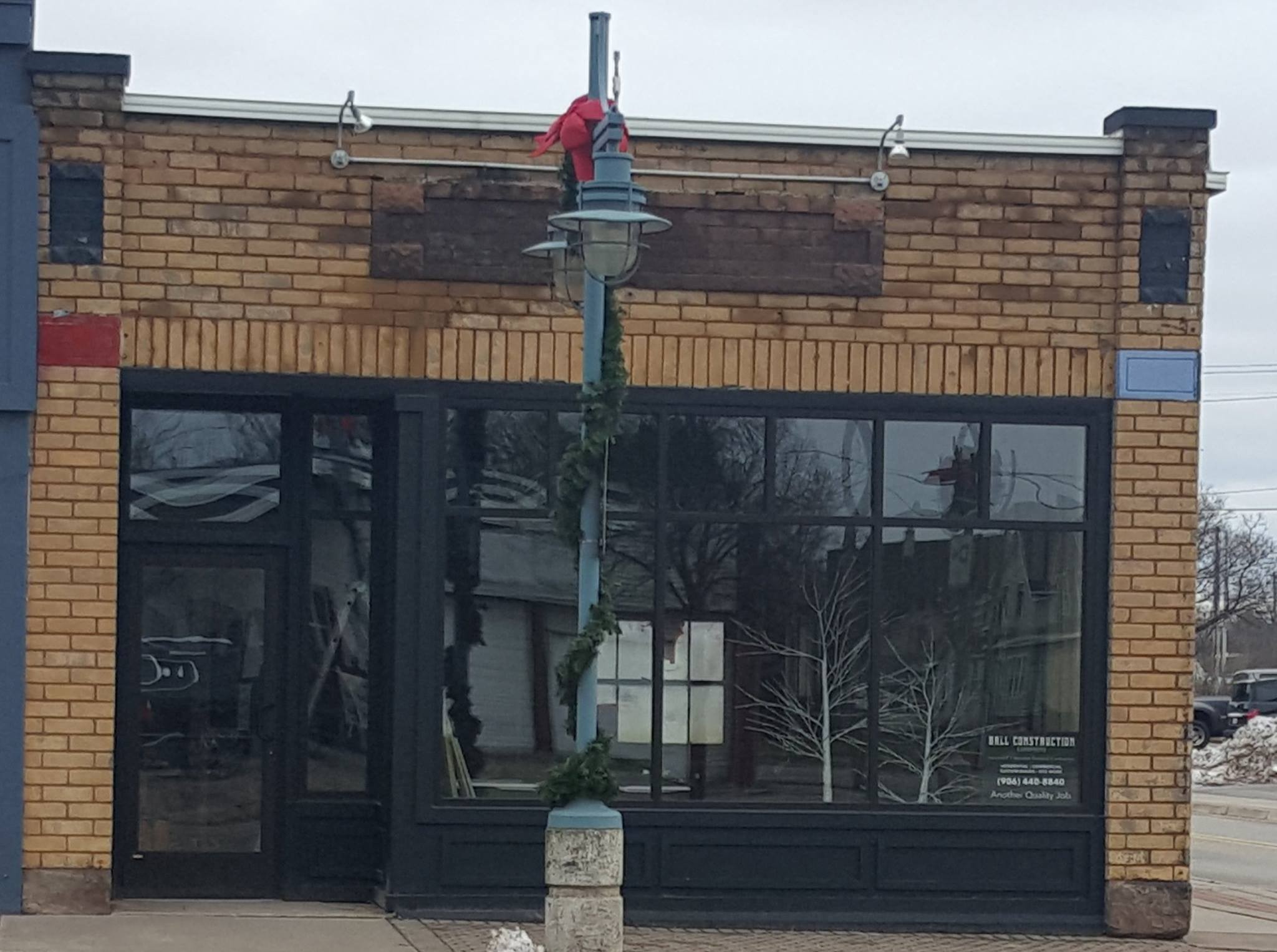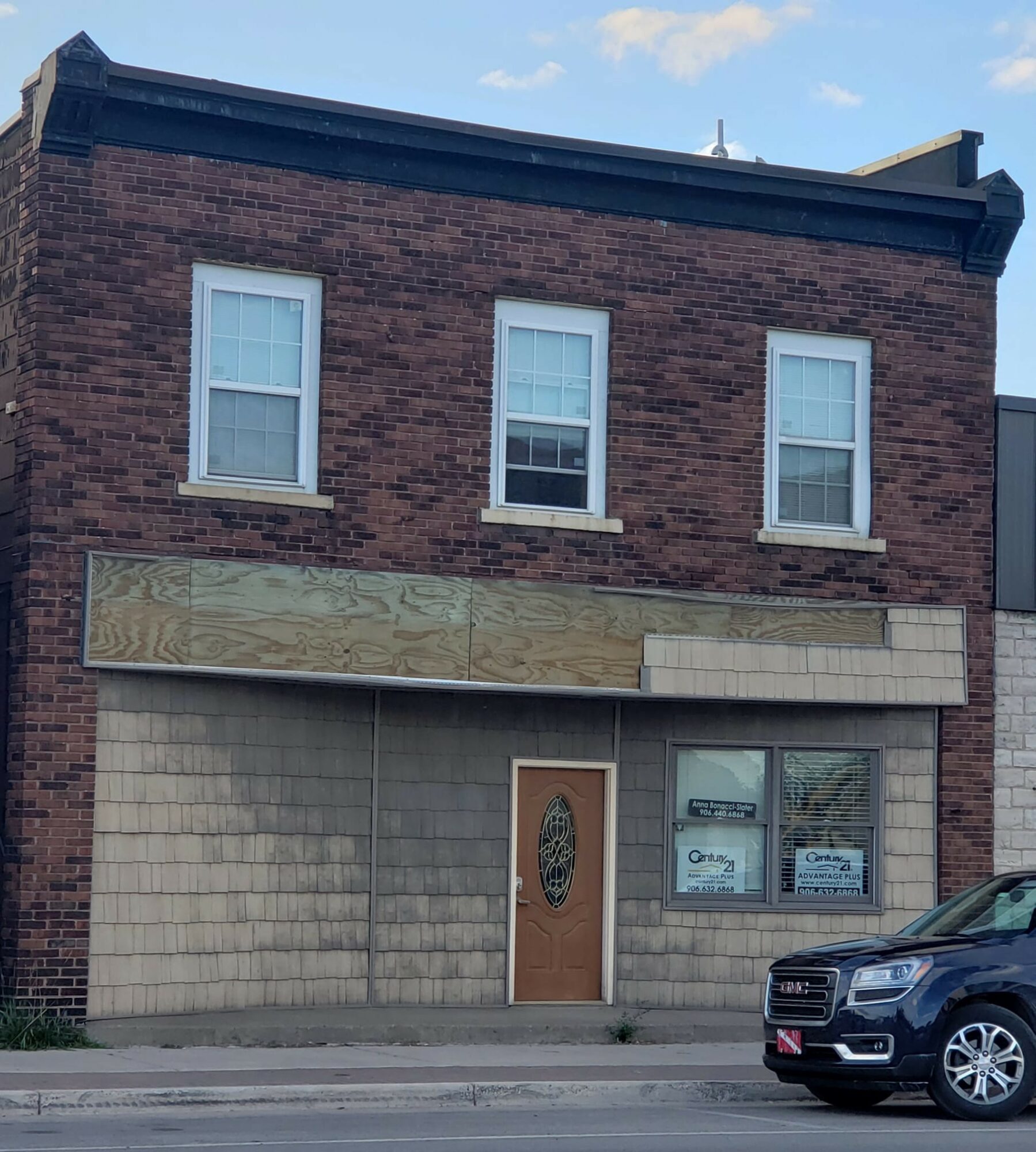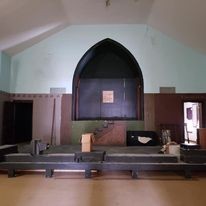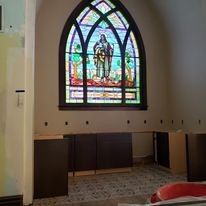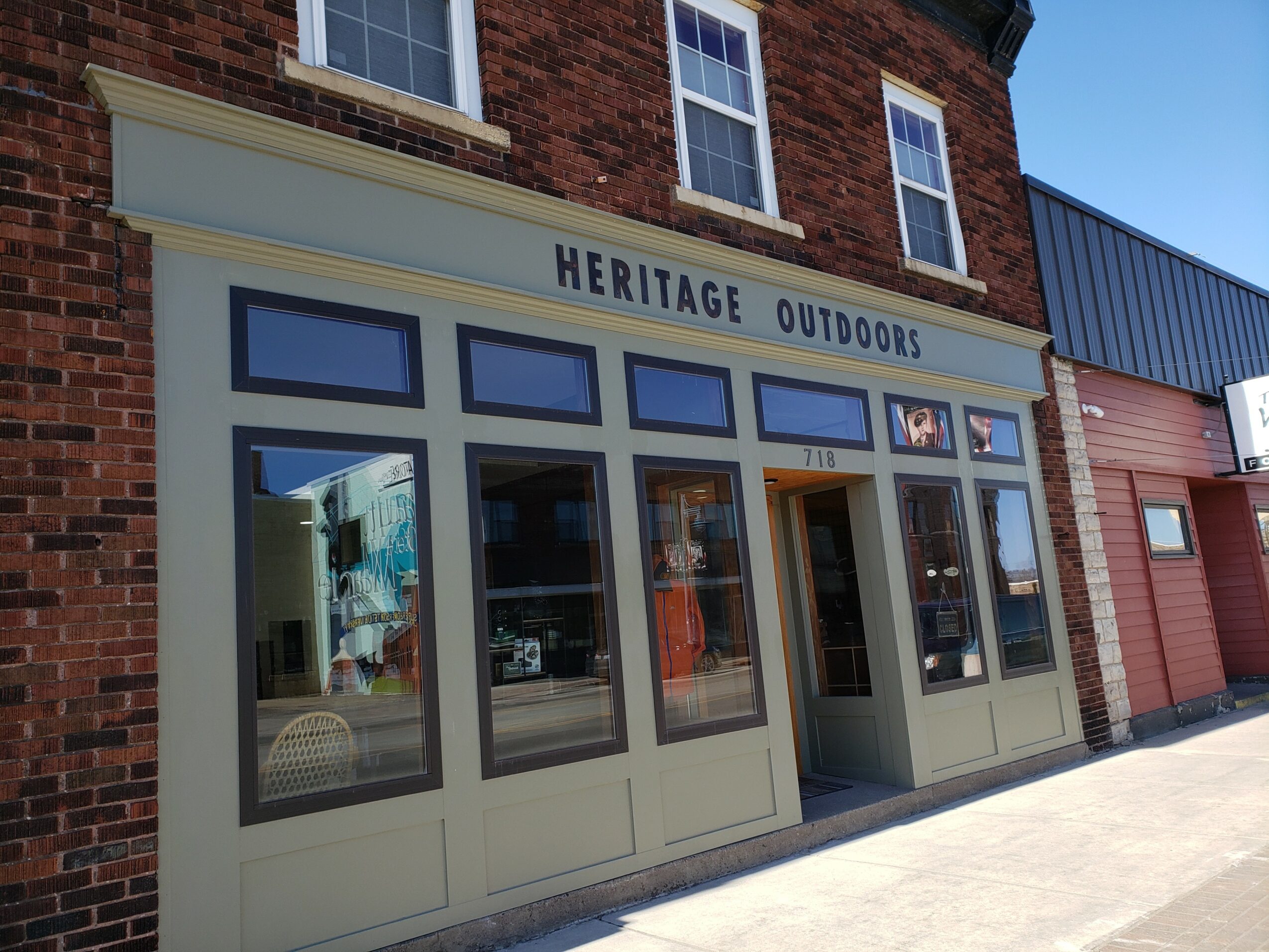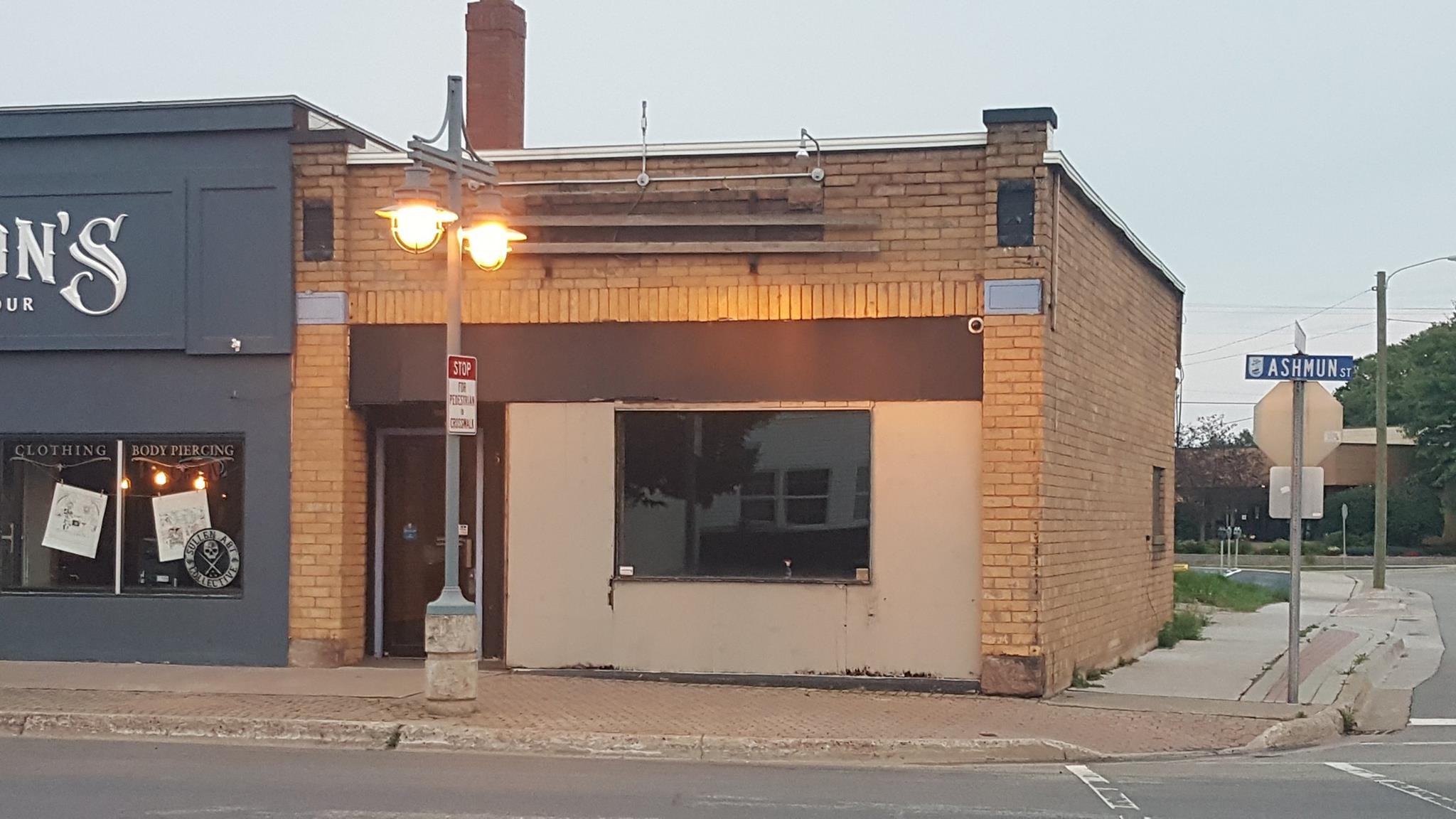 Image Credits
Treyce Sanderson
Suggest a Story:
 VoyageMichigan is built on recommendations from the community; it's how we uncover hidden gems, so if you or someone you know deserves recognition please let us know 
here.