Today we'd like to introduce you to London Beck.  
Hi London, so excited to have you with us today. What can you tell us about your story?
As a child, I grew up in Ann Arbor, MI where I was raised by my paternal grandparents. My parents were divorced and I lived with my mother and two older sisters until my mother passed away at the age of 5. I remember waking up one day and realizing that she hadn't woken me up to get me ready for kindergarten. I started to wander our apartment and found her laying on the bathroom floor. I don't know how I gained this intuition so young but a part if that memory that sticks out is that I called out and I looked deeply into her eyes. She was unable to respond, but I could tell she was still alive. I rushed downstairs to call the ambulance and they kept me in the phone for about 5-10 minutes before they arrived. My older sister, Kay, was an emergency contact, and so she rushes from high school to pick me up and follow the ambulance to the hospital. After a couple of weeks, it became clear that my mother would not be leaving with us. 
I believe I came out of my mother's womb singing. As early as three or four years old, I would grab a CD (can't believe this object is a relic now) that lived in our car and eagerly insert it into the CD player. Then I would select track three and belt my little heart away. I wish I knew what that song was; I don't know what it was, but I could tell even at that age that music meant something to me. 
After my mother's passing, my father brought me to live with him and my grandparents. The first few years were quite the struggle. I had a hard time coping with the loss of my mother. Prior to her death, I had seen my father a few times a month. Once I started living with him, I began to endure physical, mental, and emotional abuse at his hand. At the same time, it was near-divine intervention that living with him also allowed me to be embraced by my grandmother and grandfather. As an adult, I feel orphaned in some ways, but in others, I have them to thank for teaching me what family means. 
Within a couple of months of living with my grandparents, I began to sing again. And unbeknownst to my knowledge, my grandmother and grandfather were listening with intent. It was this experience that served as the catalyst for all that I have become in the present day. My father owned an electronic keyboard, and when he wasn't home, I would sneak into our basement and make as much noise as I could. Once it became apparent that there was something growing inside of me that needed to be nurtured, my grandparents were on board. Toward the end of my elementary school experience, I began playing the viola. One day as we were packing up our instruments in class, I started quietly playing Amazing Grace. The orchestra director, Ms. Alwin, effortlessly detected my little fingers trying to keep up with my bow. It was decided that day that I would close out our last concert with this solo. I was so nervous. I grew up feeling invisible. I felt like people couldn't see or hear me. I was bullied quite a bit. But now, all eyes would be on me. On the day of the concert, I took a deep breath, walked onto the stage, and let the music carry me away. As soon as I was done playing, I received a standing ovation from all of my peers and their parents. I think I was starting to discover that I had a superpower. 
Fast forward to 8th grade. I cringe with a smile at who I was trying to be as an angsty young teen. I was trying harder not to be so invisible. I was beginning to transition into a young adult. I was gaining a better sense of what I needed out of life. During our trip to Washington DC, we stopped at a restaurant for dinner one evening. The restaurant, by chance, also had a stage for karaoke. Everyone knew I played the viola. By this time, I was studying with a private teacher. I was always either first chair or first stand. No one knew that I could sing. When I took the stage, I wanted to wow everyone with Wild and Young by American Bang. I had become obsessed with the song after scoring it for free in the iTunes store. The principal informed me that they didn't have it on the list. I had to think quickly. I said, "I'll sing Backstabbers by The O'Jays." She nodded and communicated to the host running the music to start the song. I took a very deep breath, closed my eyes, and again let the music carry me away. Students and teachers alike were shocked. And so was I. I had finally been heard. Once we returned from the trip, I visited with the new choir teacher, Mrs. Coachella, to see if I could do orchestra and choir at the same time. She had heard well of happenings in DC and was eager to work with Ms. Alwin (who was also the orchestra director at this school) to make my schedule work. For our last concert, we sang an acapella rendition of River of Dreams by Billy Joel, where I was featured as the soloist. I'm learning how to use my superpower. 
My time in high school was spent dealing with the lingering effects of trauma while continuing to figure out who I was. I did everything under the sun; I was in the International Thespian Society and started as a pit musician for musicals before moving to the stage, I was in the Tri-M music honor society, and I was in the National Honor Society. I was in a good handful of the assemblies as a musical act. By the time I graduated, I have about 7 cords, two stoles, and a medallion. In some alternate universe, I was probably the Goat (lol). But there was something missing. People were seeing me now, but really in the way I needed them to. I started self-harming. I developed an eating disorder and lost about 60 pounds in two months. I had come out as queer to my friends but not to my family as I was scared I would be disowned and abandoned. Even by my grandmother whose love was unconditional (my grandfather had passed away the summer before 8th grade). My grandfather was a minister and both sides of my family are riddled with them. There was a local nonprofit, The Neutral Zone (Ann Arbor, MI), that was throwing a music festival in 2015. My friends urged me to audition and so I recorded myself singing a song I wrote called "Love Me Forever" and submitted the video. I started creating my own music at the age of 10 but started recording and releasing it professionally at 14 during my freshman year. I ended up being able to open for the headliner under my second stage name, Rez Rozlon. If you asked me how I came up with that name, I would look at you so confused and shrug. I have no idea. I've gone through many other names as well. I just knew I wanted to be heard. 
After graduating high school, I went off to New York City to attend NYU. At this point in my life, it was my dream to "make it big" and see my name in bright lights. Having never been to the city before, I did not know what I was in for. I was shellshocked, and at the same instance, I had never felt so at home. Here's this whole dimension of its own on Earth full of so many colors and ideas and hopes and wishes. It was also peppered with danger and darkness. NYU was my dream, but it was also my getaway. I could leave Ann Arbor and me that existed there behind and be anyone and anything in the city that never sleeps. I had a very hard time and started to become someone I didn't recognize for the worse. Once my freshman year ended, I came home and made the unbearably hard decision that I wasn't going back. I wasn't able to score enough scholarships, and we weren't able to afford it. I was crushed, but this later became a blessing in disguise. After returning, I started working. I didn't want to fall into the cycle of surviving and not chasing my dreams, but I didn't have a choice. 
In the summer of 2018, I was working at a now-closed vegan restaurant in downtown Ann Arbor. I had become famous among friends for my birthday party performances where I would get to become a star for a night and feel like a true entertainer. I even co-curated a short-lived cabaret series. After the series was canceled, one of the restaurant owners put me in contact with Jenny Jones, founder of music marketing and publishing firm Sadie Madden Music to see if we could get me onto some stages in local venues. That 30–45-minute meeting changed the rest of my life. In May of 2019, I performed (and headlined) my very first show which happened to be at the famed Blind Pig in Ann Arbor, MI. And the rest after that is history. 
I'm sure you wouldn't say it's been obstacle free, but so far would you say the journey has been a fairly smooth road?
The road traveled has been anything but smooth. Due to trauma or otherwise, I learned at an early age that sometimes you have to dig in your heels and keep Pushing until there's movement. Especially being a Black queer musician who doesn't fit into any stereotypical mold musical or not, I feel like I have to over-and-outperform to declare that London Beck deserves space within the universe and that I am here to stay. I'm very humbled and grateful to say that booking performances and having venues believe in my art has come quite easy once we entered that realm. When I started professionally producing, writing, and recording for myself, I didn't have the resources to have anyone else help me. And so, I did what any knowledgeable borderline millennial would do and turned to the internet. Love it or hate but where were we before YouTube? That platform is hands down my best friend when I am wearing my musician hat. I've also taught myself how to do webpage and graphic design. Wanting to pursue and nurture my passion has helped me to become incredibly resourceful and diligent because right now, everything is on my shoulders. If there is a failure, I have no one to look to but myself. 
Can you tell our readers more about what you do and what you think sets you apart from others?
I wear so many hats. I'm a singer, songwriter, producer, sound engineer, multi-instrumentalist, and private teacher. I even do graphic design and manage my online store. These are things that I am proud of and represent what sets me apart from others because the vast majority of these titles were self-taught. The fact that I can pivot from talking about decibels and compressors to licensing fonts and creating vectors to Teaching Kreutzer etudes and viola concertos even blow my mind. And they're titles I won't ever take for granted. 
If you had to, what characteristic of yours would you give the most credit to?
I truly believe that being able to persevere saved my life. The universe has its way of humbling any plans you've mapped out. There are so many times I felt I wasn't cut out to be a musician that counting wouldn't do me justice. But even when my head told me I was done for, my heart picked me up by my bootstraps and helped me remain hopeful and assertive in my intent to change the world with my art. I always tell my students and others that life may not get easier but it's about improving your skill with the tools you have and keeping an eye out for new ones along the way. As long as we use our tools with clear intent and trust the process, this too shall pass and we will see it through. 
Contact Info: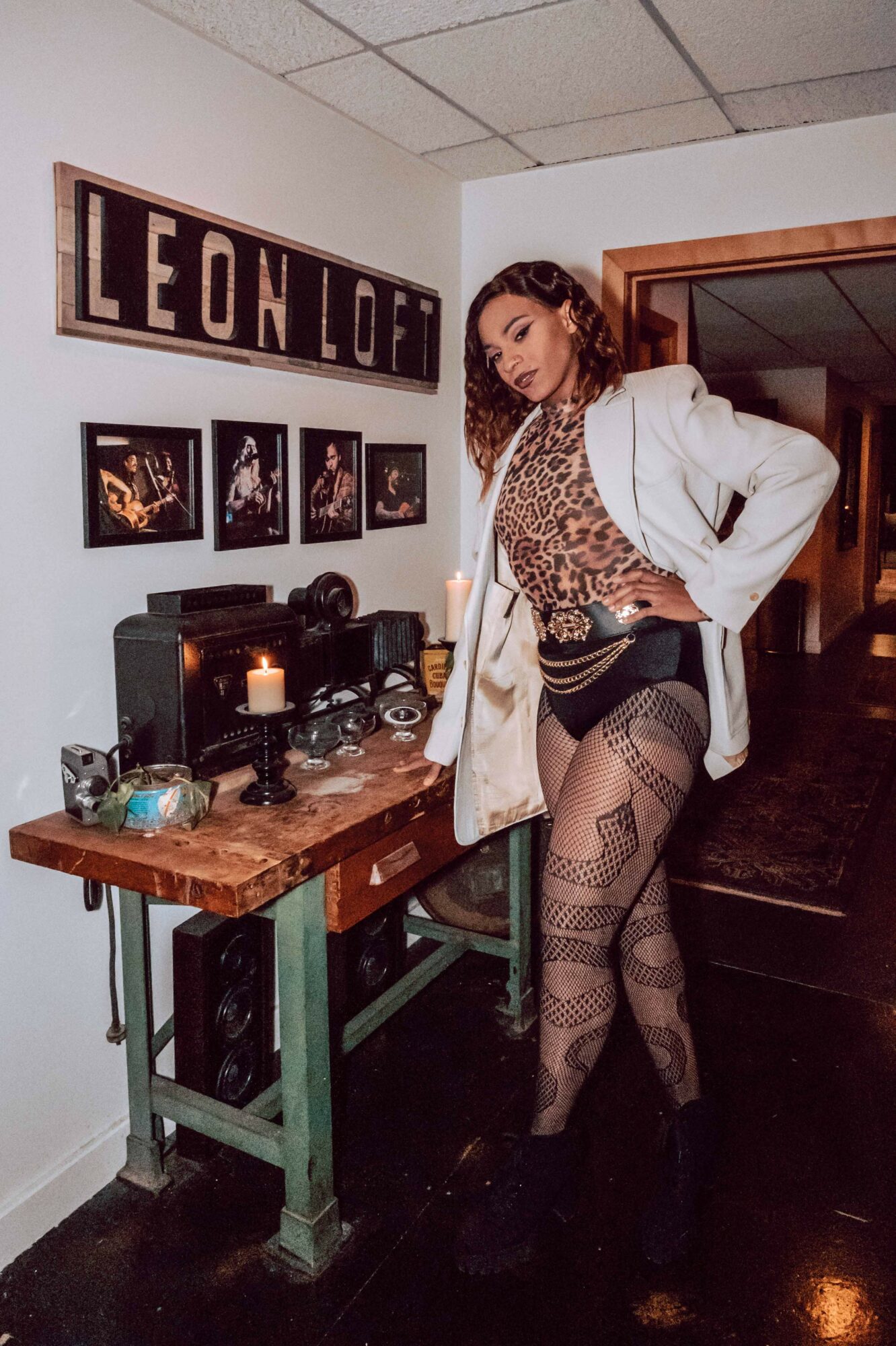 Image Credits
Doug Coombe
Suggest a Story:
 VoyageMichigan is built on recommendations from the community; it's how we uncover hidden gems, so if you or someone you know deserves recognition please let us know 
here.