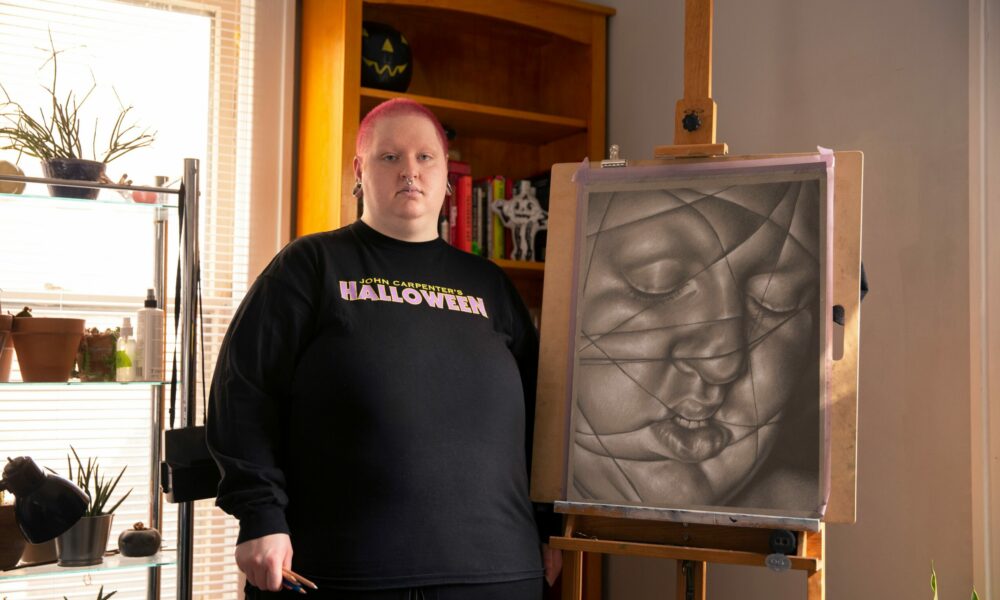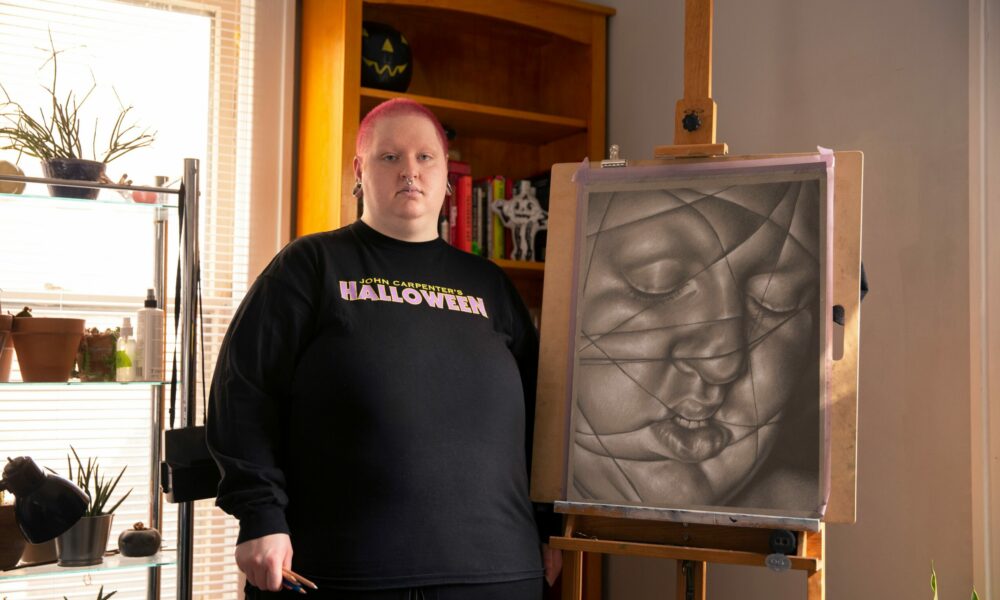 Today we'd like to introduce you to Kae Britton.  
Alright, so thank you so much for sharing your story and insight with our readers. To kick things off, can you tell us a bit about how you got started?
I remember the day I decided I was going to be an artist. I had always been creatively driven–my early childhood was spent playing in the woods of Tennessee, where my siblings and I would build fairy houses out of twigs and acorns at the base of trees, or use the family video camera to write and direct our own films. I did a lot of drawing and painting as a child, studying movie covers, toy packaging, trading cards, and CDs. I loved looking at illustrations and replicating elements from them so I could develop my own style. 
In 2004, my family moved back home to Michigan. As a teenager, I gravitated toward painting portraits and began studying faces. In high school, I considered the idea that maybe I should go into a different career, but deep down I truly knew that I was an artist and no other path would work for me long-term. I just knew. 
During high school, my parents got divorced. Fortunately, I was able to use my art assignments as a healthy outlet for my emotions at the time. One teacher introduced me to Frida Kahlo's work, and I was incredibly moved by her use of self-portraits to explore turmoil, emotion, and events in her life. Inspired by Kahlo, I began using my own image to express my frustration with the divorce, among other issues I was dealing with. Although I would consider myself an average student, I consistently got straight as in my various art classes, and even took AP Art for two years, as well as being the President of my school's National Art Honors Society. My twin and I were both nominated "Best Artist" for our mock elections in our graduating class, and we both decided to attend Grand Valley State University for our own respective art forms–Photography for my twin, and Studio Art for myself. 
In college, I had to break down everything I had already learned as an artist, which, admittedly, was extremely frustrating, but necessary to reestablish my base knowledge of art-making. Over the course of my five years at GVSU, I was developing three separate art styles–fine art, illustration, and drag. At the time I thought they all needed to fit together into one tidy unit, so I unsuccessfully kept trying to combine them. Drag was mostly an extracurricular activity for me, but with my twin, we created a series and an on-campus art exhibit called "Art is a Drag," which explored drag makeup as a studio practice. I am still working on that series to this day. 
Through drag, I began exploring my gender identity and femininity/masculinity as performance. I began noticing when people referred to me as "she" or "her" out of costume, it felt like a pit in my stomach. I had been perceived as "neutral" f0r a majority of my life and was always asked if I "was a boy or a girl," by other kids and sometimes adults. In 2017 the term "nonbinary" was becoming more common, and I really felt it described my experience with gender. I think my being nonbinary was always there, I just didn't have the language to describe it. I honestly never felt like a girl or a boy, I just felt like me. 
After graduating with my Bachelor of Fine Art, I started working a day job, which had decent pay and good benefits, but I had very little time to devote to my art, which was devastating. I chose to just focus on drag makeup for a year or so, but I really missed drawing. In January 2020 I picked up the random art supplies I had in my bedroom–in this case, it was a small toned paper sketchbook, graphite pencils, and white charcoal, and I started revisiting my old self-portrait habit. It turned out terribly! But I knew I had woken up something inside me that I needed to explore, and after a few drawings, I found what I had wanted to say–to vulnerably visualize what being nonbinary feels like. Through these drawings, I have garnered a large online community of other queer individuals who understand and connect to my work, which I am deeply honored by. 
A year ago, I quit my day job to be an artist full-time, which has done wonders for my mental health, productivity, and success in my art practice. I'm looking forward to what this next year brings, and the years after, as well. 
Can you talk to us a bit about the challenges and lessons you've learned along the way? Looking back would you say it's been easy or smooth in retrospect?
For about two years at my day job, I really struggled with my work-life balance. I was cutting into my sleep so I could devote more time to my art, and was getting about 4-5 hours of sleep a night consistently because of it. The best way I can describe it is that I was on "auto-pilot" at my job, and had gotten to a point where I didn't have to think about my job duties. Fortunately, I was able to listen to music and podcasts all day, which allowed me mental space to just come up with ideas for new drawings and illustrations when I would get home from work. Towards the end of my time at that job, I was really struggling with the idea of being chained to my desk–I knew I didn't want to be at that job forever, but I didn't know if it was feasible for me to leave. I felt trapped in a lot of ways, which caused an overwhelming amount of anxiety and stress. It came down to a point where I realized if I didn't leave that job and make the decision to put myself and my art first, I would be stuck there forever. Since leaving my job in May 2021, I still work for about 16 hours a day on various projects, but I am happy to say I now get 8 hours of sleep every night. 
Last year, right before I left my job, I started the largest self-portrait I've ever worked on–43″ inches wide and 58″ tall, to apply to ArtPrize. The drawing, "Tresses," is about how bizarre femininity makes me feel as a nonbinary person, and it features me with extremely long lower eyelashes. I found out ArtPrize had an Artist Equity Grant open for marginalized artists, so I applied to it and requested funding to cover the cost of framing for my drawing, which was about $2,000 for a custom frame that size. I was awarded the grant, BUT I would only receive the award if I could find a venue to host my piece. I applied to over 30 venues, but unfortunately, due to a combination of issues, no venues accepted me, and therefore, the $2,000 was revoked, and I didn't get into ArtPrize. 
That really caused a lot of turmoil for me, and I went into a depression about if leaving my job had been the right choice if my art was any good. I couldn't afford to drop $2,000 on a custom frame, which led me to be angry at myself for taking on such a large costly project in the first place. But I finished the drawing anyway and asked my community for help. The bright side is that my friends, family, and fans of my work helped me to raise $1,000 for the frame, and I covered the other $1,000 out-of-pocket. I'm still recovering financially from it, but now "Tresses" is able to be exhibited, and it was a real monumental piece that established my fine art style. I challenged myself majorly, and I was successful, despite a huge roadblock along the way. Through that experience, although devastating at the time, I discovered how many people were rooting for me, and how I had garnered a large community of folks that really have my back. That's something I am extremely grateful for, the folks who allow me to be vulnerable without judgment as a queer artist, and who appreciate the work I am doing. I also discovered how much more "presence" my pieces have at that large of a size, and I really enjoy how it turned out! I would love to work that large again in the future. 
I'm still at the beginning of my art career, so I'm sure there are many more challenges ahead. 
Thanks – so what else should our readers know about your work and what you're currently focused on?
I am a multidisciplinary artist–I have three separate portfolios: fine art, drag, and illustration. My work is mostly visualized as dark surrealist self-portraits, done in graphite and white charcoal on toned paper. As a nonbinary person, I explore gender transformation as well as visualize how it feels to be nonbinary. By using the black and white medium, I showcase the nuances of gray space, and thus, the nuances of masculine and feminine. I've realized many people do not understand what being nonbinary means, so I feel it is my obligation to help others understand through a visual representation. I use myself as a visual base, much like a mannequin, which is where I also get my drag name from. 
My drag is mostly a makeup-based art practice, but I occasionally sew costumes to help bring a character to life. The concept for my drag is that I use myself as a "canvas" to build characters onto, hence, my drag name being The Mannequin. Instead of being one character all the time, I have a series of characters that I create through makeup for temporary exploration and are photographed by my twin. One of my "main" personas is Kiwi the Clown, and Kiwi has a signature eye and lip shape that I paint on pretty regularly. Drag has been a great avenue for me to explore gender presentation; some makeup looks are more masculine, and others are more feminine. I love having the ability to adapt and transform myself into various personas. 
My illustrations fit more with drag than my fine art because I mostly create fashion illustrations of my own original characters, so there are a lot of funky colors and personalities. I've always loved costuming, whether cinematic or on the runway, and drawing costumes has given me an opportunity to illustrate outfits that I personally don't have the means to make myself. I would one day love to collaborate with a designer where I just illustrate costumes and someone more skilled with sewing brings them to life! 
Although each of my portfolios is vastly different, and sometimes looks like three separate artists created them, I can't help but dedicate time to each of them. I've never been able to completely cut one off to make time for the others, I just love them all too much. The benefit though is that when I am tired of really serious drawing and self-portraits, I can jump to illustration and create something bright and silly, and when I'm tired of that, I can play around with makeup and create a new drag makeup look! It's a system that works for me and gives me an excuse to create new work for each portfolio pretty regularly. 
The crisis has affected us all in different ways. How has it affected you and any important lessons or epiphanies you can share with us?
At the beginning of the pandemic, I was furloughed from my job for about 7 weeks, and I was the most productive artistically during that time than I had been since I started that job. I found I was able to delegate projects and keep myself busy without someone managing me, which was really helpful in the decision to leave my job to be a full-time artist. Although the pandemic has obviously been devastating in so many ways, it allowed me to have a few weeks away from my job, which I used to decompress and create art. At the end of that 7 weeks when I had to return to work, I realized how happy I was being away from that job, how happy I was for the first time in roughly a year and a half. The pandemic really put into perspective that if I'm going to be stuck in a job, it might as well be a job that I enjoy. 
Contact Info: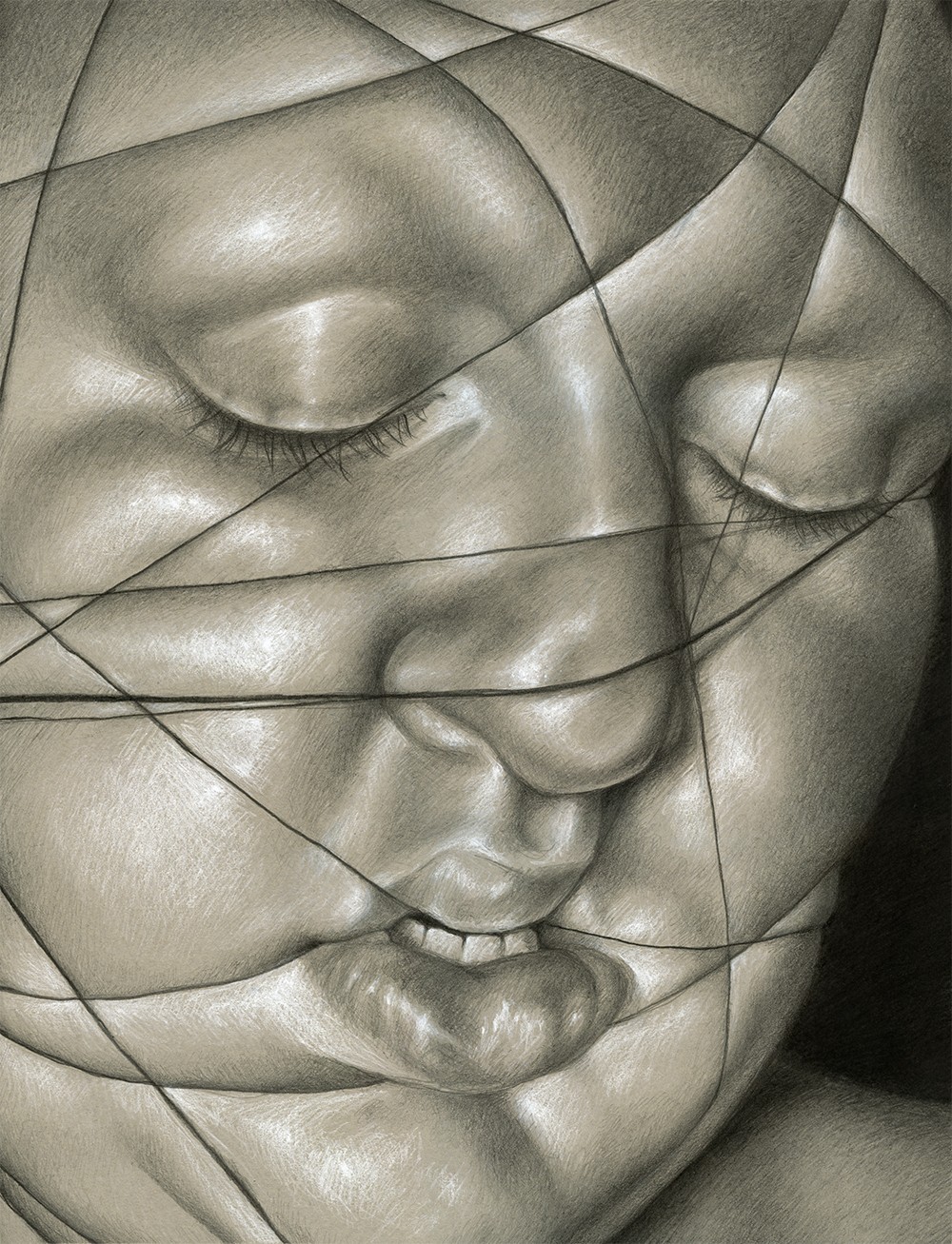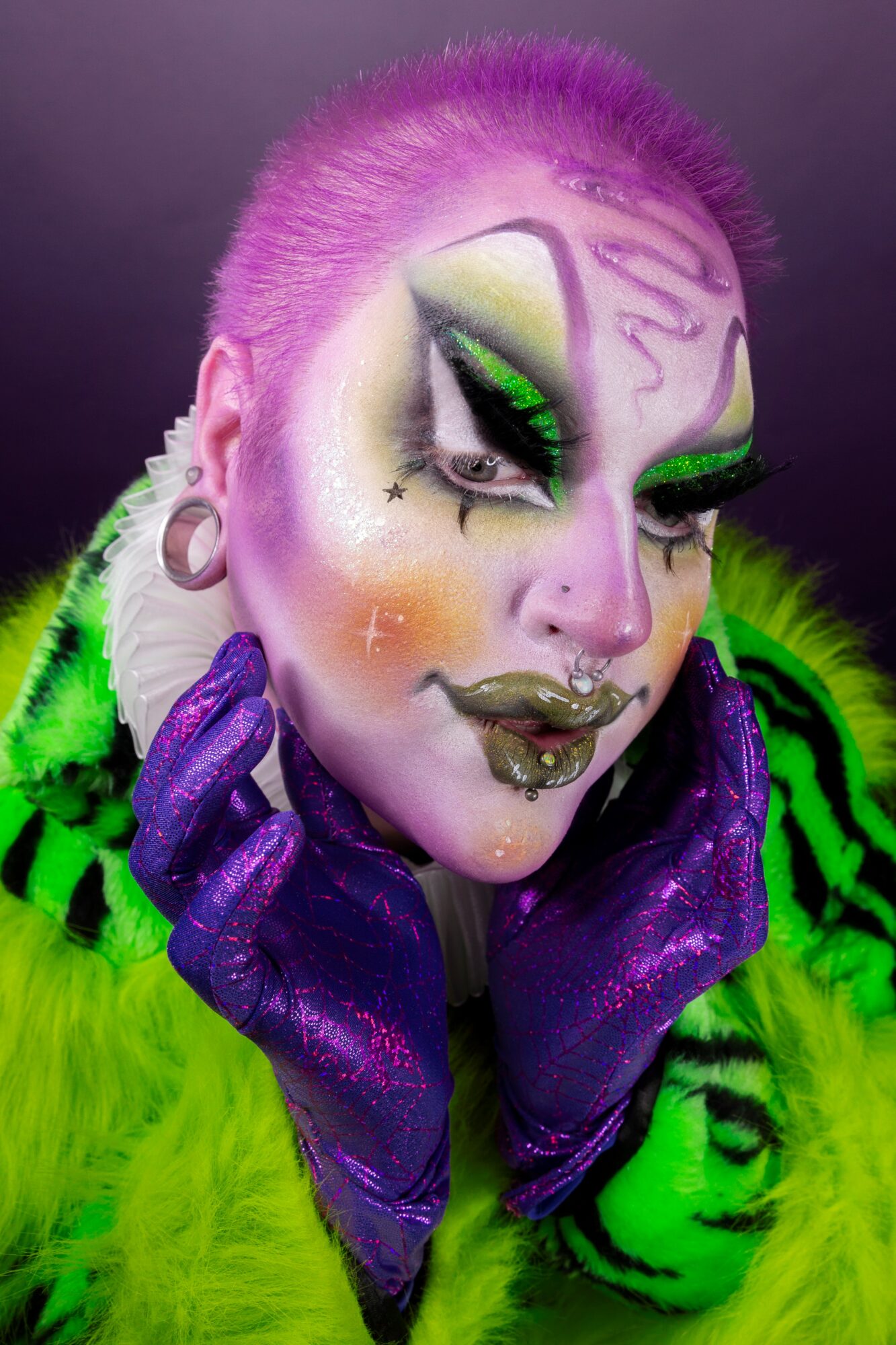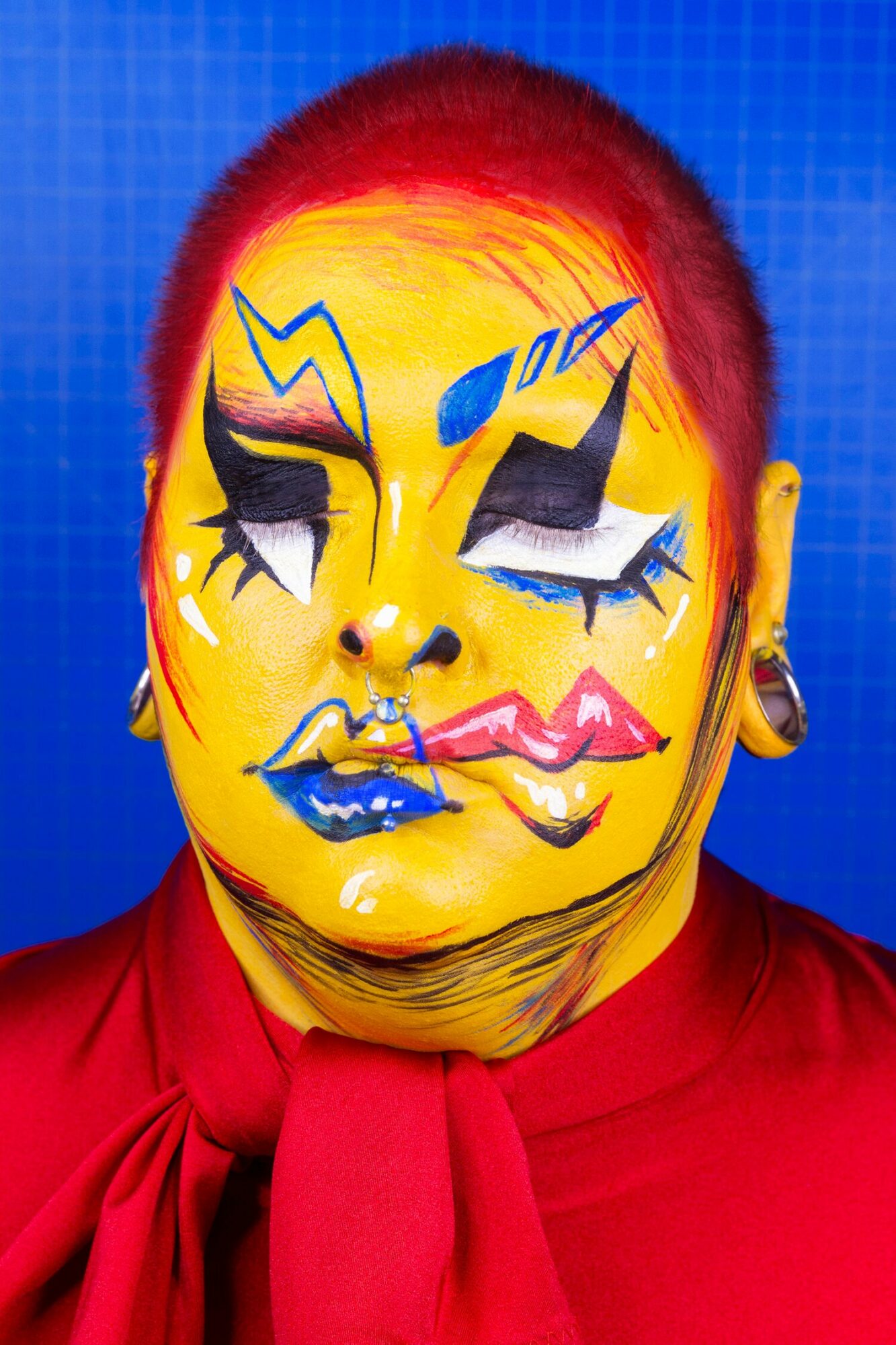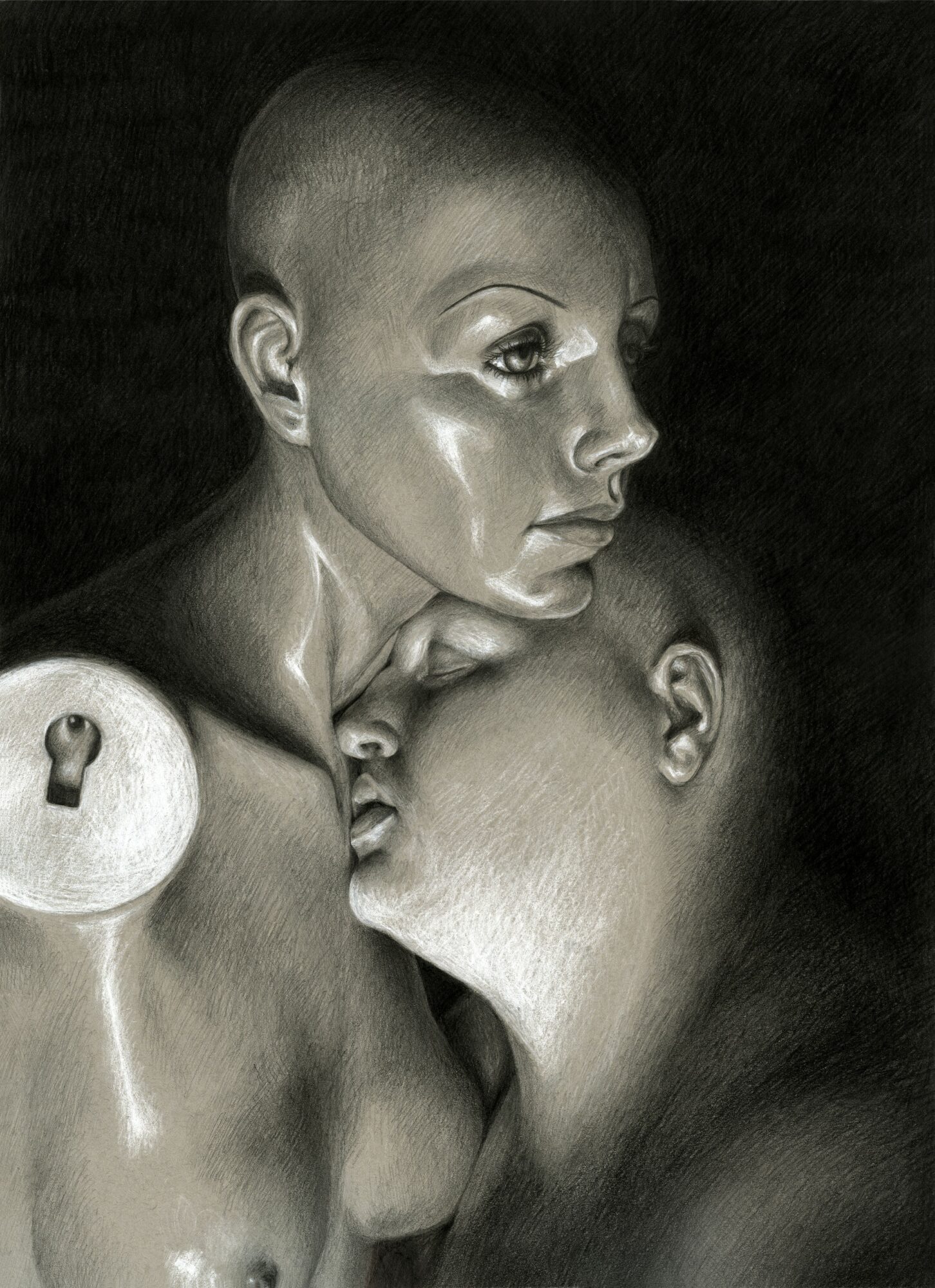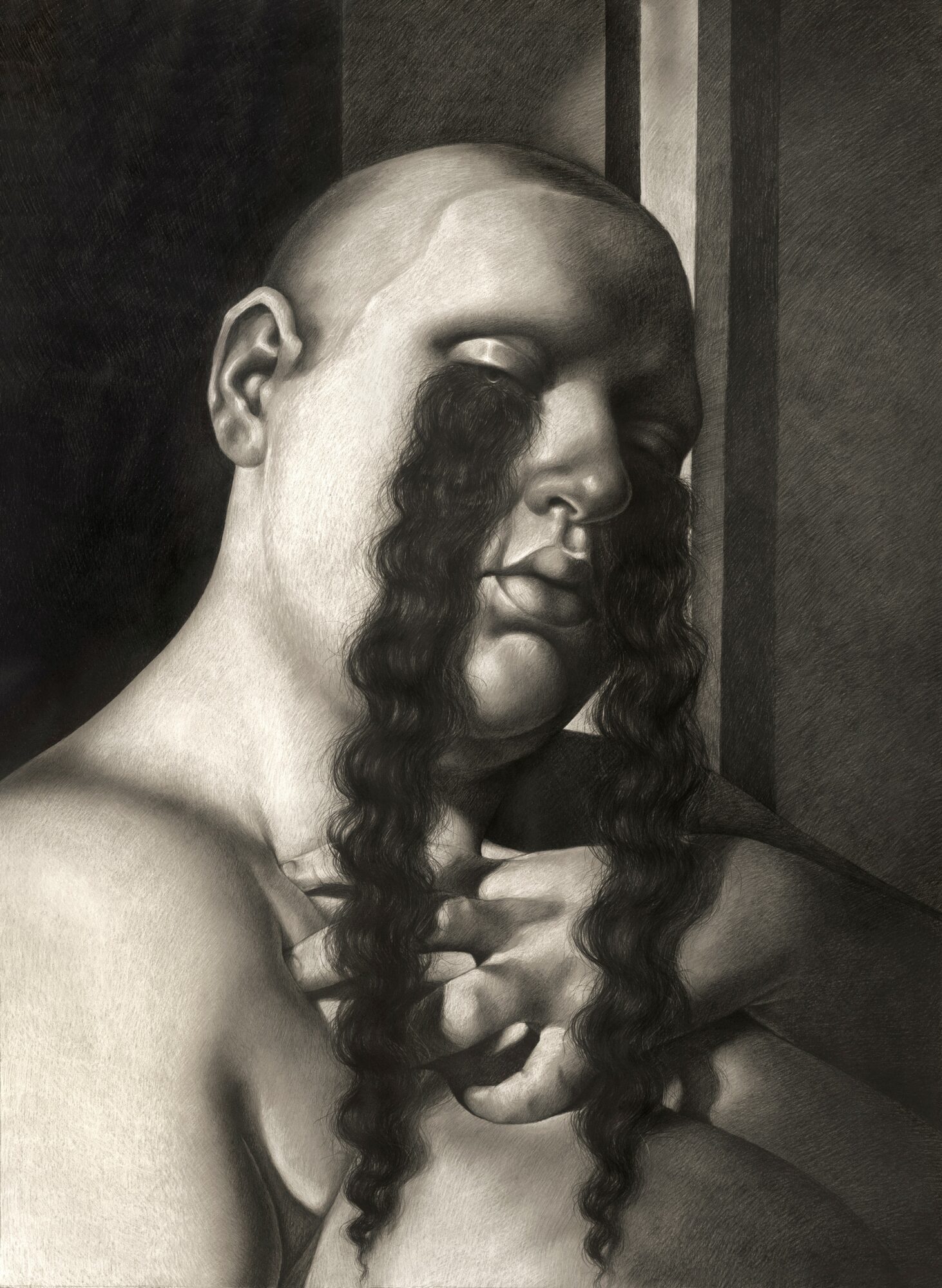 Image Credits
Rachel Britton
Suggest a Story:
 VoyageMichigan is built on recommendations from the community; it's how we uncover hidden gems, so if you or someone you know deserves recognition please let us know 
here.