Today we'd like to introduce you to Jackson Wrede. 
Hi Jackson, can you start by introducing yourself? We'd love to learn more about how you got to where you are today?
I've loved drawing for as long as I can remember. Because I've had a knack for it since I was a little kid, people who saw my art reacted positively, and that encouraged me to continue getting better. From a young age, I understood from seeing paintings in museums that clearly at some point in history it must have been possible, even not that out of the ordinary, to be a great and respected artist. But I didn't know any of them personally and the idea of being a full-time, successful oil painter just didn't seem like something that was possible in this day and age. No one in my family or immediate circle had connections or knew anything of the arts, but that still felt like the place where I belong. My skills improved in high school and I studied in college, but even by the time I got my master's degree in painting and had received a full art education, I still didn't know how I was going to snap my fingers and become the working artist I always wanted to be. The galleries weren't magically gushing over me and after some depressing searches of the job market, I realized that my life is only going to be what I make of it. If I wanted to support myself by doing what I love and join the ranks of those amazingly talented dead dudes whose paintings still hang on the walls of the museums, I simply would have to start making lots of paintings and finding the right people to sell them to. At 25 years old, I'm still pretty new to this, but I believe if I can make paintings of the highest quality and establish a certain standard, there will always be enough demand for me to get by. I'm living my life one project at a time, and the way I treat every painting I make today is an investment for the future. It can be a little scary trying to pave your own path, but I like being the one responsible for where I go. 
Alright, so let's dig a little deeper into the story – has it been an easy path overall, and if not, what were the challenges you've had to overcome?
No matter what you choose to spend your life doing, there's gonna be some difficulties and hardships along the way. My path is no different than everybody else's in that regard, but I think where the meaningful difference for successful people is in how they approach and respond to these struggles. In grad school, I can remember checking the balance on my bank account and feeling my butt cheeks clench up, and that's never a good feeling. As someone who has spent the last few years in the education system and art world, you find they are packed with bureaucracy & politics and can be difficult to navigate or at odds with your own values. And that can be discouraging. I've had clients who flake, exciting plans that never pan out, and restless nights worrying about how I'm gonna make this all work, but if you take on the risk of not accepting a stable job you end up reaping what you sow. If I didn't think the pros outweigh the cons in my situation, I wouldn't be doing what I'm trying to do. It definitely helps that I don't really have a backup plan, which means the only way is forward. 
Can you tell our readers more about what you do and what you think sets you apart from others?
Basically, I make paintings for a living. I spend about half of my working time making paintings based on my own original ideas that I then try to sell on the open market, and I spend the other half working on commissioned projects for a variety of clients. In the past, I've dabbled with murals and some graphic-design type work, but really my specialty is in oil paintings that are going to last far longer than you or I on the walls of homes, businesses, galleries, and hopefully someday even museums around the world. I have become a student of art history and the craft of painting in a way few others are, and I want to share this knowledge with the world by actually contributing to the rich tradition of painting that has existed for centuries. The world is a different place than it used to be with clicks and screens dominating how artistic media is processed and consumed. It is for this reason that I believe real, physical paintings are more relevant now than ever. I'm not particularly well-known and would probably fall into the category of "emerging artist." There are a lot of ways artists can stir the pot and market themselves online, but those gimmicks and fancy editing aren't as interesting to me as actually creating quality artwork. So many things in modern society are immediate, fast, and not built to last. I reject that notion and am fascinated by anyone who demonstrates real excellence and passion in their field, and I think it is my duty to do that with painting. Whereas most visual artists are known for a particular style or brand of work, I stand apart by trying to work in a wide range of styles and embracing all the possibilities within the realm of painting. It can be hard to describe but head over to my website and you will see what I mean!
What sort of changes are you expecting over the next 5-10 years?
Time for an unpopular opinion! It seems to me that the art establishment has spent the last century doing just about everything it can to diminish how the general public perceives fine art. I don't hate all abstract painting or conceptual & performance art, but I believe a great deal of it has built a massive barrier between a small elite group of art insiders and the rest of the population that is confused by what "art" even means today. The notion that all art is totally subjective just doesn't always check out with me and totally goes against how art was perceived before the 20th century when true standards and criteria existed in judging it. I don't want to live in a world where art is scored on a rubric, but I also believe the last thing modern society needs is more senseless self-indulgence. The art world has really split into two camps based on this distinction and I think those differences will continue to grow over time. Where I see myself in this equation is somewhere in the middle—along with a whole host of other working artists I look up to who are bridging that gap. I don't want to spend my life painting stodgy, antiquated scenes of fruit bowls and figure paintings, and I certainly don't want to be the guy duct-taping a banana to the wall for my next exhibit. Rather, I want to make paintings of the highest quality that speak to the times we are living in and shine some light on the problems and the joys human beings alive today will face in the coming decades.
Contact Info: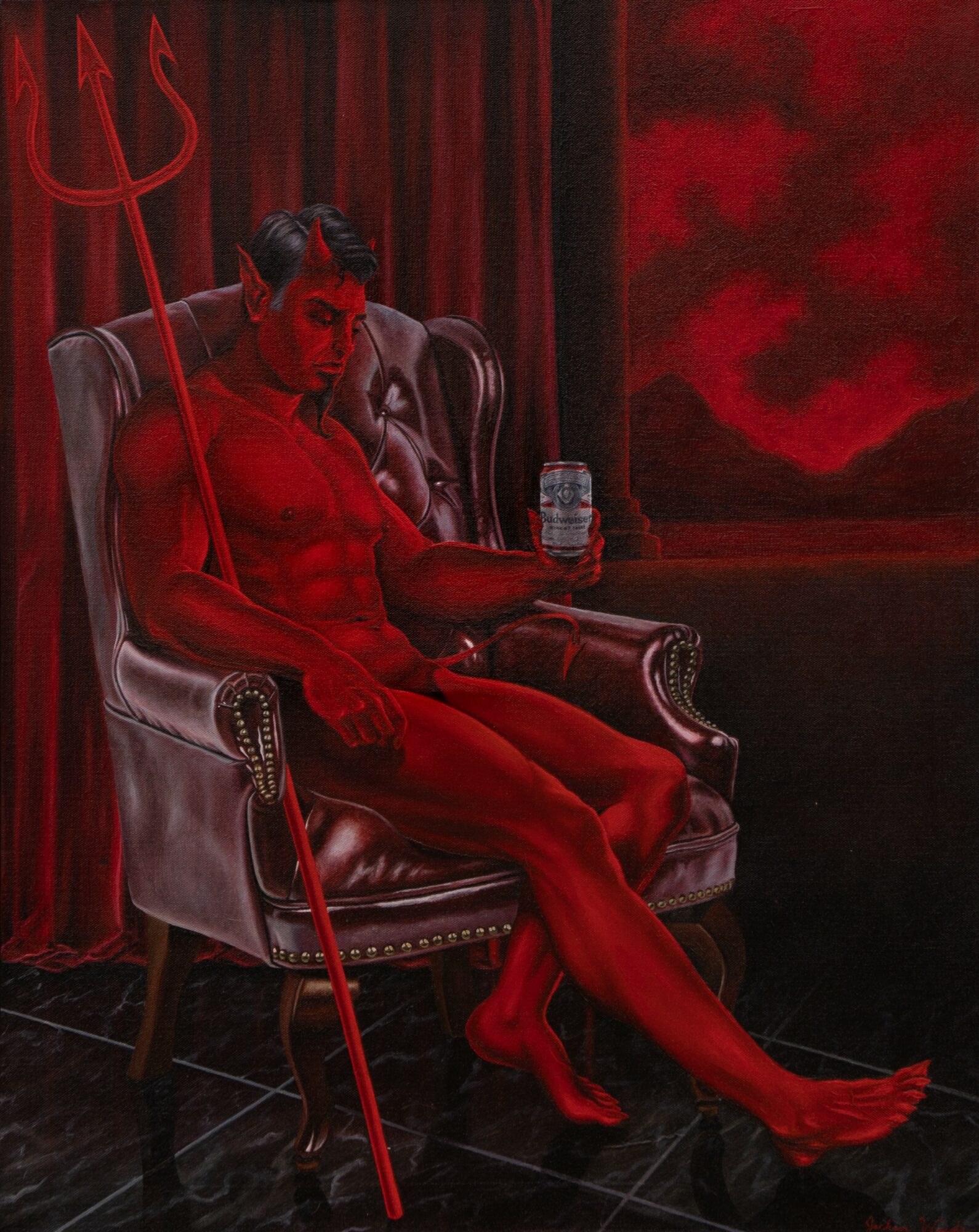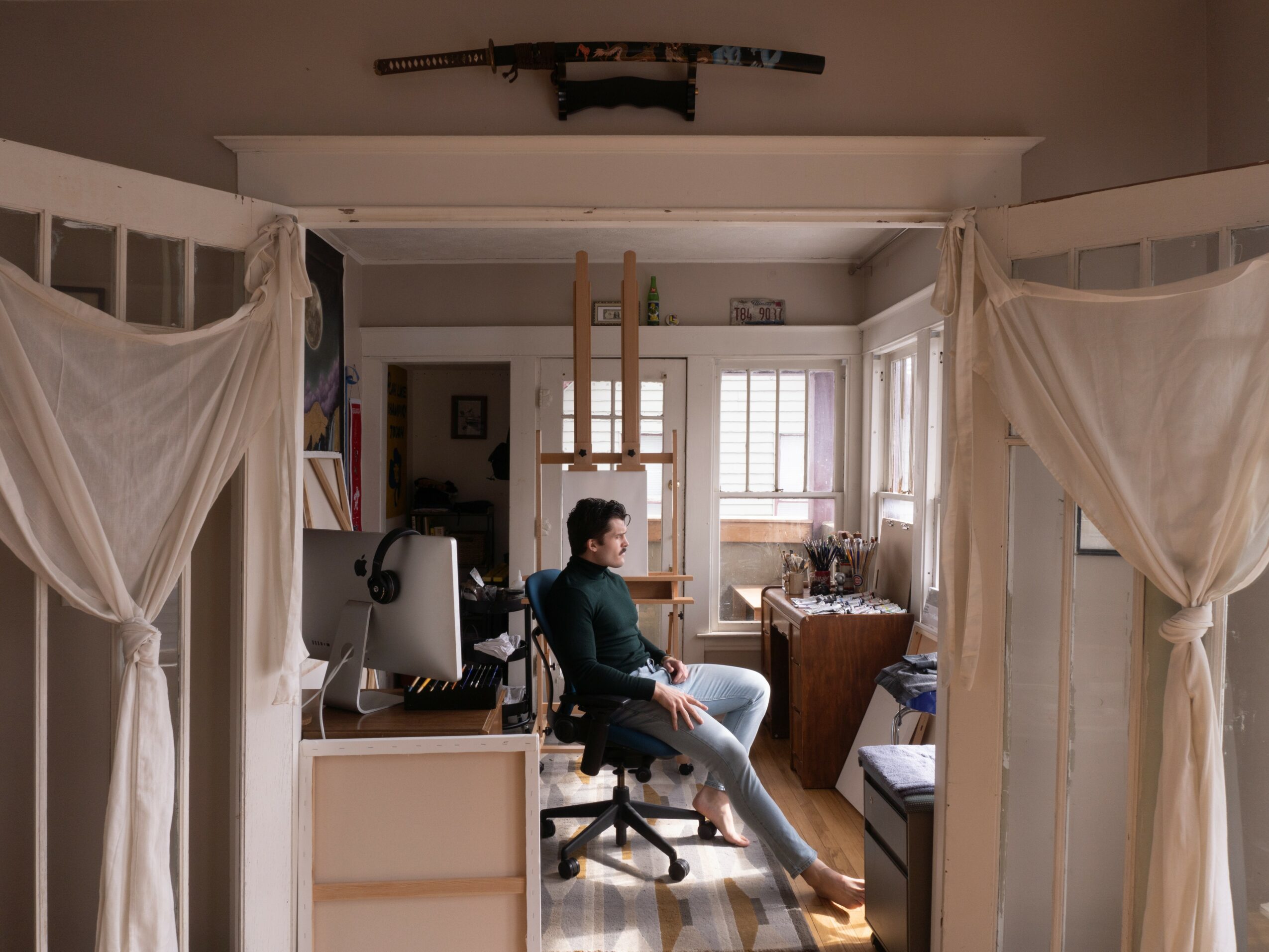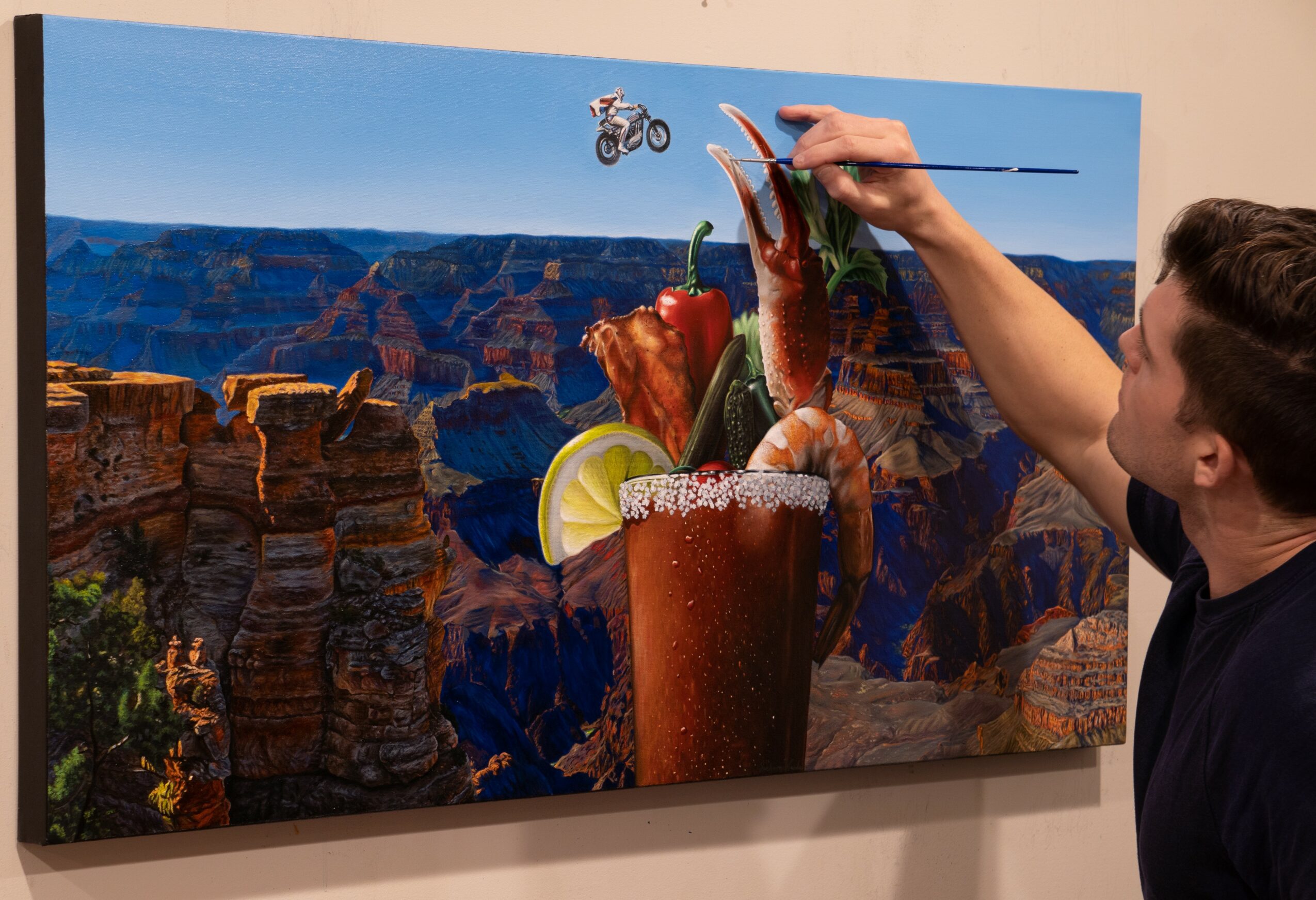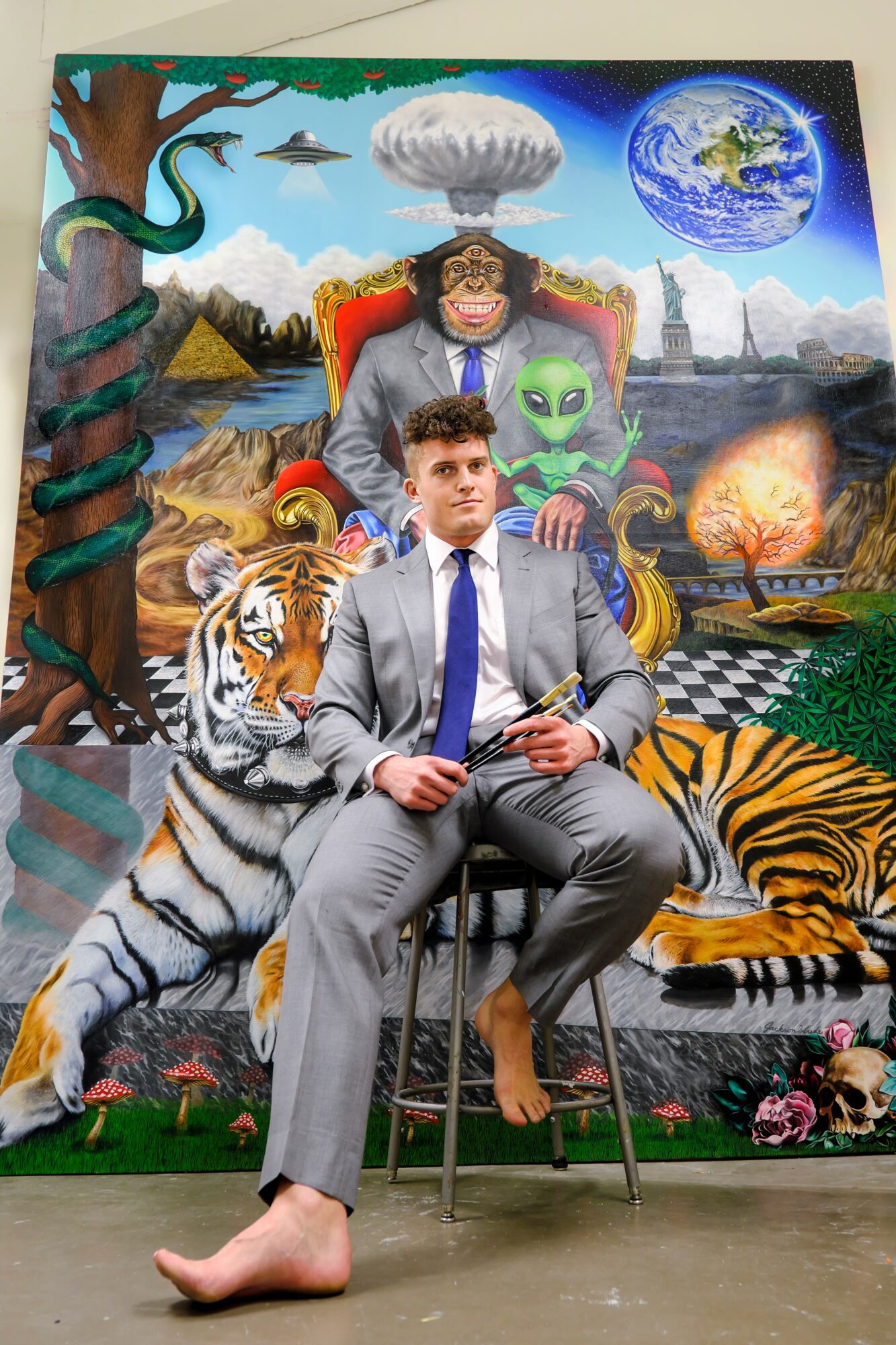 Suggest a Story:
 VoyageMichigan is built on recommendations from the community; it's how we uncover hidden gems, so if you or someone you know deserves recognition please let us know 
here.