Today we'd like to introduce you to Tanisha Pyron. Them and their team share their story with us below:
Tanisha Lynn Pyron also known as (Pretty Fire the poet) (The Afrocentric Pin-Up Girl) (The Creative Doula) is a classically trained actress, professional theatrical director, and a co-founding member of Face Off Theatre Company. Most recently I directed Absentia at Ohio University and co-starred in a regional theatre production of Yellowman. I am a virtuosic artist, creative photographer, spoken word poet, author, teaching artist, viral influencer, storyteller, and media entrepreneur recently publishing her first book of original poetry, BLACK POOL OF GENIUS Volume I, and launching Tanisha Lynn Pyron Creative Services, LLC as a media brand. I am a Subversive Black Girl Artist considering myself to be a modern-day griot focusing on telling stories that redefine and re-appropriate "BLACK AMERICANA" highlighting and finding the beauty in the contradictions, pain, and pride within "our stories" and thus hoping to discover and re-claim the beauty within my own. I have used acting, poetry, movement & visual art as modalities for making sure my creative vision and voice are seen, heard, and felt. To me, the art and the artist are one. As I seek to unlock and express what is contained in my own heart and to heal and celebrate my own beauty and spirit. The art will speak to who it needs to. Tanisha Lynn Pyron Creative Services, LLC is a business birthed at the intersection of creativity, purpose & passion. 
I seek to use my classical theatrical training, storytelling experience, understanding of industry and market standards via Fine Art Photography, videography, and visual storytelling to advocate for black business, brands, and families. The challenge I choose to undertake as a business is by servicing "myself" in the market…the single mothers like me who are also entrepreneurs, teen moms, nontraditional college students, at-risk youth. Black women and girls who want to say to the world for themselves this is who I am. 
As a virally successful visual artist with a combined social media following of 60k, 15 years of experience as a creative storyteller, and facing the same social barriers my clients face. I use my entire skill set to advocate for my clients. Including a nuanced understanding of retouching BIPOC skin tones & natural light storytelling. 
Services 
Service 
Fine art photography, creative visual storytelling & videography 
Workshops 
Creative Coaching 
Educational Arts Exhibitions 
Social Media Influence 
My goal is to challenge ideas and explore facets of black womanhood through thought-provoking visuals and words. 
Currently, I am a part of the Black Lens Film Makers Fellowship 2022 Cohort. I am releasing Black Pool of Genius Volumes 1-3 (A book of original subversive black girl poetry, subversive black girl images & a subversive black girl feature film) 
Launching the Black Famous Podcast 
Black Americana/Black Famous Blog. 
The Afrocentric Pin Up Girl (Beauty Influence Brand) 
CLASSIC BLACK GIRL BEAUTY. A. CELEBRATION. A. REMIX. REDEFINING. Classic Hollywood Style defusing it through an Afrocentric Beauty Aesthetic. It's a SUBVERSIVE use of my beauty as a counter-narrative. Hang a Tanisha on ya wall instead of Marylin Monroe. I'm NOT the first. THINK Freda Kahlo. SHE was the total embodiment of her art aesthetic and the REAL her in the SHOTS is WHY it sticks and stays with us. WHY we are still talking about her. Historically Tanisha's and women who look like me have rarely been seen or depicted as great beauties in works of art. There is a demonizing of the black female form. (WE DON'T EVEN HAVE LANGUAGE or a paradigm for BLACK FEMALE SEXUALITY that isn't base, cheap or NEGATIVE…Jezebel, THOT, hoe, rat, ratchet…etc.) I am at the farthest end of the "traditional" skinny blond-haired blue-eyed barbie doll all-American beauty standard and if I invested any energy into being that…A. I would look like a fool. B. It would be unto the hurt and harm of my own soul and body. I am DARK brown, NAPPY HEADED, and CURVY that's what I bring into the world and I create to find, explore and share the beauty in that. The only way to change the negative conversation around black beauty, female sexuality, and black womanhood is to DO SOMETHING, to put something out in the world that augments or impacts the conversation in a positive way. Compelling art sticks with you, it stays with you, it lingers in minds and hearts long after you are gone. It captures a moment. I wanna capture moments that saturate the minds and hearts of black women and girls in affirmations of the REALNESS of our worth and beauty. It's why I started the Tanisha Lynn Pyron Creative Photography (Slay Sessions) to duplicate and give my sisters the same freedom, restorative justice, and power I am finding with The Afrocentric Pin-Up Girl. I want to inspire & CAPTIVATE my brothers, men, and boys globally to see the profound complex beauty in their reflection, in their mothers and wives and sisters. I want to add complexity and sophistication to how the world sees Tanisha's and Tameka's and Tosha's for generations to come. We daughters of the diaspora marooned here from the shores of west Afrika are NOT video girls, or THOTS, or ratchets, the longer you saturate in that lie the more likely you are to project it back into the world. We are of the lineage and pedigree of Maya Angelou, Nina Simone. Zora Neale Hurston, Eartha Kitt, and Katherine Dunham and I refuse to let the world diminish or distill down my narrative with myself or others. (It has made me and many of us SICK and TOXIC). And when I am old (if I am blessed enough to get old) and my body and looks change… I WILL have a chronicle, a visual record of the BEAUTY and the power my FLAME brought to the world. NO. I don't know if I am doing it right but I am on the path and I am doing it!!! 
🌟Become a Patron 
Support Black Artist🌟 
https://www.patreon.com/join/theafrocentricpinupgirl 
The Creative Doula (creative process coaching) where I help you birth your creative vision. Clients can connect at any point in the creative journey and access my entire creative skillset to help you bring your vision to life. 
We live in a world of followers. I dare to be different and to encourage my subjects to do the same. My desire is to use my lens to help you to see yourself beautiful in a deeper, more specific way and facilitate personal growth through telling YOUR story creatively. With my creative skillset we journey together to reveal, explore and embrace the bits of ourselves we hide, we reject, protect or have yet to discover; all the things that cause us NOT to fit in with the collective, all the ways we are unique. There are lots of ways to tell your story if you understand what your story is. 
My desire is to use my lens to help you to see yourself beautiful in a deeper, more specific way and facilitate personal growth through telling YOUR story creatively. With a creative shoot we journey together to reveal, explore and embrace the bits of ourselves we hide, we reject, protect or have yet to discover all the things that cause us to NOT fit in. All the ways WE are different from the collective. We live in a world of followers. Dare to be different, dare to be seen, dare to stand out!!!
With extensive experience as a social justice, project-based creative, cultural influencer, performer & teaching artist for organizations like Old Kings Orchard, New Horizon Learning Center, University of Illinois, and YMCA, and key contributions to social justice & identify based viral online movements like Infamous Mother's, Beautiful In Every Shade & 50 Shades of Black and my theatrical experience with the Techtonic Theatre Company, SITI Company, WMU's production of Good Death, BACC & Fire's production Bread Crumbs which highlighted the stores of black LGBTQI populations from south West Michigan in their own words. I've devised, produced, acted, directed, and performed in multiple works plays & film shorts. I've collected real stories and photographed real people and imbedded their truth into bodies of work that moved the world forward in dynamic ways. I've used my platform and artistry to advocate full-time for marginalized black populations specifically women like me. 
We all face challenges, but looking back would you describe it as a relatively smooth road?
MONEY. Access to funding opportunities, sponsors, and investors. The loss of my mother during the Covid lockdown. The death of my brother due to gun violence. Being a teen mom. Being a single mom. Being a full-time artist. Race & gender bias when seeking equitable access to business and artist funding opportunities. 
Alright, so let's switch gears a bit and talk business. What should we know about your work?
I think I may have answered this already. I am a subversive black girl artist. I am classically trained actress. I attended Western Michigan University for undergrad and University of Illinois for grad school. I am a virtuosic artist. I am a published and regionally feature poet. I am a regional professional actress and director. I am signed to Lilly's Talent. I have gone viral with over million people seeing my visual art with features on platforms like Afro-Punk and For Harriet. I am published and a featured artist in Carlton Mackeys 50 Shades of Black. I am artist in residence and second shooter for Infamous Mothers. Social media associate for We The People Michigan. I am a Black Lens Film Fellowship 2022 Cohort member producing my first film. BLACK POOL OF GENIUS VOLUME 3. 
I just published BLACK POOL OF GENIUS VOLUME 1 a volume of original subversive black girl poems. (Available now on Amazon) 
I am a Create Doula (creative project/process coach) 
I am running an IFUNDWOMEN crowdfunding campaign for Black Americana: A BLACK WOMAN SPEAKS. An educational arts instillation. 
So maybe we end on discussing what matters most to you and why?
God. My son. Making my mother proud. Making art that casts vision for the future of black womanhood and honors the legacy and past. Being able to create in spaces Black Women have been marginalized out of. 
Contact Info: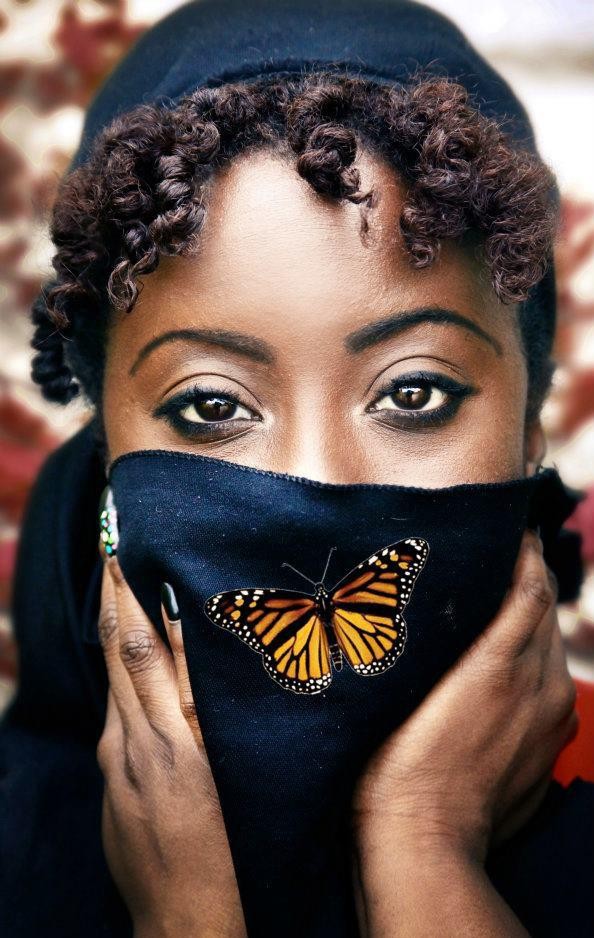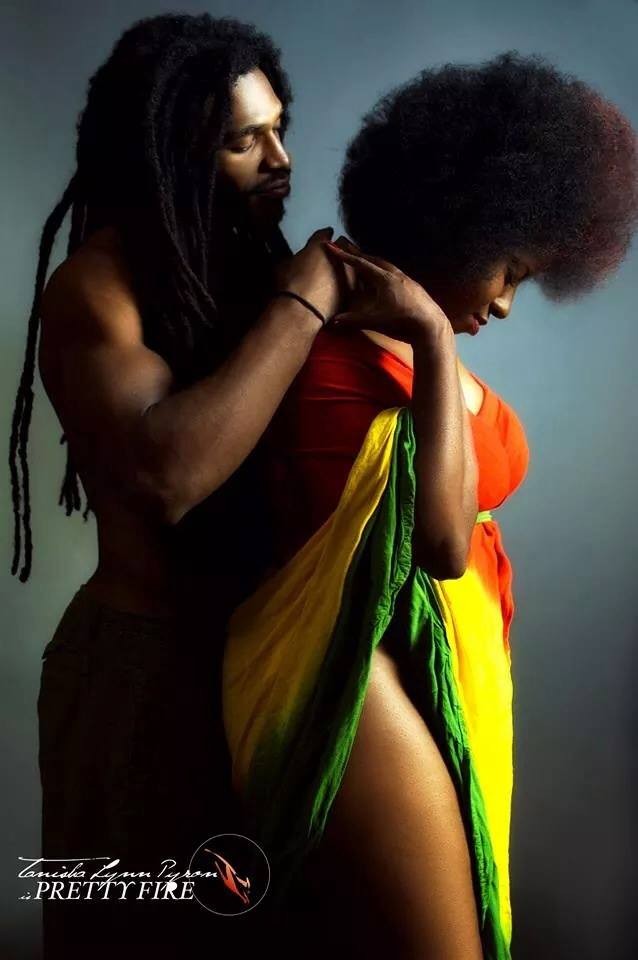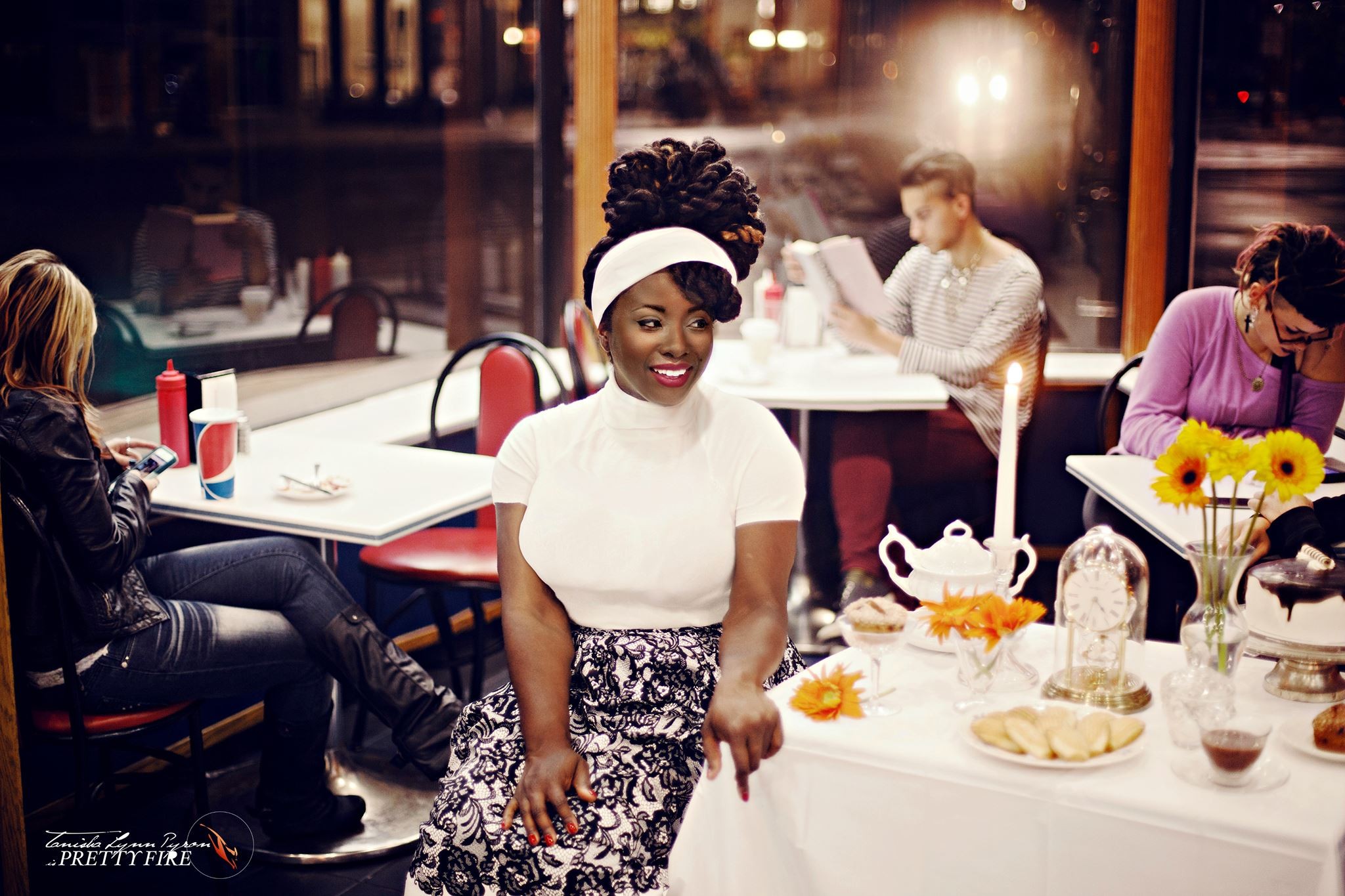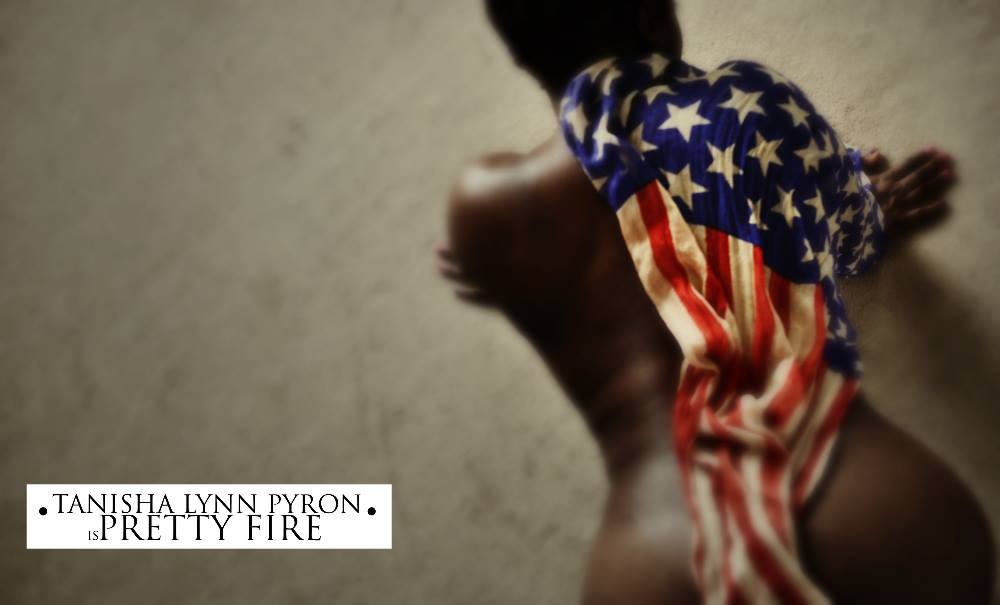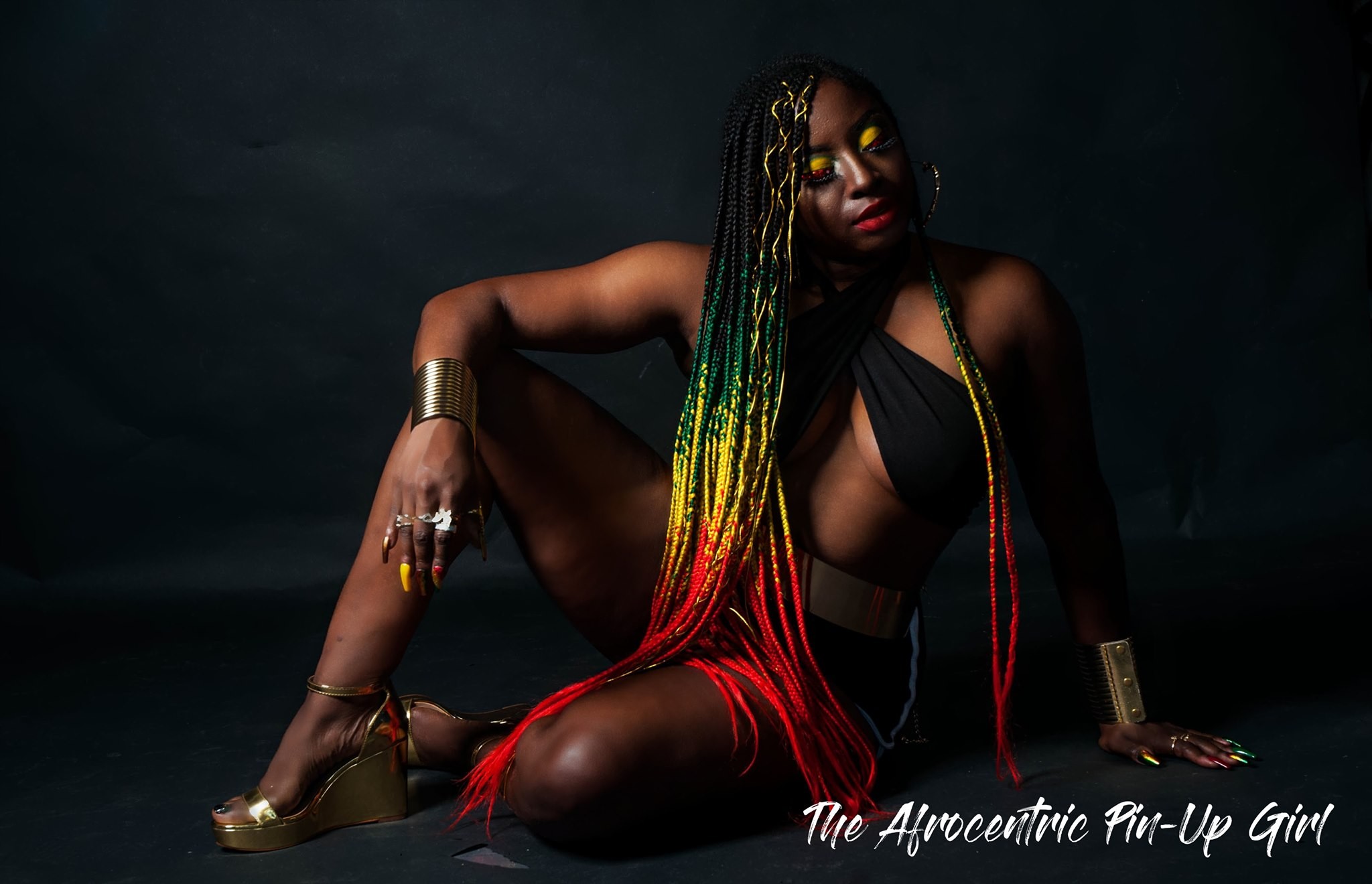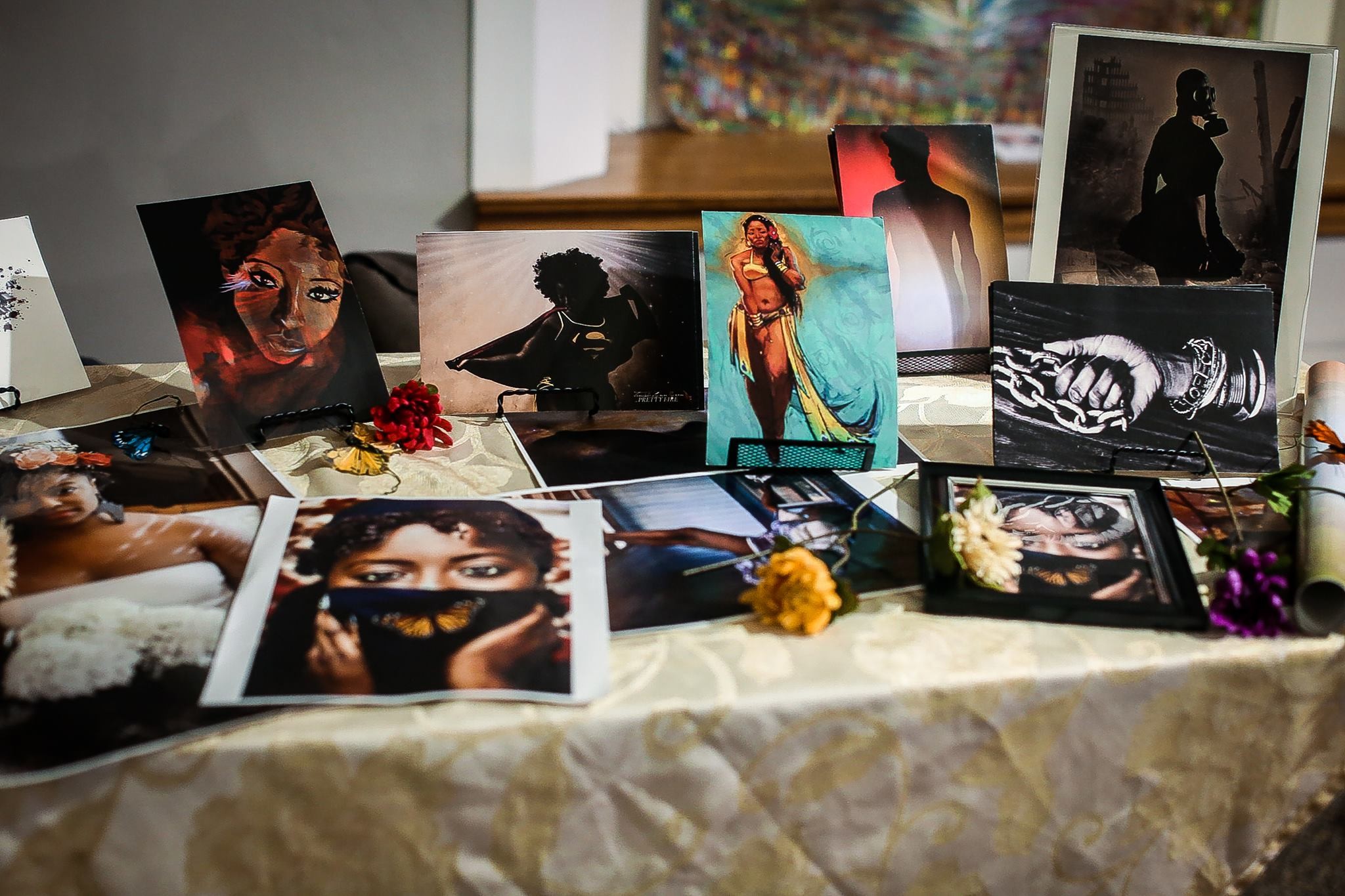 Image Credits
Tanisha Lynn Pyron
Suggest a Story:
 VoyageMichigan is built on recommendations from the community; it's how we uncover hidden gems, so if you or someone you know deserves recognition please let us know 
here.