Today we'd like to introduce you to Open Roads Bike Program. Them and their team share their story with us below:
Open Roads Bike Program is a youth development program in Kalamazoo, Michigan. We provide job skill training, apprenticeships, bike repair services, and more to youth in the Kalamazoo community. Throughout the year we run a variety of programs designed to provide bikes and bike repair services to students for low or no-cost. 
Open Roads Bike Program embraces and values the diversity of Kalamazoo and the world around us. We are people of all ages, from all walks of life, working together to use bicycles as a vehicle for skill development and community engagement. We encourage people of all abilities, ages, economic statuses, faiths, ideologies, genders, gender identities, ethnic origins, nationalities, races, and sexual orientations to be a part of the Open Roads Bike Program community. 
Open Roads was founded by Ethan Alexander and neighborhood partners in 2008. Here is his story, as posted on our website: 
"Ultimately, Open Roads Bike Program was an inevitable product of a childhood that was rich and bikeful. When I was about two years old, my father decided that we had had enough of cars. They were no longer a necessary part of our lives. With two sons under 5 years old, living in Northern Michigan, he sold our car and bought bikes. Schwinn bikes. Cruisers. Made for moving, through sand, through snow, through anything. And so, we lived. We had a bike trailer at first, then a tandem bike, then a triplet (1 vehicle 2 wheels, 3 seats) and eventually we moved to three bikes. 
We biked to school. We biked to the grocery store. We biked to friends' houses. Twelve months a year. Through sun and rain and snow and wind. My dad was tough. As a matter of fact, he still is. He, Henry Morgenstein, is a fierce advocate for a sustainable community that includes bicycles. He wrote columns in the local newspaper and spoke frequently on the radio, telling our community that bikes were the way to move in the world. And that is how we moved through most of my childhood. With bicycles. 
I learned quickly that this was a superior form of transportation, the ideal form of exercise, and a great means to building community. So, ever since then, I have been in love with bikes. I realized that the bicycle is not just a thing: it is a symbol- a symbol of independence, of freedom, of autonomy, and of joy. I began collecting bikes in my mid-twenties. Mostly Schwinns, I would store them in the basement. Eventually, I learned that I had a problem. Bikes were filling my basement and corners of my home. Through the Changemakers grant from the Kalamazoo Community Foundation, I was able to take this "problem" and make it into a program. I had been working with youth for the past 10 years both in schools and in the community. Therefore, this was a natural extension of my interests and my career. 
It started with four kids and two adults in a classroom at Kalamazoo College. Eventually it has grown into dozens of programs around Kalamazoo. From schools to garages to gymnasiums to a field in the Kalamazoo Nature Center, I think we have worked almost everywhere. I am proud of every child that has earned their own bike through hard work and commitment. It has been a fantastic journey. We are growing and building great things." 
We all face challenges, but looking back would you describe it as a relatively smooth road?
We moved into our current location at Riverview Launch in 2015 and have been on an upward trajectory since. COVID and social distancing restrictions created some unique challenges because our programs are primarily done through face-to-face interactions. However, in 2022 we are working on rebuilding our programming and reconnecting with the community in meaningful ways. 
Within the ebb and flow of non-profit life, we have had several leadership changes, both within the staff and the board of directors. Our current Executive Director, Isaac Green, has been serving Open Roads for over one year, but has been involved in Open Roads programming as a volunteer and bike mechanic for several years. We are excited for the energy and leadership he brings to the organization on a day-to-day basis. 
An integral part of Open Roads has always been community advocacy, especially through our programming. We are continually seeking out new partners to advocate on behalf of safe biking throughout our community including safe routes to schools, commuter biking, and biking as alternative transportation. 
Finally, as we grow, we are always looking for new and creative ways to fund our organization. We are humbled and grateful for the community donations and grants that allow us to do what we do. Our bike shop secures additional income through work orders and retail sales. We are working on expanding the capacity of our bike shop. Not only will this help increase our autonomous income, but also open up additional opportunities for youth to volunteer, work as apprentices, and expand our community connections. 
Alright, so let's switch gears a bit and talk business. What should we know about your work?
The mission of Open Roads Bike Program is to engage and empower youth through bicycles to learn practical life skills for their future. 
Through Open Roads programming, students earn bikes, repair bikes and advance their basic bike mechanic skill set along with their social, emotional, and life skill set. We welcome and work with students from all backgrounds; our primary demographic are those identifying as low-income, and/or students who may be experiencing academic or developmental challenges. We want to increase their opportunities to succeed when they haven't been set-up to succeed. We want them to walk out of Open Roads feeling more confident, valued, skilled, and supported by their community. Our programs focus on giving youth the tools and skills to create a self-identified path towards self-sufficiency and success. 
Here is a brief description of our 4 signature programs: 
Earn a Bike: a five-to-six-week program where students ages 8-14 meet once a week for two hours a day with skilled instructors. Students gain hands-on bike mechanic skills while learning social skills to help navigate their lives at home, in the classroom, and out in the community. Students start with a bike that needs some repair. As they repair the bike alongside our experienced bike mechanics, they also gain agency and ownership. Students learn one new social skill each week. Each skill is related to the bike repair they are working on that week. In addition, students engage in games and discussion to understand real life applications of the lessons. At the end of the program each student has earned the bike they have been working on and they now have a reliable bike in good working condition. 
The Fix: The Fix is a bike repair workshop at our River View Launch location for youth 18 & under to access free replacement bike parts and guidance on making repairs. Students can also relax and hang out in our youth lounge which includes games, a book exchange, craft supplies and snacks. 
Youth Advisory Board: The Open Roads Youth Advisory Board (YAB) empowers youth ages 14-17 to create positive change in the Kalamazoo community. The YAB advises Open Roads staff about program curriculum, events, and fundraising. They also plan and implement special projects to engage youth in cycling activities. At Open Roads we believe young people are to be seen, heard, and valued by their community. We believe in the abilities of youth to take responsibility and lead when given the opportunity. We believe their contribution makes us a stronger organization! 
Apprenticeship: The Open Roads Apprenticeship is designed for young people to gain essential career readiness skills. Youth who complete other programs in Open Roads and show the drive and skills required to move forward will be able to apply for an Apprenticeship. Participants will be mentored by Open Roads staff in job skills needed to successfully run the Open Roads Bike Shop and assorted youth bike programs! 
In addition to our 4 signature programs, we operate a bike repair and retail shop. We work with many community programs around the Kalamazoo area to deliver bikes to people who need them, and to keep bikes in good working condition. Some of the groups that we work with include: Kalamazoo Nature Center, Pretty Lake Camp, Kalamazoo Unhoused, and Bethany Christian Services Refugee Support. 
What makes you happy?
We love seeing kids on bikes and watching them learn how to successfully navigate life. When kids participate in any of our programs, they come out on the other side transformed in some positive way. We love celebrating wins when they learn something new and challenge themselves to build a better community around them. 
In the first half of 2022 we have had over 250 kids participate in Open Roads programming including 3 Earn-a-Bike programs, our weekly Youth Fix, and our pop-up fix stations at various community events. We look forward to engaging with even more kids and families throughout the summer and fall. Look for us at the Richland Farmers Market, Kalamazoo Farmers Market, Kalamazoo Parks Summer Camps, the Vine neighborhood, the Edison neighborhood, and many other community outings! 
Contact Info: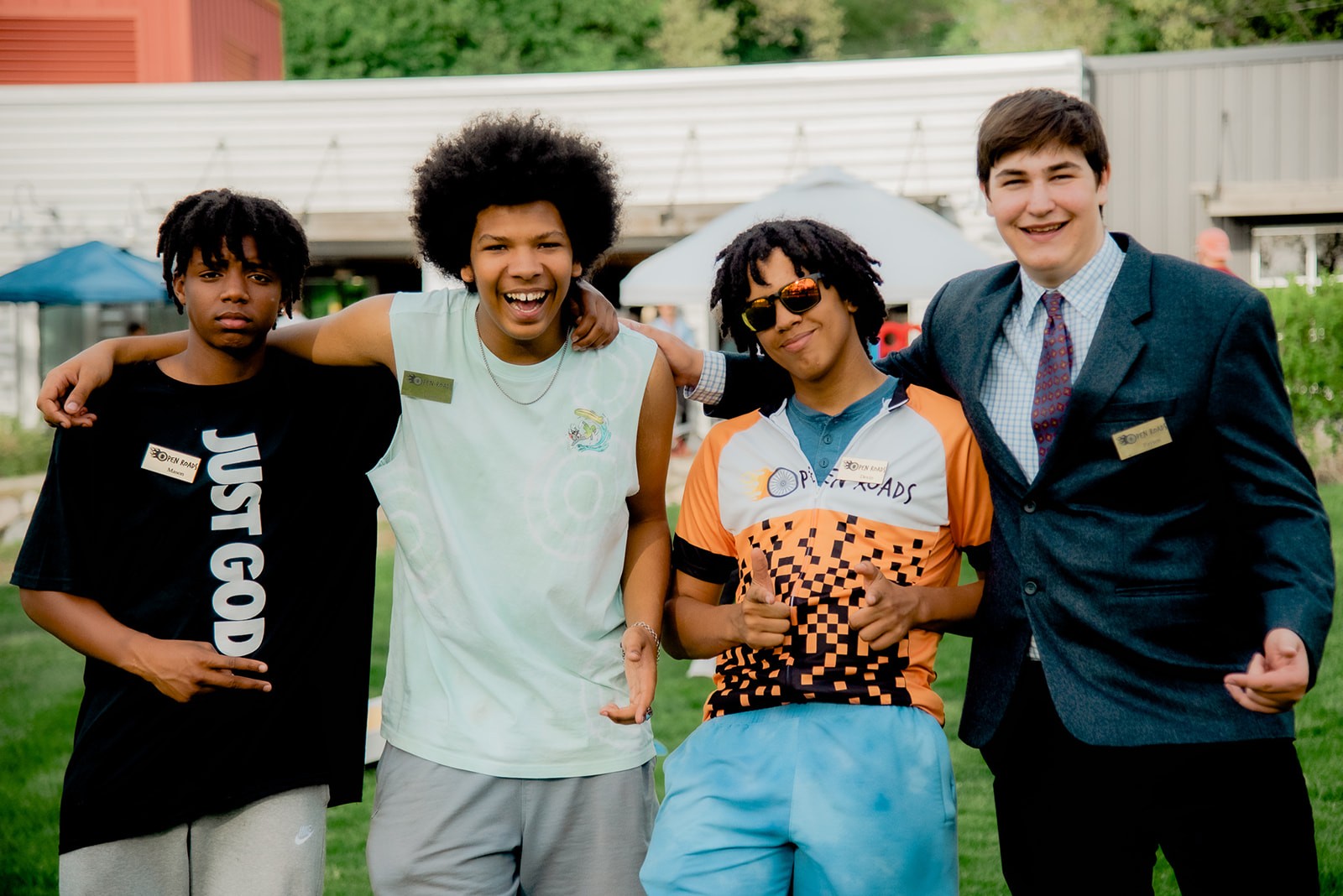 Suggest a Story:
 VoyageMichigan is built on recommendations from the community; it's how we uncover hidden gems, so if you or someone you know deserves recognition please let us know 
here.