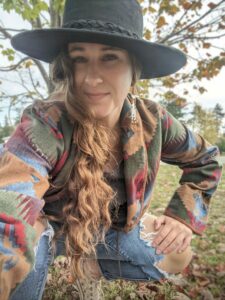 Today we'd like to introduce you to Carie Roberts.   
Hi Carie, can you start by introducing yourself? We'd love to learn more about how you got to where you are today?
My story begins at birth, born and raised in Chattanooga Tennessee. Being born to two creatives I surely was destined to have a purpose as a creative. My parents' lives lead them astray from harnessing their artistic talents. My father grew up in Chattanooga, he did well in school. He had a talent for drawing but as he got older his interests changed and he soon was enlisted in the United States Army alongside his brother. He never kept up with his creative side and soon he met my mother on a blind date in Virginia. My mother was from Long Island New York and was attending an all women's school in Virginia. Over the years she studied many different subjects and acquired several degrees. Although her real talent was interior decor and sculptural floral arrangements, she has an eye for mixing hues and textures with unique compositions. She married the handsome army guy and moved to Chattanooga Tennessee to start a family.  Jumping forward to my informative years, I began to show a talent of my own for drawing and writing stories at a young age. My mother recognized it early on at about age five, she made sure to provide me with the tools and experiences that would soon develop into my love for art. My earliest memories of being exposed to some of the most well-known artists was during our annual trip to New York City. At age nine I first visited the Guggenheim where I saw Picasso for the first time, I was completely enamored. The visceral experience of seeing such a large amount of impressionable art left me with the drive to create. I knew I loved art and wanted to make my own.
 As time passed I was constantly volunteering within the community. Many of my first jobs came from being a volunteer first. One of my first volunteer/jobs was in the art department at our local children's museum. I went to art camps and many other local art programs and exhibits. I eventually got a hold of a cheap point-and-shoot disposable camera and became interested in photography. I entered my snapshot photographs into a youth show through the Hunter Museum of American Art. I won first prize. I then wanted to continue with photography and took a class on polaroid photo transfers where I met a local artist Lisa Norris. This is when photography turned into mixed media, I was using the transfer method alongside drawing and painting and then incorporated found materials. Lisa's art-inspired collage making and using different materials.
 My mother volunteered at The Hunter Museum in Chattanooga, I was always with her lingering in the multiple galleries of the Hunter. This provided many opportunities for me to meet local artists. I was able to meet sculptor John Henry and tour his warehouse and workshop. John builds massive abstract steel sculptures. I was absolutely astounded by the sheer mass of his sculptures and the effort that goes into producing them on sight as well as shipping them to locations. I wanted a studio and a place to create on such a grand scale! I didn't know it at the time but later in my life, I'd learn to weld.
My most memorable experience through the Hunter Museum was being able to meet Robert Rauschenberg. I sat in on the presentation and eventually shook the hand of this great American artist, not even knowing what a great opportunity it was or even really knowing anything about him or his work. A piece called Canyon 1959 was on view, this work is known as a combine. I spent a lot of time examining this work after meeting Robert and soon the desire to create more than two-dimensional work was born. High School was a trying time where I didn't fit in and jumped from school to school. I then attended my local community college where I did my senior year of high school and my freshman year at the same time, I received an associates in Fine Art. I then traveled all over Europe and visited a few Central American countries. I was able to experience completely different cultures and feed my love for art. Over time I was living a regular life of work, eating, and sleeping but still creating some art with limited resources and inspiration. I made several pieces that could be considered "combines" , lots of collage art, paintings, I learned to weld with a small amount of direction from my brother as well as continuing photography. I eventually was married to and started a family in Michigan not having the time or the tools to create what I desired. I decided to go back to school at Northern Michigan University where I received my Bachelor of Fine Art, concentrating in sculpture.  I started small and soon the need to break boundaries and create larger works began to creep its way in. Metalsmithing was part of my sculpture course. I learned to blacksmith, foundry work; small and large scale along with jewelry smithing. Large-scale casting is where I broke the rules and made one of the largest sculptures in class, it worked much to my professor's surprise! I was then referred to as a firecracker AKA rule breaker and I didn't stop there! I posted recycled art sculptures on the walls and sculptures in the halls because it wasn't allowed. I never got in trouble. Actually, I  was complimented by the Dean on one of them. I also began to use any and all other resources I could. Asking permission to use the ceramics studio where I made parts for metal and found object sculptures. One particular sculpture which included hand-built ceramic parts is titled Reciprocation. It was strange, intriguing and somewhat androgynous which caught the eye of the veiwers, it won best in show. I was pushing the envelope for myself and decided why not for everyone. I became the Art Students' League President and was voted in as President for the remainder of my time at NMU. I began to advocate for the student body. I put together many student exhibits within school as well as outside of school. One event I put together was the student booth at Art on the Rocks, annual art festival. It was a great opportunity for students to experience an art fair and learn how to make quality gallery-ready work to sell. The school still participates with this event and I volunteer my time and know how to help the students have the best art fair experience possible. My time at NMU was memorable and the inspiration I found in my studies really pushed me to come up with something different at minimal cost. This is when my desire to build creations with discarded, unwanted objects really started to bloom. I had the tools, I had inspiration and I had leadership to give me the knowledge I needed to hone in on my craft. I found my niche in creating sculptures rather than two-dimensional works.
Again my mother is responsible for sparking a love I didn't know I had as a child. She was constantly dragging me to antique shows and shops; she even had opened her own antique booth at one point. This is where my appreciation for old valueless items and found objects comes into play. They soon found their place in my sculptures. These sculptures I continue to create investigate a subjective representation of self, giving viewers a window into the layers of my identity. The desire is to capture my self-portrait through the individuality of the materials and objects which is what sets my work apart from others. The ephemeral existence of these objects is but a small reflection of my own presence in this world. The viewer should contemplate how their individuality is essential to how they relate to these objects. Things old and new combined in unique juxtapositions can have an effect on one's perception of what once was. The objects used in my sculptures are meant to capture your attention and bring to mind how we can tend to lose our past so easily in our advanced technological world. We have no real use for old trinkets, porcelain doll parts, old photographs, bones, skeleton keys, glass bottles, marbles, and family heirlooms. I feel as though we are all tied to these objects in one way or another. I have a desire to preserve things in a manner as to question why we no longer value what was once a prized possession. My work slowly became larger and larger in scale. I eventually built an entire wall out of old wood and found materials to display my found object sculptures on. The wall was layered with lath and plaster, exposed brick, and heavily wallpapered plaster wall pieces. It was meant to look as though I took a chunk of wall from an old house. What drives me is an impulse to create a notion to preserve this unusual façade of indifference. In my work this recognition of the past's vulnerability is an important part of our cultural origins and a significant source of its endless fascination. My own identity is profound in my work. Many pieces hold little secrets of my own that I am choosing to expose to the world. I feel as though we are forgetting where we came from and we are losing ourselves along with the history of these found objects. I have a passion for creating and giving something back to the community whether it be a conversion or entertainment. 
This brings me to my career as a sculptor. Aside from making my personal art I create for the community. Upon my graduation at NMU I received a job offer from the Upper Peninsula Children's Museum in Marquette Michigan as the exhibits designer. I immediately jumped at the opportunity not really knowing what I got myself into!  I never once thought this is what I'd be doing in my future. I just keep doing what I enjoy and life provides the rest.The Children's Museum is a wonder and a work of art all on its own. I am thrilled to add my own creative flair into the mix of such a treasured place for families to learn and play. I am now responsible for educating and building hands-on exhibits for our tiny community ages zero to twelve. This brings many challenges my way from safety being number one to fixing old exhibits to building fun new exhibits. I now have a shop and tools to create on a large scale which is somewhat of an unknown territory. As often as possible I incorporate my desire to salvage the old into new, for example, I was tasked with building a mini airplane ticket booth and luggage conveyor because we have half a plane in our building,(yes, half a plane). I salvaged all the wood materials from a mall that closed their JCPenny. The discarded wood was built into a ticket booth and we added an old donated computer for a screen display. It also has a purchased scale for weighing your luggage just like at the real airport. I also salvaged part of an old treadmill for kids to hand-crank their luggage through the x-ray machine. I have added many different exhibits like our live honey bee viewing hive area, which now has a fun mural, bee wings, honeycomb bee pollen ball pit, and larger than life honey bee life cycle. This was one of my first projects I completed. I am a beekeeper and have a passion for spreading knowledge instead of fear about honey bees. I have built many more additions to the museum using only scrap wood to save it from the landfill and provide an exhilarating learning experience for our community's children. My current project is building a giant human heart in our body exhibit. This project has been an extreme endeavor to take on solo. Over the past year, I have reached out to the community and partnered with NMU's construction students to come up with designs based off of my original design and the museum's educational guidelines. The students produced three different designs and I chose one to adapt and construct.  So far it has been two volunteers and myself, construction is underway for the time being, we hope to have this completed by the end of 2023.
Our children are our future, we have to lead by example and provide the tools for success at an early age. The Upper Peninsula Children's Museum, Inc. (UPCM) is an umbrella organization that includes an interactive museum featuring displays and innovative programs within the subjects of Art, Health, Science, Communication, Global Issues, and the Environment along with related youth empowerment programming. The UPCM provides a unique place for children and families to learn through participation. The Upper Peninsula Children's Museum's Mission: Engaging Youth and Families to discover through interactive exhibits and learning opportunities. It is a true pleasure to be a part of UPCM's team, creating wonderful experiences by building large-scale interactive sculptures. I am a huge advocate for arts, culture, and education. I plan on continuing my journey as an artist and creator for our community for as long as I live.
Would you say it's been a smooth road, and if not, what are some of the biggest challenges you've faced along the way?
I think moving away from my hometown and everyone I knew was by far one of the bravest things I have done. (besides having children!) Moving to the unknown where I knew no one I endured depression due to isolation, all I had was my art and desire to create. I have never truly "fit in" anywhere or with anyone. Moving forced me to branch out to my new community so naturally, I started volunteering at the local art center. The town was a small downstate MI tourist town full of older folks, I truly was alone and had no one my age to hangout with so I just focused on my health and made art. 
 I am the type of person that is strong-willed, blunt, and downright stubborn at times. I have had many friends come and go over the years and very few have been courageous enough to tell me that I am an intimidating person at first but those are the few friends I still have to this day. I am just too much for some people….always have been. I was able to make one friend while living in this town for four years but our friendship was cut short when she moved as her family was relocated due to the military.
Another struggle I faced as an artist was money, which I'm sure we all struggle with at times. So I buckled down and just made art that I thought would sell and began participating in local art fairs. I managed to sell three pieces over my four years in this town. So I really struggled with thinking I just made unsellable art. To this day I still call my art unsellable, however moving around to different places made me realize that each community has art tailored to it and if you make art related to the location you can sell it…it will sell. 
This is another dilemma I struggle with. Does being an artist mean I have to sell my work to make it as an artist? I thought so, for a while I made work that was tailored to the location I lived in, I call it my sell-out art. Which in fact wears me out and takes every once of joy out of the creative process. Every fiber in my body and soul revolts against making sell-out art. I had to stop. Now I just focus on my "unsellable art" and creating for the museum. I feel like that is a much better use of my being and I am not bound to the confinement of making specific works.  I'm happier this way and my art is more thought-provoking and challenges the viewer versus being hung on a bathroom wall in an AirBnB!
I am still faced with challenges as a creator. My current job as a children's museum exhibits designer brings them on daily, way too many to list! Working for a non-profit means I do it because I love it. I am not here for the money, I create for the sheer satisfaction of knowing it brings joy to others! I have found other ways to make ends meet with a few of my other hobbies. I am an outdoor enthusiast. I love ice climbing, rock climbing, mountain biking, and kayaking, pretty much anything outdoors. Marquette Michigan is the place to be for all of the above, those hobbies have led me to being hired by Trek biking to do a bike commercial which in turn lead me to becoming a product ambassador. I am just doing what I love and allowing the rest to just fall into place.
Alright, so let's switch gears a bit and talk business. What should we know about your work?
I have now worked at the  Upper Peninsula Children's Museum for three years and have been creating to improve and change the museum for the better. I have added many different exhibits and temporary exhibits over the past three years. I would like to believe I bring fresh eyes and new ideas to the museum. I have a knack for creative problem solving and thinking outside the box, which can prove to be hard for folks that have been with the museum from the beginning. My responsibilities are endless from running a shop full of tools and machine upkeep, designing, building, and keeping all exhibits functioning as well as fundraising and event planning. I even make it a point to stop in other children's museums during my travels to see what they have and speak to their administration about what works and doesn't work for them. (this is not part of my contract but I take it upon myself because it is a necessity). Many museums are amazing and have the funding to build extravagant exhibits laced with technology. I find these museums wonderful but extremely overstimulating and lacking the whimsical aspects of pure imagination. Technology is fun, learning is fun but our imaginations can be stifled if we are not feeding them and influencing them with the right tools. I call the Upper Peninsula Children's Museum a wonder and work of art because it allows children to harness their imaginations and gives them creative power to learn while playing. You can definitely be a honey bee who works in a grocery store or a firefighter putting out a hair salon fire. There is much to explore and the possibilities are endless, imagination influences everything. Imagination is key to innovation; this is what I strive to provide when designing and building exhibits. 
I've built a giant nose and booger exhibit in the body exhibit as well, I love hearing kids say "ew gross" "that's a BIG booger" "ew that booger is hairy" It really makes me laugh and truly enjoy what I do at the museum!
Working at the children's museum has provided me with the opportunities to take the old and make it new again. One common theme between my personal art and museum building is the use of discarded things and materials which gives me a great sense of accomplishment especially when I get to see the spark of imagination in a child's eye. It's much like that conversation that starts from one object in my sculptures. It brings forth a feeling and connection between art and the human condition. The amount of joy the exhibits bring to so many people is all the gratitude I need to know I am successful and good at what I do.
 I think what sets me apart is that it takes a certain amount of talent for a person to look at something many would call trash and be able to take it apart/ use it for something completely new.  I am very proud of the fact that I can save items and materials to reuse. It's very satisfying breathing new life into them for the museum!
What has been the most important lesson you've learned along your journey?
The most important lesson I've learned is to never stop creating, just keep doing what you love and stay passionate about it.
If it doesn't challenge you then is it really worth it!
Contact Info:
Instagram: carieroberts_ & _visual_culture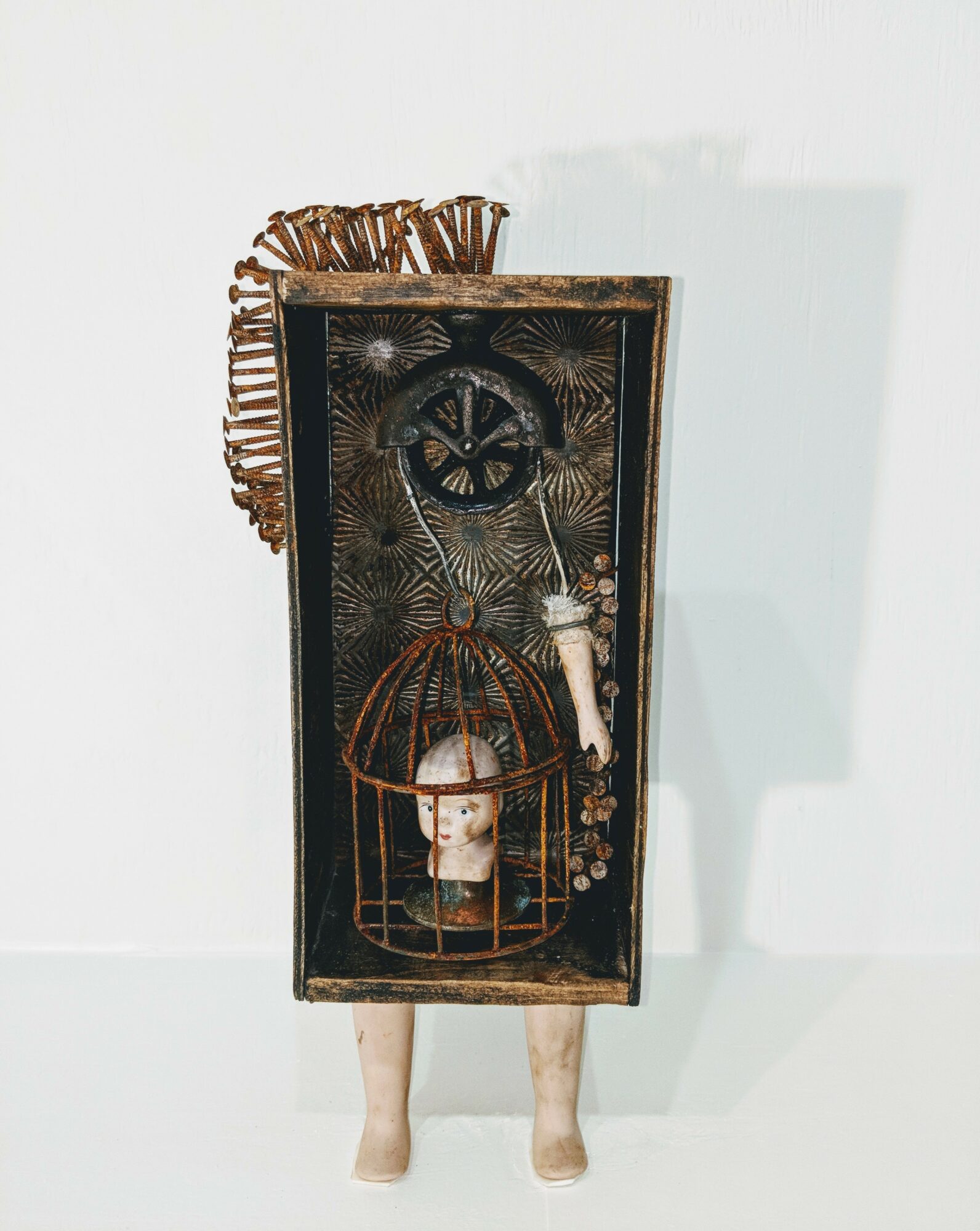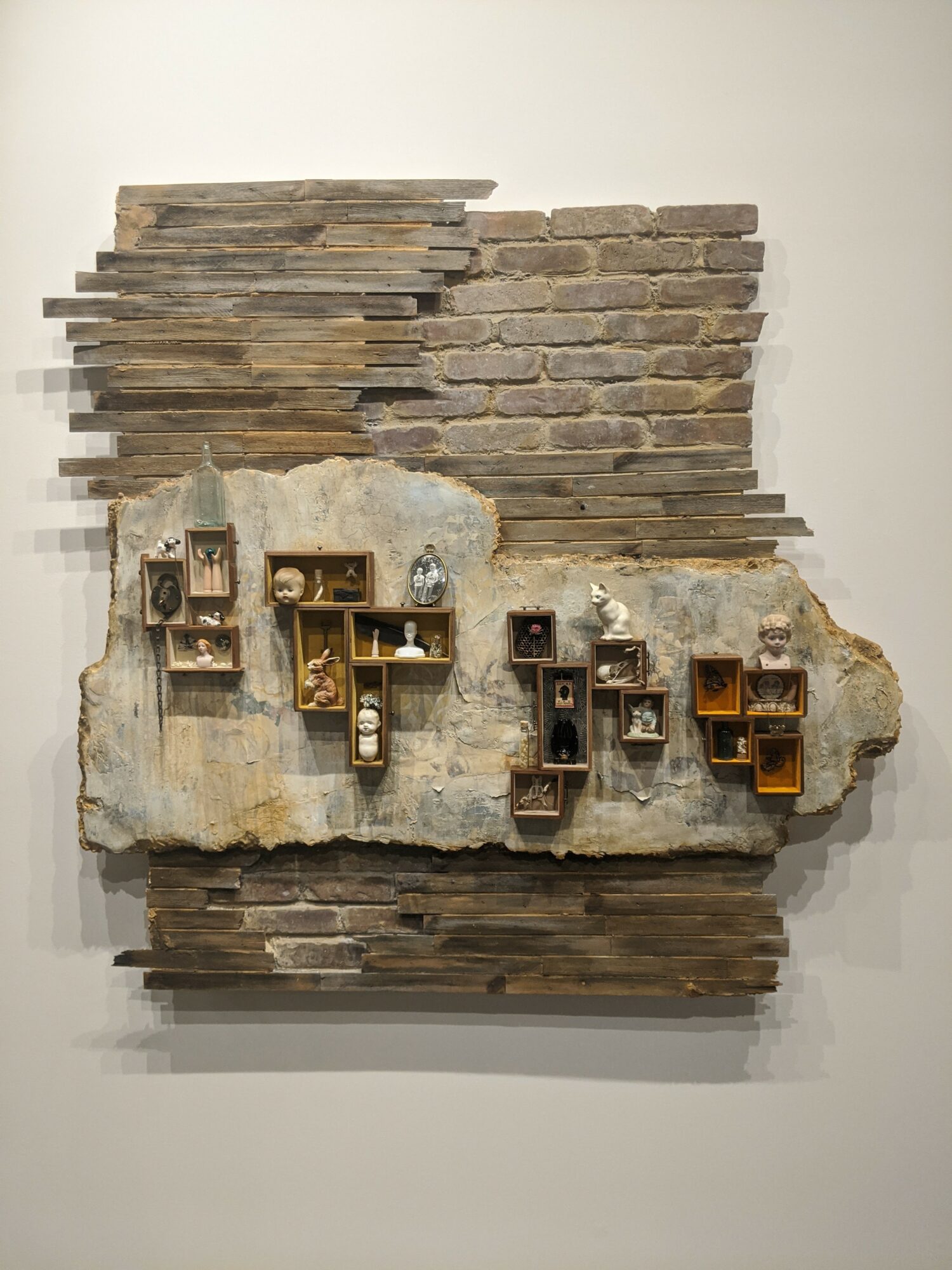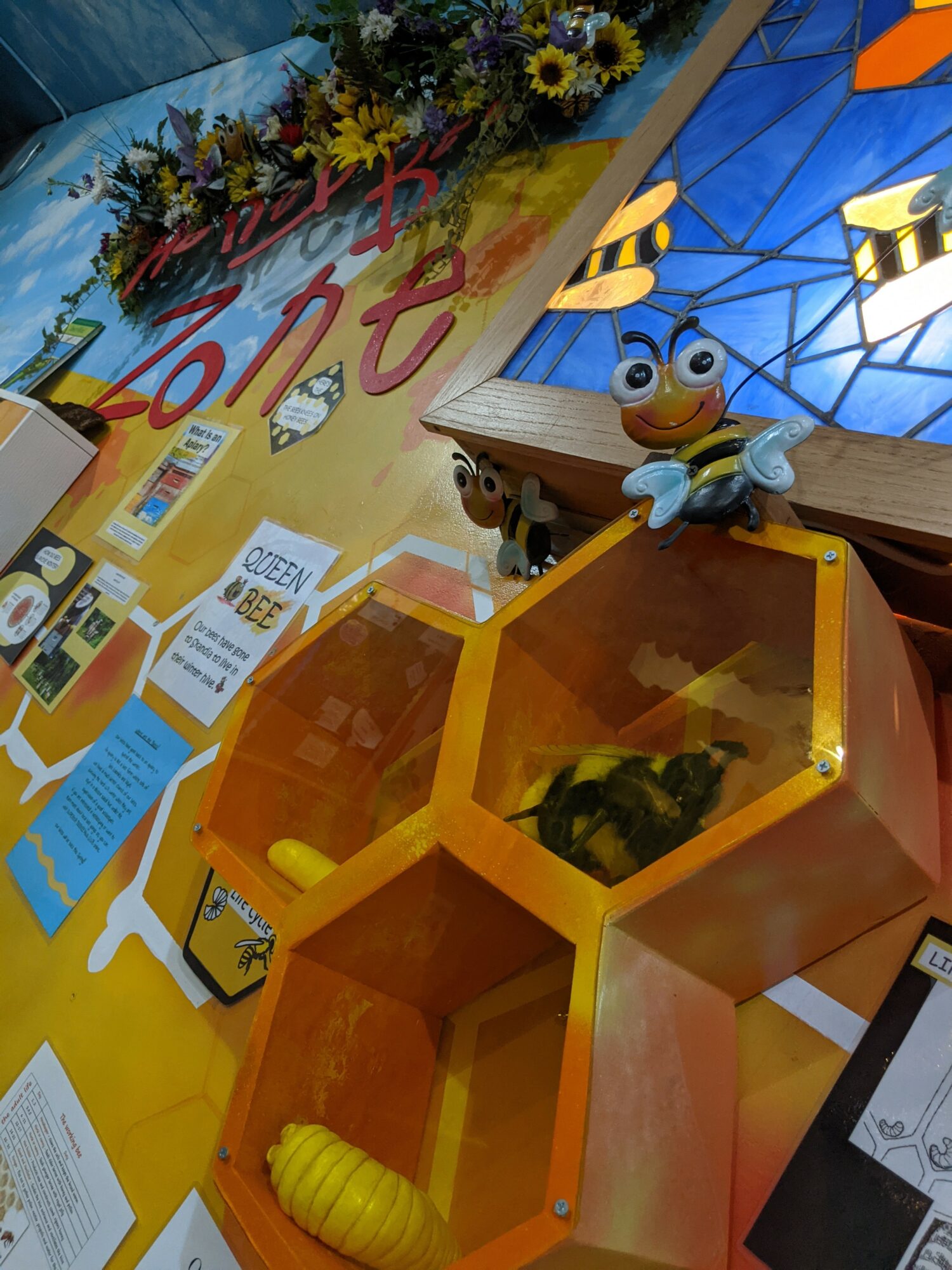 Suggest a Story:
 VoyageMichigan is built on recommendations from the community; it's how we uncover hidden gems, so if you or someone you know deserves recognition please let us know 
here.