Today we'd like to introduce you to Matt Misiak.  
Hi Matt, can you start by introducing yourself? We'd love to learn more about how you got to where you are today?
Growing up as a kid, I was a skateboarder and into punk and metal music; pretty much every musician and skateboarder had tattoos, I knew at a young age I wanted to do something art related for my career, but I definitely did not expect to get to where I'm at today. When I was in high school, I had a graphic design class, my teacher Mr. Hintze was someone I really looked up to and respected. We had a class where we did actual jobs for companies as projects, and I really loved creating designs and art for a purpose. When I got out of school, I took a few semesters of art classes in college and decided that I wanted to put all my focus on becoming a tattoo artist. 
When I was 21, I had gotten an apprenticeship at a tattoo shop, I worked as an apprentice tattooing friend and family for free for about 8 months before I decided that shop wasn't for me and the way they did business with clients didn't feel right. So, I quit my apprenticeship and left. Two days after I quit my apprenticeship, I assumed my tattooing dreams were pretty much done. Surprisingly to me, a client I had tattooed was stopped and complimented on the tattoo I did on them, that person was Russ the owner of Cherry Bomb Tattoos, Russ told my client to have me contact the shop and come in for an interview. Within days of quitting my apprenticeship, I had gone to Cherry Bomb and did a couple of interview tattoos and was hired on the spot as a full-time artist. I learned a lot at that shop and worked there for about a year. I felt like I was improving a lot and starting to get more comfortable with tattooing strangers and designing tattoos that people liked and wanted on their bodies. 
I decided to move to a new shop that had 11 artists at the time, and even though I really enjoyed working for Russ, I knew if I wanted to grow as an artist, working around 11 different artists, I would learn so much more and feel obligated to push myself a little harder. I moved to Lance Kellar Studios and got to work with 11 really great people and artists. Within a month of working there, I had been told Russ had gotten hit by a drunk driver and was killed. That was a tough one for me, he gave me a shot in the dark opportunity to become a tattoo artist and really helped mold me into the artist I am today. I felt like after that happened, I knew I needed to make something of myself in this industry and try my best to not let him down. I worked at LKS for about 2.5 years. One thing led to another, and I ended up going back to Cherry Bomb for a short period of time; then out of the blue, my dude Loaf, a good friend and fellow tattoo artist, called and mentioned an opening at a shop called Perfect Image in Ontario, Canada was looking for a black and grey artist, he had said the shop is crazy busy, the money was good and the shop was top of the line. Within a week I was headed to Ontario for a short guest spot, when I came home, I decided to pack up all my stuff, leave everything behind and move to Canada to work there. 
That's where I met some of the best people and coworkers who pushed the hell out of me, I was way out of my comfort zone which made me focus and work really hard. I really started to feel comfortable with realistic black and grey tattoos, and I was the happiest I've ever been in my own life living there. I could go on for hours about how much I loved being there and what an impact it had on my life. After a few years, I had to, unfortunately, move back home which was devastating to me at the time. I had come back to Michigan and started back at LKS and tried to bring everything I learned about life and tattooing with me from Canada and things really started to grow quickly. 
My work was always improving and my books were getting busier and busier. After another couple of years there, I felt kind of homesick (and still do most of the time) from Canada. Another good friend of mine James Maxwell had moved to a shop Electric Park in Eastern market downtown and had said they were also looking for an artist. Long story short I felt like the eastern market is a busy area and just outside of the city and right across the Windsor border it was a perfect place to work, so I moved down there and started working there. I really loved the shop environment there; it was an open layout, with no separated rooms and a ton of cool places to eat and hang out around the shop. After a few weeks working there, the pandemic started, and I don't want to get into that because I feel like it's been talked about at nauseam, but after basically three long months of not tattooing, I had a lot of time to slow down, and think about my tattoos, how I could improve my work and what direction I wanted my career to go. 
When I finally got back to work, I was terrified; I couldn't sleep the night before I was nervous and anxious to get back to work thankfully it was like riding a bike, and I was right back where I left off but doing cleaner, nicer work than I've ever done before. I started to slow down while tattooing and really focus on the details in my work and making sure I could make everything as perfect as possible. I would sometimes go home and look at the work I did and think… "damn I can't believe I did that!" Within a few months, I was booking out 6 months or so and wanted to get into a tattoo shop that was a private studio so I could really focus on my client and their tattoo without any outside distractions like phone calls, walk-ins, or shop drama. I had contacted a friend who had helped me get my first tattoo machine Steve Pelkey, I asked if his shop was hiring, and they were, and I had gotten an interview at Dark Sky Tattoo in Ferndale, Michigan. Where I am currently working. 
Dark Sky Tattoo is a super chill private studio, I really love the calm work environment, and everyone I work with is amazingly talented, and I knew coming to this shop, there was no way I wouldn't become a better artist working around such talent. In the past year or so, I have been proudest of my tattoos and abilities as an artist. I went from being an artist who left their apprenticeship thinking that was it for me to be booked out a year and doing the best work of my life and having tons of emails and messages from people complimenting my work and wanting to book with me. I've been tattooing for 10-11 years professionally and I know I have so much more to learn and so much room to grow and that won't stop. At the end of the day if my name was on a short list of some of the best tattoo artists in Michigan that would feel like a huge accomplishment, but definitely wouldn't stop me from wanting to up my game and improve year after year. 
Anyone that has been tattooed by me knows that I'm really sarcastic and I talk A lot (but I've been working on that,) and one thing I've learned over the years is to treat my clients like family or friends. I try my best to treat everyone like they're people I've known my entire life. I may not be the most responsible person, I can be very forgetful at times, and I might be slightly unorganized at times, but when it comes to the work I do. I'm really passionate about my tattoos. I would be embarrassed and would lose sleep if a client walked out the door with a bad-quality tattoo from me. I think that's part of my motivation in this industry. I've told a lot of my clients that I want my work to look so good that they can't go anywhere without someone stopping them to complement their tattoos. I really love what I do, and for the past 10 years, I've worked 6-7 days a week, sometimes 10 hours or more a day; I've given up time with my own family and friends to give myself a successful career that I'm proud of, and even though I'm starting to take more time to get my personal life outside of tattooing back. My motivation doesn't change. My life is amazing, and I won't stop trying to improve every aspect of my life always. 
Can you talk to us a bit about the challenges and lessons you've learned along the way? Looking back, would you say it's been easy or smooth in retrospect?
With any job, there are always bumps in the road. I personally feel like in life the struggles we go through are what help you learn and grow as a person (even if at the time it seems like it's the end of the world). As most artists can relate to, the art industry is tough! I've been fired; I've quit, I've gone months making 100 dollars a week, with no clients, barely able to buy supplies or pay bills. I've missed out on tons of family events, and even to this day, it's pretty rare to hear from any friends because I always put my career first. I moved to Canada, leaving everything behind. A lot of people also don't realize that all the tattoos we do. We spend hours drawing at home on our own personal time which takes away from our families and significant others, as well as booking clients and responding to messages. We don't get sick days or paid time off. Tattooing is definitely more a lifestyle than a job you really have to be passionate about it and, at times, submerge yourself in the life. I think for me personally I could have done a lot of things differently and made life a lot easier. But I wouldn't change a thing. Everything I worked hard for is all slowly coming to light, and it's all up from here. The hardest parts are done, and from here on out, for me, it's more fine-tuning my career and life and becoming a better person and artist every day. I always set goals for myself, and every time I check one off the list, I add another. There are a lot of people in this world that dwell over hardships and get nowhere. I've always been the person that when I'm burnt out and beaten down, I get back up and work harder. I've gained a lot of amazing life experiences and have talked to a lot of amazing clients who have been through way harder situations in life. I think I've been really lucky to have an amazingly supportive family, friends, and clients. I am really thankful for everything I have in life. I worked really hard to be where I'm at, and I'm nowhere close to my end goal. 
Can you tell our readers more about what you do and what you think sets you apart from others?
I specialize in realistic black and grey tattooing. I also do many other styles but try to focus on black and grey realism and portraits. Portraits are something I'm really passionate about. A lot of portraits are straight faces or school photos, although I do love old black and white photos of parents and grandparents. Something I would love to get known for is doing portraits with personality. For example, someone's kid making a goofy face, a funny picture of a loved one, or a picture that shows that person's personality in some ways. Obviously, the better-quality picture the better the outcome of the tattoo. But with phone cameras now everyone basically has a professional camera in their pocket. I have done a lot of tattoos I'm really proud of. I look back at my tattoos often and look at how I can improve them or what I would do differently next time. I spend a lot of time looking at other artists' work to get new ideas that I can implement into my own work. I don't think there's anything that really sets me apart from any other artist. I don't have much of an ego, every tattoo artist has a different style and our own unique demographic, and I appreciate every artist out there working hard to be the best they can be. 
Is there anything else you'd like to share with our readers?
Hopefully, after all my rambling, readers make it this far! If you have made it this far I really appreciate you! I guess it's a really good time to thank everyone. To all my clients, family, friends, and coworkers (in Michigan and Canada) I love you all. I couldn't be more thankful. I've had this huge group of friends since I was 15, a lot of which think that I don't know who they are anymore lol. I spent years hanging out with the most motivating, amazing, and supportive friends and I miss and love all of you. 
Contact Info: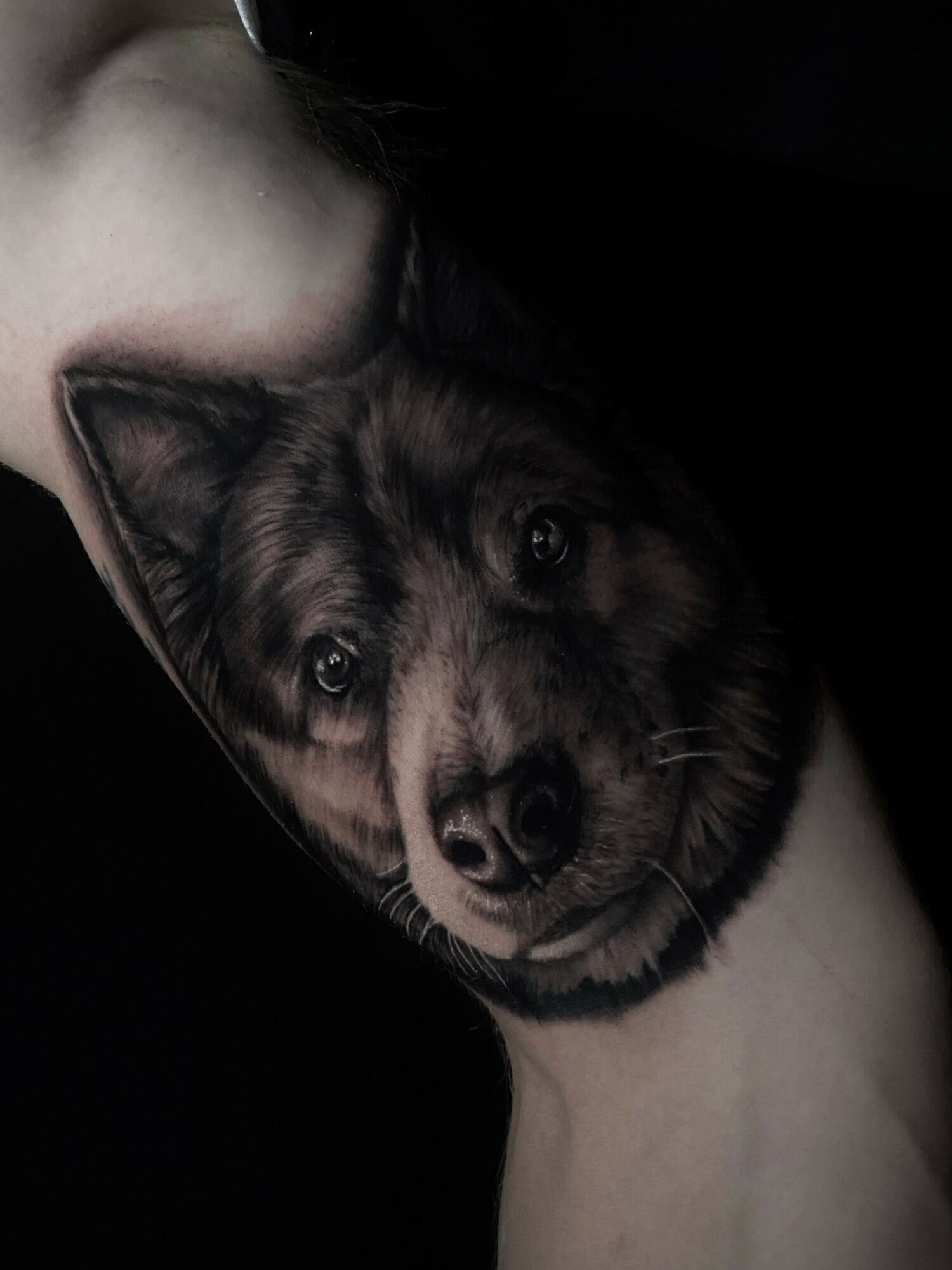 Image Credits
Bryan Sargent-Photographer
Suggest a Story:
 VoyageMichigan is built on recommendations from the community; it's how we uncover hidden gems, so if you or someone you know deserves recognition please let us know 
here.