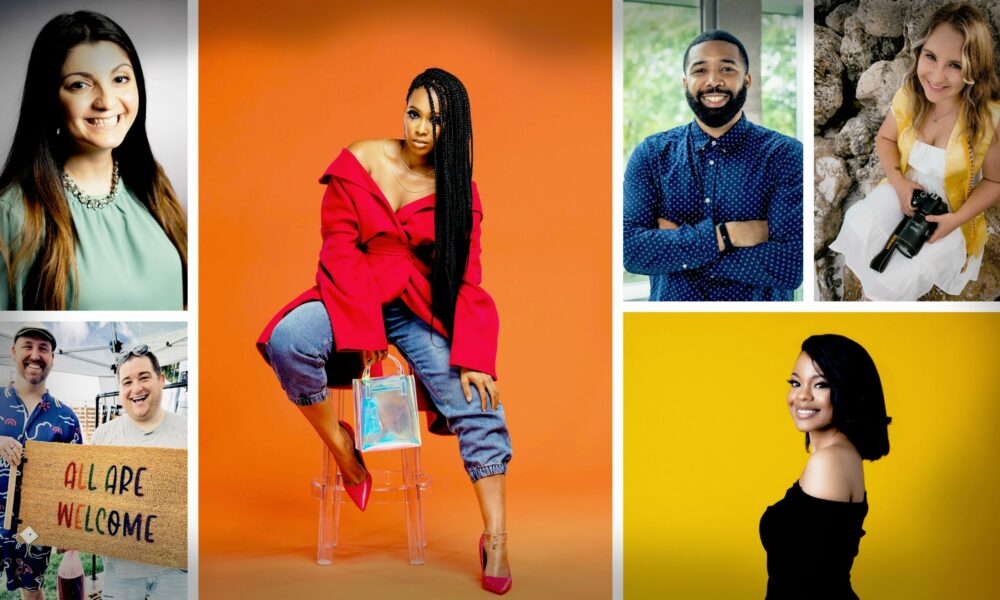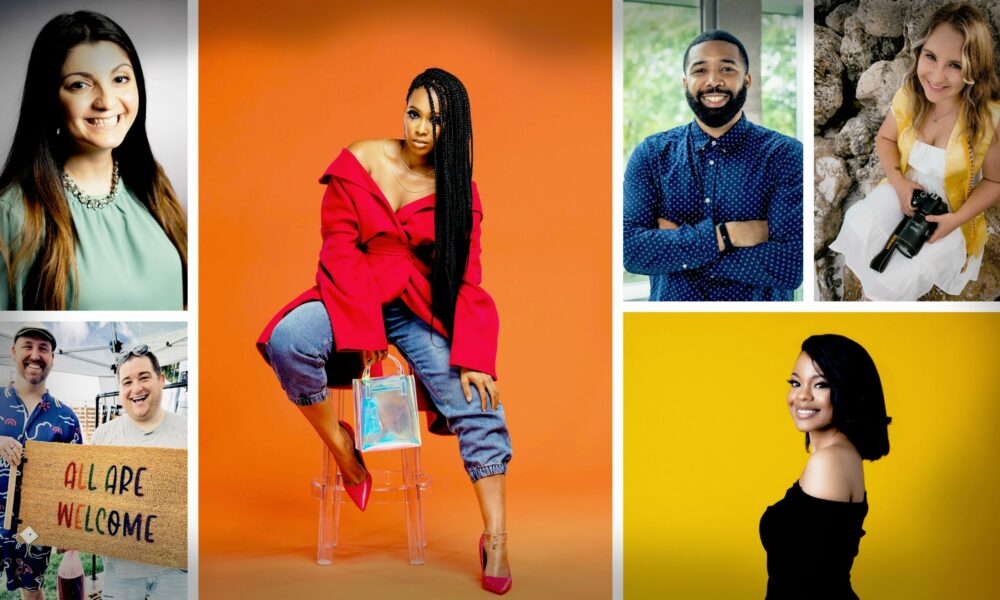 The heart of our mission is to find the amazing souls that breathe life into our communities. In the recent weeks, we've had the privilege to connect with some incredible artists, creatives, entrepreneurs and rabble rousers and we can't begin to express how impressed we are with the incredible group below.
Kaiya Wynn

I started in theatre. I fell deeply in love with the performing arts and throughout the years I've grown the urge to express myself more directly through my own lyrics, production, and harmonies. I've always loved music but didn't necessarily believe I could actually do it. But life has a way of strengthening you. So, I moved to LA to pursue a music career. And I've since found a co-producer/engineer and studio, which is a blessing. It definitely hasn't been an easy road by any means. LA is a constant grind. It costs a lot to be in a city filled with so much opportunity. Read more>>
Seanice Waddell

People navigate life from adolescence longing to establish their identity and beauty. Moreover, not only to be seen as beautiful but feeling beautiful. I share this desire and have grown the passion to help people break barriers of living up to society's expectation of what it means to be beautiful and instead Defining Your Own Beauty. So, in 2018 I sought out to do just that by founding Mone' Vegan Cosmetics, a brand powered and inspired by people's creativity and uniqueness in creating their own style with makeup products. Read more>>
Wes Trammell

I'm a former college hooper (GVSU) that has always wanted to give back to the community and the game. I tried coaching and other things but wanted to do something different. The Chosen Ones started as a content-based organization that helped student-athletes get more exposure through highlight videos. We would travel to games, practices, workout sessions, etc. to film these players and post their highlights on our social media pages. We did this for about 4 years until we felt that it was time to pivot. Read more>>
Kayla Klug

The Minted Grove started a little over 4 years ago while I was on maternity leave. My husband "encouraged" me to either get rid of my ridiculous amount of crafting supplies or at the very least- dust them off. One thing led to another, and as I was surfing the web one day for a new quirky doormat and gasping over the prices I didn't want to spend-I decided why not DIY it. The prototype turned out great, and I genuinely enjoyed painting the mat; it was almost remedial. After showing the mat to a few people, I decided to start an Etsy shop, and from there, the rest is history. Read more>>
ShaWanna Gajewski

I've been a resident in the Metro Detroit area since 1985. I'm a wife, mother, and a proud grandmother. I earned my BA from University of Michigan and MSA from Walsh College, both concentrations in accounting. For the past 23 years, I held dual careers as an Accountant/Controller while also advancing my profession in the real estate industry. I have over 23 years of various real estate experience. For about 20 years, I held dual careers as an Accountant/Controller in the auto industry while also advancing my profession in the real estate industry as a Licensed Agent and Investor. Read more>>
Morro Hernandez

I go by Morro and I'm a tattoo artist here in Grand Rapids, Michigan. I always knew I would be an artist someday; I've had a passion for art since I was a young boy. I started tattooing when I was 17 years old. My journey wasn't easy, but I never gave up. I would draw every day, and that eventually led me in the tattoo industry. I had friends that liked my art and would let me tattoo on them, and slowly I started building a clientele. One day I took the greatest risk of my life and opened a tattoo studio called "Aztec Ink Tattoos." Read more>>
Jose Robinson

My name is Jose Robinson, and I got the idea for Mana Moment right after high school. I really wanted to have more positivity in my life and began looking at opportunities and hardships in a new perspective. It felt like I had opened my eyes to a whole new world. Events, circumstances, and moments began to open up and provided a better life for me. I decided to dedicate my life to small connections to life and living, as well as the big accomplishments that came with a new vision. Eventually, Mana Moment became a lifestyle, and I have now created into a movement to share creativity and positivity through joy, truth, and love. Read more>>
Joe Laureano

I started my dueling pianos career during college in the mid-90s; I was a freshman at Otterbein College in Westerville, OH, a northeastern suburb of Columbus. Went to a "college night" at the local dueling pianos bar on a random Tuesday. My friends wanted me to go up on stage and play a song, so they passed the hat & got the (at that time) $20 stage fee. Went up and played "Hey Jude," walked away with a career as I was hired on the spot, and have been doing the gig ever since. In 2003, I had started traveling from Columbus to other cities across the country. Read more>>
Heather Elzinga

I was interested in all of the cake decorating shows growing up, and it was something I wanted to try myself. Honoring my late grandmother, my first attempt was a 3-tier fondant-covered cake, and I haven't stopped since. Fast forward 10 years, I have created a name for myself, and friends, family, and locals know who to call when they are looking for a great cake. Cake decorating does not always equal perfection, and that may be one thing that has been a struggle for me. Each recipe, order, design comes with its own challenges, and you learn the best techniques to cover it all up. Read more>>
Jay Kuderik

Well, it all started back in January of 2018. My Best Friend Amanda was getting married to the love of her life, I was already catering all the food for the wedding shower, but I needed to have an amazing gift that will stand up to the life challenges and stay strong throughout their marriage together. So, I created a built a coffee table for them and included some messages on the underside of it to remind them where the table came from and where it all started. This table is now a focal point inside their first home together that they got here in August of 2022. During the Covid pandemic, the lumber prices went through the roof. Read more>>
Nina Tague

I started my business in March of 2021. I have been doing permanent makeup since 2018, along with other beauty services. I have been working at a few different locations and wasn't very happy, and someone once said to me that "you can't be good doing permanent makeup if you're doing other services.". That really made me mad, and I said, sure I can! That's when I decided that I can do everything I love and be good at it! So, I decided to venture off and open my own business. I have never been happier! Read more>>
Timah A.E.

It all pretty much began with helping my mother. She let us know that she had been dealing with bleeding fibroids for several years, and the doctors couldn't get the bleeding to stop. At that time, fibroids were something new to me. Never had I heard of that before, so I began researching it. I came across so many horrible images and stories of women dealing with fibroids. This all took place in 2008. Since our mom let us know what was going on with her, we began going to doctor appointments with her. By then, I had amassed so much information about fibroids till it filled a couple of journals. Read more>>
Morgan Mager

My name is Morgan Mager, and I'm an artist and photographer. I recently graduated from art school in 2021. I went to Kendall College of Art and Design in Grand Rapids, MI. Here I majored in medical illustration and soon decided to minor in photography as well. I have always had a passion and talent for art, so a career that was art related was a no-brainer to me. In my senior year of high school, I created a concentration of work for my AP art exam that focused on the anatomy of the human body mixed with biological elements. Read more>>
Mirnaz's Story

Hi, I am Mirnaz. I started singing at a very young age in the church choir. I was born in Baghdad, Iraq, I moved to Michigan when I was 10. That is when I started writing lyrics to learn English. I started making music at 16 when I had a radio show at Cousino High School. I plan on making music to bridge the gap between Middle Eastern culture and Western understanding. My culture has a lot of beauty and rich history waiting to be brought to the forefront of the mainstream. I am hoping to facilitate that properly through song. Read more>>
Hillary Howell

Founded in 2018 by myself, Hillary Howell, PharmD, Apothecary&Company has come to be a reality after my husband, James, was diagnosed with an extremely rare, incurable cancer, leiomyosarcoma. With this diagnoses, James and I made the difficult choice to treat the aggressive cancer holistically hoping to increase his odds to 30-40% versus the 5-10% with traditional chemotherapy and radiation. Being a pharmacist for the past 15 years, I knew this was going to be a risky endeavor, however, it was a risk that James and I were compelled to take. Read more>>
Amanda Moo Smalligan

In the 1980s, I was a city kid living in Detroit. My early memories of lake life involve fishing trips with my family. We would wake up around 3 am and trailer a small boat to Lake Erie to fish for walleye. The time on the water had a lasting impact on my life, stress management, and survival through trauma. We moved around a bit, my younger brother had childhood leukemia, and by the 1990's we lived in walking distance to Lake Huron. When life got the best of me, the lake was always there. It became a sanctuary for me as I grew. I was into books, gymnastics, music, and any type of play. Read more>>
Imani Henderson

I was born in Saginaw but primarily raised in Texas. Living in a single-parent household, we experienced homelessness, food and clothing insecurities, and significant emotional distress. Once I graduated high school and transitioned into college, I reminded myself that I had control over how my life transpired, and I possessed the power to make sure I never had to revisit those life experiences again. Through therapy and introspective work, I have been able to address my traumas and hold myself accountable to the avenues of my life where I missed the mark. Read more>>
Gabrielle King

As a little girl, I have always had an obsession with fashion. My dad used to take me shopping every season. I absolutely loved to stroll through Marshall Fields, picking out all the coordinating denim Guess outfits! That excitement stuck with me into college as I earned my Bachelor's of Science in Apparel and Textile Design. After graduating, I interned at Nordstrom–one of the leading fashion retailers. During my internship, I learned the behind-the-scenes and inner workings of what it took to run a successful department store from human resources, marketing, shipping operations, management, and most of all, exceptional customer service. Read more>>
Anna Melkumyan

Blooming Minds Therapy was founded in 2019 by two mental health therapists who each had a background in working in non-profit mental health and a group private practice. The mission of Blooming Minds is to promote the development of the tools, skills, and mindsets necessary to overcome the obstacles in life that keep growth stunted. We provide client-centered care to ensure the safety, comfort, and support of our clients. Blooming Minds started as a two-therapist practice and has evolved to a ten-therapist practice. With a strong sense of ethics, hard work, and creativity the practice has grown rapidly over the last several years. Read more>>
Steven Watson

I first fell in love with music in the early '90s when cassette tapes were a "thing." Me and my first friend Ben (Benjamin Harris), use to put the tape player up against the tv and rap over the music that was playing and recorded it. Over time I matured and learned more about music and the different genres there were. It wasn't just rap it was hip hop, rock and roll, jazz, country, techno, etc. the list goes on, and it enticed my love for music even more. With my choice selection in music being so diverse, I was free to craft my own style however I wanted. Read more>>
Dust Biters

Grand Rapids friends Nick Miller and Nick Kinsley began playing in punk and hardcore bands together in their early 20s. Years later, Miller moved to Chicago and in 2019 he and Kinsley reunited musically, beginning to write riffs together again. When the Covid lockdown hit, the pair recruited Thomas "Tommy" van Arsdale to play drums on some songs they had loosely penned, and the trio began exploring a unique fusion of punk, 80's rock, post-hardcore, and metal. Shortly thereafter, they met Bryan Fonseca, who joined on bass, solidifying the Dust Biters lineup. Read more>>
Visionaire Nick

I've always had a love for acting as far as I could remember. As a kid, I would often imitate my favorite actors' voices, maybe re-enact a scene from a movie or stage play, and just dream of becoming an actor one day. In high school and college, I played as Malcolm X in a stage play. I love writing just as much; I'm writing something now… hopefully, it will be in production by 2nd or 3rd qtr. next year. Now they're making movies damn near every day in Detroit; I felt like they're right here in my city, so why not get in on some of the fun? I'm always out networking, going to auditions, and working on improving my skills every day. Read more>>
Nazish Azam

My name is Nazish Azam. I am a licensed Cosmetologist from Detroit, Michigan. I have been a Hairstylist for about twelve years now. I am successfully running my business, NazStylez, as a freelance Cosmetologist. Growing up, I always had interest in working in the beauty industry. For family events, I loved doing makeup for family members and helped doing their hair. It always fascinated me to watch the professionals create their magic whenever I visited salons. It wasn't until I was done with high school when I really started to consider working towards making a profession out of it. Read more>>
Asia Wilson

From 203 to 2020, my jobs were based in the medical field. I attended Eastern Michigan University from 2011 until 2016 where I majored in the nursing field and recreational therapy. Unfortunately, I was not able to get my degree due to financial reasons which led me to other directions. When Covid started, I was working in a nursing facility in the recreation department, and due to the pandemic, it resulted in having to leave the company. Having that extra time on my hands allowed me to research other fields and career paths that I may have been interested in. Read more>>
YRS EvanSent

First things first, "Hi, my name is Brody. I go by EvanSent" 
 I've always had a passion for music. Growing up around and inside most bars the passion of music was born through karaoke and backseat car rides. Upon having love for music came writing at an early age as I found comfort in the music I wrote. From there the story turned into who u know today as "EvanSent." The genre jumping went all around starting from hip hop to emo rap to pop punk and now Newly acquired genre "Hyper Pop Punk." It makes for a sound you'll definitely enjoy. 
 Read more>>
Kyler Wilkins

I was introduced to playing music with violin at a young age – so much so that I don't remember not making my own sounds. Being born and raised in Ann Arbor, Michigan as the fifth child of a musical family, there were many opportunities to connect to music my siblings had already taken advantage of and pursued. As a 10th grader listening to a high school female a cappella group sing Toto's "Africa," I was in awe of what human voices could create together, and I eventually joined an a cappella group in high school before using skills practiced there to audition into a Michigan State University group called State of Fifths. Read more>>
Daniel McCloud

My name is Daniel McCloud, lead instructor of the Youth Program at Original Okinawan Karate of Holt. Our Dojo opened on November 3rd, 2003, under my father and teacher, Mark McCloud. I was the first…and only student on our grand opening all those years ago, and now invest my time and lessons learned into our 200+ students each day. Since 2003, the Holt Dojo has provided quality Traditional Okinawan Karate training to the Holt Community and beyond. Owner and head instructor, Sensei Mark McCloud, has been training and studying the art of Okinawan Karate for over 35 years and holds an 8th-degree black belt in Shorin-Ryu Shidokan under his Sensei, Seikichi Iha. Read more>>
Stephanie Leaver

Photography has always been a significant part of my life. Ever since I was young, I can recall using any means to capture moments in time, rather it be some gaming device like a DSI, my parent's phone or my own phone, a basic point-and-shoot camera, and eventually my own "professional" camera. I do not remember if there was a specific point in time that I absolutely fell in love with photography, but I do know the pivotal moment when I decided to make photography my career. When I was in high school, my now late Grandma was diagnosed with stage 4 lung cancer. Read more>>
Delrisha Hayes

At Bat hosted its first baseball clinic in July 2016 at Belle Isle Athletic Field to introduce youth six to 13-year-olds to the fundamentals of baseball. During the 2017-2018 school year, At Bat piloted its first after-school program in collaboration with Voyageur Academy, a Detroit charter school. With limited funding from UAW Ford and individual donations, the organization successfully taught 26 youth baseball and nutrition principles, built self-esteem, and applied academic concepts to real-life examples through structured activities. Read more>>
Jamie Brock

My degree is in behavioral psychology and technical writing from Western Michigan University. After several years in the field, I was presented with an interesting opportunity by my brother. In September 2012, Kalamazoo, Michigan, began allowing food trucks to operate in the city. My brother asked me if I'd like to drive and manage a coffee truck called Coffee Rescue, created from a converted ambulance. I thought he was crazy. But when he explained the premise was to help a family member in need, I immediately joined on, and in two years, Coffee Rescue had sustained/assisted the family as we had set out to do. Read more>>
Mike Dunlop

I have been a bartender since my early 20s. I met Sierra in 2014 who was also a bartender in the summer. Sierra and I got married towards the end of 2017. After our wedding, we realized that a team focusing just on the bar could elevate the bar experience. With the help of our friend Andy Kolar, we registered our company as an LLC and decided that using a name works for Mike's Hard Lemonade and other businesses so we decided on Mike's Bar Catering. Sierra started our social media pages and we were on our way. We got our first gig from someone I met while I was working at the bar in January 2018. Read more>>
Satara Holliday

I'm Satara Holliday proud owner of First Love Tours, a Detroit native, graduate of Martin Luther King Jr Sr High, I hold a bachelor's degrees from Central 
Michigan
University and a girl who decided to leap into entrepreneurship. Never wanting to be an entrepreneur, I married into a family full of them! Specifically, my father-in-law is why my journey began. Mr. Joe Twilley, Sr. Army Vet, Motown singer, retired GM employee, and lastly, owner of J & L Tours, trusted me to assume the family business. After being in business for 37 years, the pandemic hit, and my father-in-law decided to retire as an owner-operator and close his company.
Read more>>
Monique Morton

Hello, my name is Chef Mo. As a kid, I was about my food and snacks 
. Ramen noodles and hot dogs were my favorite! But just like everyone you get tired of eating the same thing all the time. So as the baby of 3 kids, I began watching my parents and the women in my family cook. I was careful to pay attention to the seasonings they use. I use to go over my grandmother's house and we would just watch Emeril and other cooking shows. Before I knew it, I was cooking for myself! In high school, I had the opportunity to take a culinary arts class and fell in love! Read more>>
Kera Berutti

In 2016, I was actively looking for a hobby after my son started preschool. On social media one day, a sponsored ad of a guitar string jewelry company came through my feed and stopped me in my tracks! I've always loved guitars and thought, what a fun way to incorporate art and music together! The following day, again on social media, a local woman was selling her jewelry making supplies for $25. It had everything I needed to get started besides my first few picks and strings. I taught myself how to make jewelry by both watching YouTube videos, and the old-fashioned way: making mistakes! Read more>>
Andy Ann

Moving back to Detroit from the East coast, I noticed a lack of event spaces that I liked so I created it. It truly started as a potluck-style brunch amongst friends and grew from there. My then goal and current passion is to bring people together over the simple joys of life: good food, music, and laughs. Much of the struggle has been maintaining my vision through the change of scenery, economic climate, and now pandemic. Earlier many do not understand the concept of a "bounce brunch" or "brunch party" as is popular on the East coast. Read more>>
Ezekiel Fowle

I'm a Grand Rapids, MI, native with a passion for business & creativity. I've been involved in event production and promotion for over 10 years. I went to Northwood University and graduated with my BBA in Entertainment, Sport, & Promotional Management. I've been in sales my whole life, currently working for Honeywell Inc. (tech company) as a Sr. Channel Business Manager, where I manage our partners in our channel network. I've always had a creative side to me and have been interested in helping my creative friends with their visions. Read more>>