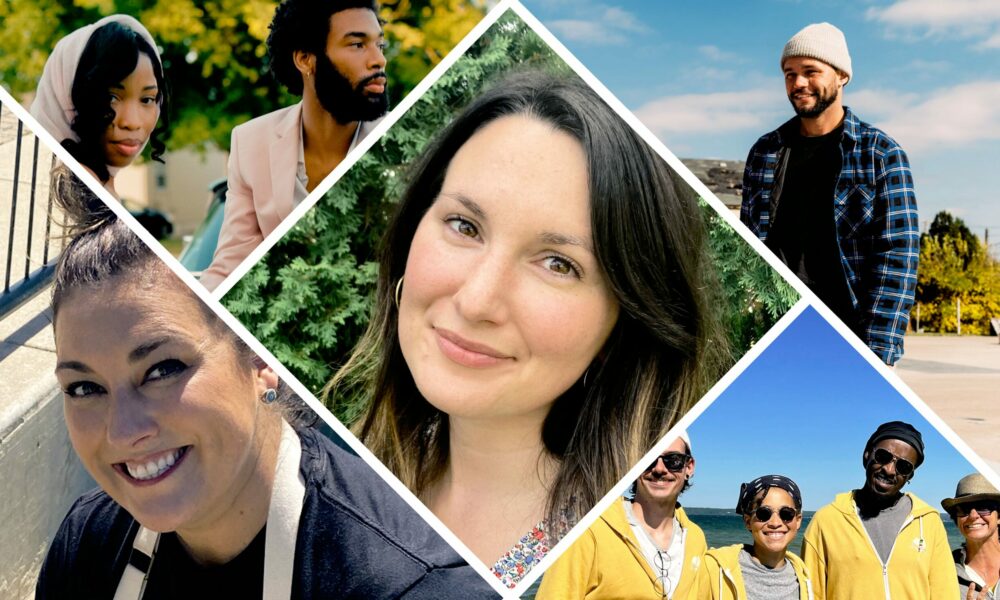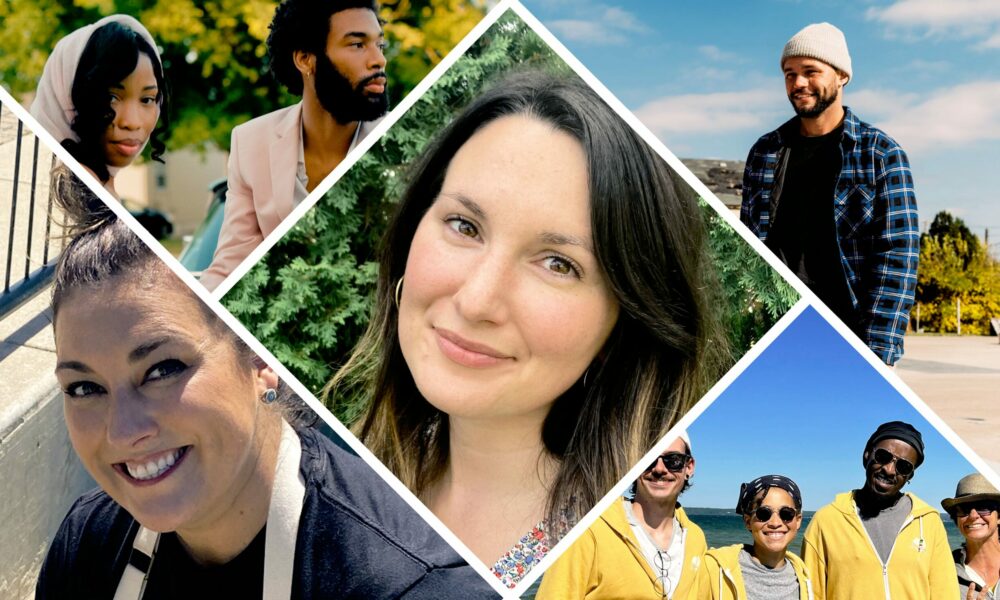 It's more important to understand someone than to judge them. We think the first step to understanding someone is asking them the fundamental questions about who they are and how they became the person they are today. Understanding and empathy are essential building blocks for a better, more compassionate world. We're incredibly fortunate to be able to ask these questions each week through our interview series. Below you'll find inspiring interviews from in and around KC.
Yousef Ali

My background has always been at the intersection of media, technology, and culture. I grew up as a musician and always had a passion for music of all kinds. As a kid, I was a classically trained pianist for many years. One of my first jobs was working with Viacom and BET as a digital strategist. I was young, and they were looking for ways to modernize their approach to diversify content into more digital channels. After that gig, I better understood the power of digital media and the role it plays in building a creator's career. Read more>>
Maggie Cocco

I'm a composer, performer, activist, and educator. I had a childhood like many people growing up in Southeast Michigan – parents divorced and emotionally unavailable, most physical and basic needs met, some of your more and less common experiences of abuse. I've had a natural musical ability my whole life which has drawn people to me for better and worse. I was courted by and engaged with many shysters and would be managers in my early career, and been subsequently fortunate to extricate myself from these cycles with the help of mentors, educators, and community. Read more>>
Lisa Janay

Hi, my name is Lisa Janay. I was born and raised in Detroit, MI. Growing up, my first passions was dancing, acting, and being a news reporter. I attended Cass Technical High School from 2014-2018; I majored in Performing Arts. In my high school years, I debuted in one of the biggest modern dance concert performances of the year, known as "Legacy" I also appeared in a few acting performances, and one of my biggest accomplishments I earned, was the opportunity to interview the American R&B Singer-Songwriter Mario. Read more>>
Niketa Sutton

I've always been very crafty and creative, with a passion for décor. Often, I'd decorate and create various props and details for my granddaughter's birthday parties; taking them from ordinary to extraordinary. My passion and love for all things balloons, however, came about during the pandemic while in quarantine 2 years ago. My son, the youngest of my three children, decided he wanted to join the Army National Guard. He was in his junior year of high school at the time and during summer break was allowed to start Basic Combat Training. During this time, he would be gone for approximately 10 weeks. Read more>>
Shane Moore

My name is Shane Moore, and this is my story on how Spymaker escape rooms and Spymaker Axe Throwing came to be. I was a retail district manager, and my wife was  light attendant. My district was Ohio, so I would generally leave on Tuesday and come home on Friday. As a Flight Attendant, Tracy would generally leave on Thursday and come home on Monday or Tuesday. That did not give us much time together, either as a couple or as a family. We knew something needed to change in our lives; we could not continue down the same path. Read more>>
John Simpson

I started selling glass art while Following The Grateful Dead back in 1994. After Jerry Garcia died in 1995, I met Russ of Phat Glass Works in San Francisco; I sold glass for him for two years until '97, when he began teaching me the craft. I worked for Russ for about a year, then ventured out on my own, and the rest is history. My glass career has been full of ups and downs. I started a family early on and spent more time being a father than I spent on my 'career.' I've had periods of success and periods of tribulations, but I never stopped moving forward, finally finding my footing over the last 2 years…now 25 years in. Read more>>
Chris Nicolaou

After graduating from OU in 2011 – I pursued a career in professional hockey. Earned a position playing for a The Knoxville IceBears in the Southern Professional Hockey League. I played through preseason but after 20+ years of playing, I quickly realized my heart was pushing me to start a new chapter in my life. I came home to Dallas, applied the same energy and focus I used to become a professional hockey player toward finding a real job. Despite having graduated with honors and nearly a year of work experience as an intern with credible companies, I couldn't even earn a call-back. Read more>>
Naddine Ahmad

Blüm began in February 2018 as a vision to create a space for social floral design workshops within the Detroit Metro Area. The idea sparked from the realization that more and more people are interested in experiences over retail; I knew that to help my vision take off, I would need to gain the trust of clients as a unique and fresh new florist. I launch Blüm Floral on February 7, 2018, with a simple Instagram post, and within five days, we had received over 30 Valentine's Day orders. Slowly, words of mouth spread, and my list of clients and demand grew larger. Read more>>
Metro Deezy

During the late months of the pandemic, a friend from high school, Faison hit me up and told he was starting to make beats; he let me hear a couple of beats, and I thought it would be fun at first to rap on them, but I didn't take it too serious at that point. I would practice writing raps here there and share them for a few friends, but handing thought of studio recording them. One day Faison asked me did I want to hop on a song with two other artists, I said yes. He sent me the beat, the session where we would put all the verses together was about a week out. Read more>>
Robin Speth

I give a lot of credit to my hometown of Ann Arbor, MI for shaping the person I am today. That place, with its wonderful inhabitants and natural beauty, combined with the academic might of the University of Michigan, is a melting pot of different environments, cultures, professions, and beliefs. Growing up there exposed me to huge range of experiences and spectacles that I'm sure provided the foundation for my art and design. While studying Product Design at the College For Creative Studies (CCS) in Detroit, I discovered a deep love for drawing, painting, and sculpture. I gradually realized that the field I could be the most useful and innovative in was fine arts. Read more>>
Audrey El-Khoury

I started in my small New York apartment in Washington Heights. When everyone started losing their jobs due to the pandemic – I was one of them. That was when I actually realized to stop putting my goals to the side and make a move on them. Today I run a business where I create vacation wear because every day should be lived as if you were on holiday! Being a business owner is never a smooth road! There are always random twists and turns. I'm still in the beginning stages of my business, and being lost can be so frustrating but mainly liberating when you figure it out! Read more>>
Evan Hutchings

My name is Evan Hutchings, I'm a photographer from Plymouth, MI, based in Detroit at the moment. I got into photography first by picking up a film camera my mom had when I was younger, then again later through a friend of mine that I skateboarded with. I had photo classes in high school, and he would help me learn and show me how to use that camera. It was a Minolta X-700. I fell out of it for a few years after, but I always watched his process when he would take pictures of me skateboarding. Around that time, we were going skateboarding in Detroit so much that I figured I wanted to live down here someday. Read more>>
Kaylynn Martin

In 2019 I was told I needed braces. My mom began saving for them because braces are expensive! Especially when you have other dental work that needs to be done. I decided I would try and help her out. I began making kettle corn and asked family and friends if they would like to buy my treats, and they loved them so much I sold out every time. Kakes the Great Popcorn Co. became real in January 2021 when my mom formed my company legally and created our website as a birthday present to me and my brother. Read more>>
Justin Smith

I have always been the kind of person that wanted to influence goodness in the atmosphere, and my career experience has provided many of opportunities to do just that. Post college graduation, I moved South to New Orleans with a program called Teach for America to teach Special Education. I like this piece of my story because I never knew that I was going to be a teacher until I become one. Although I enjoyed the innovative piece of the classroom experience, I took a leap into senior care, and here is where I thought I was going to spend the rest of my time, but the Universe had different plans for me. Read more>>
Angie Krausfeldt

In 2016, I started Little Flower Stand in Chicago, IL using our yard and roof space to grow flowers. As more and more people were interested in local flowers, I began looking for additional space to grow. Initially, I looked in Chicago (growing on unused land, public spaces, abandoned properties, etc.), but it was challenging to find space we could use, so I began looking outside the city in nearby states. At the time, I worked a full-time job in Chicago at a non-profit and would need to find land that wasn't too far from the city as I would need to commute back and forth for work. Read more>>
Keith Semple

I am from Northern Ireland. Began learning piano at 9, guitar at 13, and then gigging by 16. Have been gigging ever since. In 2002 I won PopStars: The Rivals TV show becoming the first person voted into the band on the final night. Since then, I have performed many major arena UK tours. Moved to the USA in 2006 and performed with 7th heaven for 7 years, doing almost 200 shows a year. Opening for Bon Jovi, Kid Rock, LeAnn Rimes, Styx, Hewie Lewis, and many many more. I reached top 20 on NBC's The Voice season 9. My own band SEMPLE now performs everything from bars and clubs to corporate business events, festivals, weddings and more. Read more>>
Yvonne Spampinato

KEPT Jewelry is a Sophisticated and Affordable line of Jewelry. All of which is designed and handmade by myself. KEPT designs are unique and effortless, perfect for everyday wear. My line offers a diverse selection of styles. Simple, edgy, and even earthy bohemian styles. Many of my designs harken back to vintage costume jewelry where most of my inspiration comes from. Mostly made of brass, many of my pieces are hammered and metal smithed. I incorporate semi-precious stones, crystals, fiber, leather, and sometimes found objects into my designs. Read more>>
Tony Suzio

I got into sign painting after leaving a job that didn't stimulate me very much, and was looking for change to get into more hands-on work that fed my creative personality better. I had always been an artistic person and a very hand on one as well; I just struggled to find a way to monetize it efficiently. After quitting my previous job and going back to bartending to pay bills for a couple years, I started seeing hints on social media about other people in the sign painting trade. It grabbed my attention quick and with quite a bit of magnetism. I had spent a lot of my youth drawing graffiti and letters on my homework and folders, so it only made sense that learning the proper rules and principles for creating letterforms interested me so much. Read more>>
Katie Kowalski

My first big baking adventure was when I was running for student council president in high school. I baked 450 cupcakes for my campaign– and I won! My scope broadened a bit, such as in trying to master the chocolate chip cookie and making my first orange chiffon cake. Still, my baking could be described as–at best–a pretty tasty passing dish. In the meantime, I earned my BA from Aquinas College, worked as a teacher in Detroit and Dearborn, and brought baked goods to work when I had the chance. Read more>>
Percell Franklin

I started out as a beat-making producer for one of my best friends Rxde Boy, and on the first day I learned how to produce we made the beat in my room. Then we recorded the song 30 minutes later, I had my first official song completed and engineered by me. Shortly months after, I started teaching myself how to record music when I got bored. Went from learned how to record 2-3 songs a day on my own, and that turned into an album quickly after. It's never a smooth road when being a producer, engineer, rapper, videographer, as well as my own graphics artist. Most the struggles are just having many projects to finish for myself on top of other clients' work. Read more>>
Andrew Bennett

I was at a real low point in my life before I found my love of art again. I never would have guessed it would have brought me so far. It breathed new life into me. I started just making art alone by myself, and as I got more comfortable, I started to live paint a party for my friends, and as time moved on, I started to live paint for festival and events. I would have never made it for the help and support of friends, family, and even random people. I am grateful for everything. I think my biggest struggle, in the beginning, was getting the piece I was painting to look the way I wanted it to. But I was lucky enough to have art peers that helped lead me into the right direction. Read more>>
Shanell Larner

Thank you for having me here. I am a self-employed Reiki practitioner Medium and Medical Medium. I started up my business in 2015 but have always had a skillset for reading a person's energy and looking deeper into their behaviors that came from trauma or a lifetime of living through a variety of trauma. I am able to see illness on the physical body that is connected to trauma in life or childhood trauma that adults experience and are not able to release. I see this trauma on the energy and am able to see the symptoms it has caused physically on the body. Read more>>
Shania Davis

I grew up in the "hood" from what people from the city call it, but I grew up in the area of brightmoor. When I was younger, I was very quiet and to myself. But that didn't stop my mom from putting me performing arts/being in the spotlight. From about 2 years old my mom would always tell me I was destined for greatness. Instilling in me that after high school, there is no other option but college. I graduated Valedictorian from Jalen Rose Leadership Academy in 2017. Following a long but worth it 4 year of college, pandemic and all! Read more>>
Jessica Nagel

I've grown up around wonderful food and great cooks and chefs. My dad worked at Tapawingo (formerly a fine dining restaurant in Northern Michigan) for 20+ years, so my brother and I were able to experience high-end farm-to-table cooking at a young age, and we always loved experimenting in the kitchen. I worked in restaurants during and after college, and then after college moved to Chicago to work in marketing for a flavor and fragrance company and then on to manage the marketing division of a custom seasoning company. In this position, I would travel around to large CPG companies and present food trends and consumer insights. Read more>>
Christopher Grayer Jr.

Well, I was born Christopher Grayer Jr in Detroit, Michigan. In June 1996 my life was pretty much normal as a kid. I wasn't always the music artist RichNextWeeknd, but I've always had a deep passion for music and fashion since a child, but it wasn't until age 7 when I realized I wanted to create my own music. It started as a coping mechanism to deal with my father's passing as well as my emotions. I would freestyle with my older brother all time after school or with the friends I had after time. From age 7-11 I would freestyle all the time for fun or to vent to myself. Read more>>
Ebony Black

I worked as an adult foster care provider for 10yrs through the state of Michigan and always prayed for a little change financially and something more outgoing for my future mainly self-employment I've always been into fashion keeping myself dressed to look the part!!! I began to save for this dream/goal I had in mind believing in myself and encouraging myself to come up with a name/brand then out came Inner City Fashion with the help of others. Praying even harder that I find a location and I did saying to myself God is good. No one was willing to just tell me about vendors, so me and my husband road from city to city and came across a few that was not easy. Read more>>
William Wiggins

Like many other artists and creative types, music has always been an essential part of my life. My musical tastes are very eclectic, and I am a bit of a music nerd at heart. I am constantly bothering my friends and family with musical fun facts. I am also a classically trained percussionist. All of that came together when I started learning how to compose music in high school. That led to me teaching myself (with the help of YouTube) how to produce in Fruity Loops (now FL Studio). I was initially taught the basics of DJing by one of my fraternity brothers. Read more>>
Hillary Coleman

10 years ago, I bought a couple succulents and killed them! I kept buying more succulents and learning from trial and error. As I began to widen my plant knowledge, Plant parenthood was becoming easier and easier, and family and friends were always asking for plant tips. Fast forward to March 2020, I was laid off from a VERY toxic job, and by July 2020 I 1991greenery, LLC was established. In the beginning, 1991greenery was smooth sailing. It took off fast! With so many plant lovers turning their plant hobby into an online nursery, it has for sure kept me on my toes. Read more>>
YUJIN BPMs

I sing a song with playing instruments as "YUJIN," and I compose electro tracks and DJ as "BPMs." I started playing music when I was 6 years old in Japan. My first instrument was the Electone. However, I didn't like the Electone lessons because the teacher was strict. The Electone is a very complex instrument that requires both hands and both feet to play. And I was depressed to go to class every Friday. I didn't want to play the Electone at the ensemble concerts held several times a year, so I always wanted to be a drummer in the ensemble instead. And it became the second instrument in my life. Read more>>
Erin Schnute

The Bed and BARKfest was born from two young dog lovers joining forces to save up for a wedding. I've always been passionate about pups and people, and having my now husband join me in my side hustle of house sitting and dog walking was bliss! Eventually, I realized that what we were making from our side-hustle was outpacing our other jobs, and we started dreaming bigger: What if we had a house where dogs could come and stay and be part of our pack while their doggie parents were traveling? Surely, they would have more fun hanging out with other doggos in a family atmosphere with plenty of walks and games than just missing their family at home? Read more>>
Flint Po

Born & raised on the Northside of Flint, MI, I was highly influenced by the streets & Hip-Hop culture. I had a ton of male cousins that was into both lifestyles, so naturally, I was intrigued in every way. My big cuz Mike actually made me fall in love with the rap game after introducing me to acts like Wu-Tang & OutKast! Already heavily influenced by Tupac… those extra artists only made me appreciate the game that much more. I actually started writing at the age of 10 to Tupac's "Shorty Wanna Be A Thug." After reciting it to friends, I knew this was what I wanted to do. Read more>>
Melissa Carter

I have been a singer, performer, and musician my entire life. I've studied and honed a lot of my craft, but it was not until I started teaching music to others where I found my true purpose. I began vocal coaching to young girls in my community right out of my home church. I began to get fulfilled once I saw the direct impact I was having through music. That led to the start of Vocal University. My virtual studio-based company that teaches voice and beginner piano lessons to students all over. This is only the spark of my dreams. Outside of want to evolving into a successful musical artist, I want to expand Vocal University into an institution that teaches core curriculum courses through the lens of musician and performing arts. Read more>>
Krista Droege

About 13 years ago, my daughter attended a music school where she took piano, vocal, and drum lessons as well as a group performance. Her drum instructor, a lifelong musician, Joe Leone, also worked as the Music Director for that franchise. The franchise was sold, and Joe & I talked about "if we had a school, we'd do this, or that"… Long story short, 2 years later, we opened Rock & Roll Prep School, then in Macomb Twp. We opened the school offering lessons in drums, vocals, guitar, bass, and piano as well as a Full Program where students rehearse 3 hrs. a week for 4 months that concludes with a live performance at a local music venue. Read more>>
Larry Smith

Okay I started my business around 2017 in high school with a couple of my close friends.we started rapping at first we was just playing around at first but then overtime in 2019 that's when we started taking the business serious and we form a group LAKESIDE ENT. (Odd Future/PRO/ERA) we all started rapping as a collective after I graduate from high school around 2019 that's when I started dropping multiple projects on my SoundCloud to spread my music and be heard. but in 2020 that's when I started producing and making tracks on my own/friends/clients I been doing that for awhile then in 2021 that's when I decided to make my own YouTube channel.and every sense I love doing YouTube and talking to people and making music I love connecting with people and spreading my message to the young Individuals and the old ones but that's my story. Read more>>
Lia Winbush

I'm the youngest of 4 girls. Being the youngest gave me a lot of opportunities because I always had someone older to teach me things. My mom taught me patience. My dad taught me will-power. My older sisters taught me how to stand up for myself. These qualities carried over into the career that I have chosen. It took patience to perfect my work. Will-power to not give up. And I always stand up for my work. I've always been interested in hair and crafts so I combined the 2 and created Lovely Looks by Lia. My mom enrolled me in hair braiding classes when I was a little girl and I'm very thankful she did! I practiced in all my friends and got better and better. I have 3 little ones at home so doing this line of work allows me to still be their full-time care giver which is my number 1 priority. Read more>>
Michelle Belton

Collection of Hearts is a nonprofit organization that assist the youth of Detroit. They were  founded under the umbrella of WITS community services, Michelle's childhood church home under Pastor Leon K Shipman. Her mission has always been to tackle the issues that plagues her community. Michelle Belton started off by mentoring the youth of Detroit Alternative & Charter School systems. It grew into later working a full-time job while taking a lunch to conduct 30 min mentoring classes 2x a week with little to NO help from anyone but her sister Victoria Hudson- Belton. Read more>>
Alexxis Hamilton

I'm Alexxis and I am a Talent Advisor in HR. I graduated from MSU and now a proud first time home owner. As a first gen homeowner and college graduate, my mother always pushed my siblings and I to excel in all areas in life. She knew that having a business could help me learn about entrepreneurship since that was something she always wanted for herself and her children. Living in poverty had her push us to be greater and to never stop improving. She would often have us study over summer breaks with workbooks and writing book reports. Read more>>
Julia Moore

I grew up in Macomb, Michigan with my parents and my brother. My mom enrolled me in dance at 3 years old at a local dance studio. From then on, I fell in love with the art and never wanted to stop. I began more extensive training in ballet when I was 12. I took a few Cecchetti ballet exams and while they went well, I realized that ballet was not my calling. While I was in between studios in high school, I found Cindy Raffel, who recently moved to Michigan and started 2nd Street Studio of Dance. She was one of my final mentors before college and introduced me to the wide world of dance beyond ballet. Read more>>
Cynatt Hussein

I really don't even know where to begin, I have always had a huge interest in nails. When I was 13 I saved money to buy the products I needed of course being that young I couldn't do much so eventually I stopping practicing. When I was about 20 during Covid I took an interest in nails again because I couldn't go the lock down with no nails! When I started I realize how much fun it was and I found myself staying up late doing sets, waking up early doing sets, really any free time I had I found myself doing nails it just made me happy. Read more>>