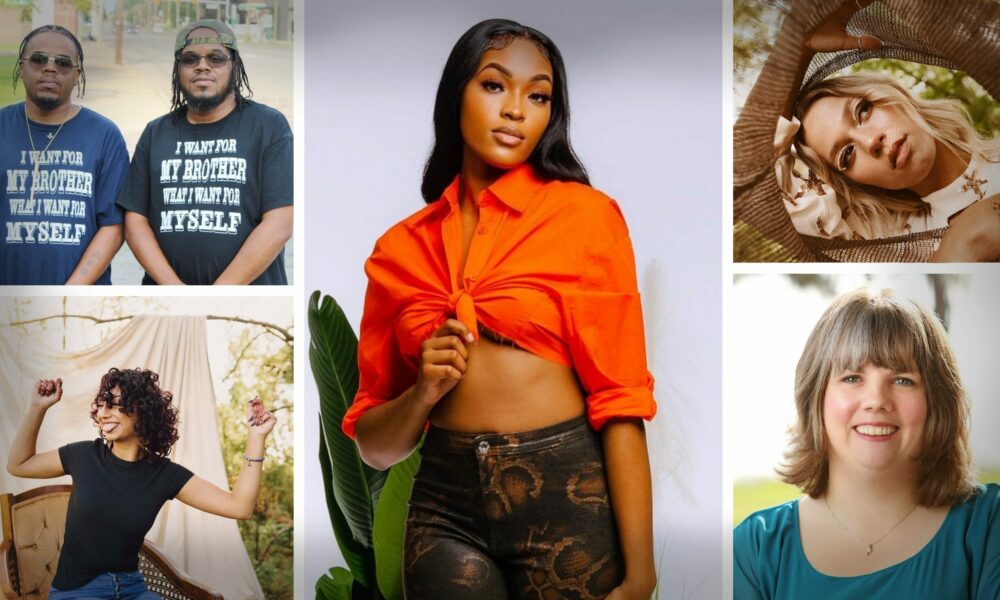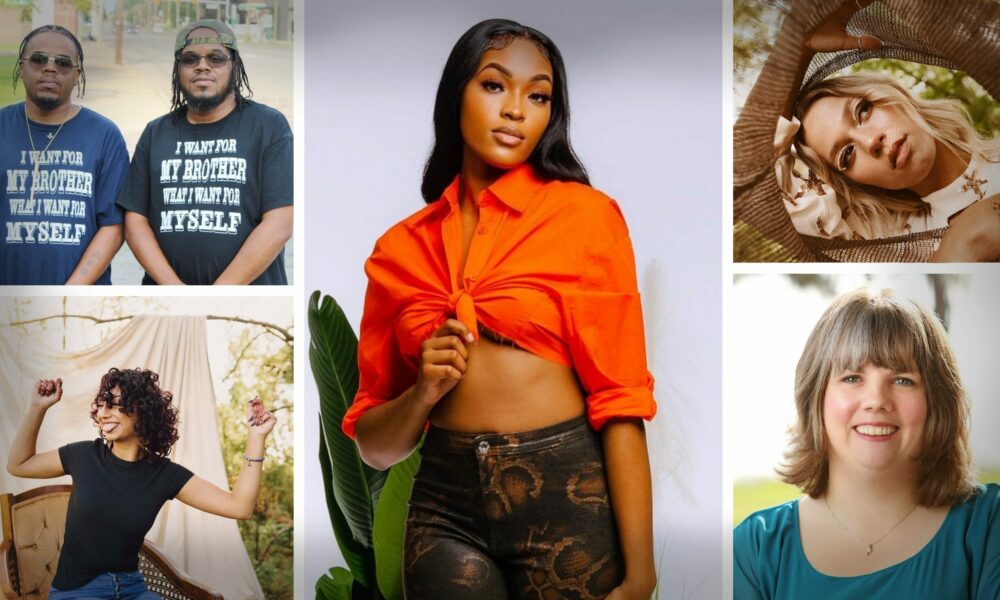 Every day we have a choice. We can support an up and coming podcaster, try a new family-run restaurant, join a boutique gym started by a local fitness champ or we could keep giving away our money to the handful of giants who already control so much of our commerce. Our daily decisions impact the kind world we live in; if we want a world where small businesses are growing and artists and creatives are thriving then we should support them with our time, money and attention. We're proud to highlight inspiring creatives and entrepreneurs each week in Hidden Gems series. Check out some of our latest local gem features below.
Julia Gasparetto

I started off my photography journey the moment my mother bought me my first camera, at the age of 13. I started taking pictures of my family, friends, and vacation trips. My love for taking pictures of life's moments really just grew from there. I took breaks here and there, as I was in high school focusing on studies and cheerleading. It wasn't until the beginning of 2018 that it all started for me. My first "gig" I guess you could say, was taking newborn pictures of my now, Godson.  Read more>>
Nicole Miazgowicz

It has been a long winding road to land where I am today. I've always been obsessed with storytelling and crafting a narrative – I grew up in a rural area without TV (though we did have a VCR, so we watched many movies!) for most of my formative years, so I filled my time with reading, drawing, and play-acting. That time really strengthened how I used my imagination and exposed me to so many different ways one could share their creativity – I fell in love with all of it. Read more>>
Litta Monea

It all started my senior year in High School. I was one who had friends, but not too many of them. I went through one of the hardest times of my life when my late boyfriend was killed when we were 17, 18 years old. That pain definitely made me work myself a little too much, but it got me to where I am now. I started my cosmetics business January 2020 selling lip-gloss and lashes. Later on, I started to sell much more even including men essentials in tribute to Kam, I named my business Kamera Ready. Read more>>
Jessica Jenkins

I used to get disposable cameras to photograph my pets, bugs, and nature in general as a kid. My grandmother bought me a point and shoot in eighth grade for a class trip and my dad was impressed with the resulting photographs so he gifted me my first DSLR camera the following year. Can't thank them enough for seeing a creative spark within me they felt worth supporting! For a while I did a lot of self-portraits because I was too shy to ask people to model for me but directly after high school, I found a Craigslist ad looking for a wedding second shooter and took the leap (shoutout Kate D!) Read more>>
Tiffany Lenau

I first started practicing yoga in the early '90s in high school at the Leelanau School. It's a boarding school and I was adjusting to being away from family and friends and learning to be in a totally new environment. I vividly remember how peaceful and euphoric I felt after the first class. I knew yoga was going to be a part of my life forever. I was certified as a yoga teacher in 2005 and a couple of years later Yoga Roots came about. Read more>>
Chelsea Whitaker

I started photography as a kid with a little point-and-shoot camera. I always knew I wanted to be a photographer when I grew up. The question was always what would I focus on. Early on, I focused a lot on landscapes and portraits. I even considered weddings, very briefly. But then, the fall after I had graduated from Grand Valley in 2017, I brought my camera to a show at the Pyramid Scheme. It was Fall of Troy, with Lokella opening. Read more>>
Tonjie Reese

My first job out of undergrad was as a community educator, going into schools teaching about relationship and sexual violence. I gained a deep respect for violence prevention during that time. Some years later I relocated to Los Angeles and began working on violence prevention efforts at the national level. In 2018, I started eleven24, a nonprofit dedicated to preventing relationship violence through a lens of community, healing, and liberation. 
Jill Kasle

I'm so honored for the opportunity to share my story with Voyage Magazine! Bombshell Treat Bar was inspired by my love for all things sweet and really came to fruition after my husband and I struggled with some major health issues back in 2018. Despite our illnesses, we wanted to keep things light and positive for our two children and, as a family, we began to "daydream" about business ventures that would bring that goal to life. Read more>>
Abbey Fowler

I personally became interested in paper goods while working as a designer at a magazine publishing company which produced party and gift B2B magazines. We started a magazine called Stationery Trends, and I became well acquainted with the industry. I left this job in 2008 to start my own custom wedding invitation business, which I did out of my home for 3 years. In September of 2011, originally called 6.25 Paper Studio, I opened the shop in a small, 350 sq. ft. space in downtown Grand Rapids. Read more>>
Tiarrah Sova

I decided to enlist in the Marine Corps while in high school. The same day I graduated high school; I went off the USMC. I am a Sgt, E-5 Motor T Operator. I served 4 years active, 4 years inactive. While finishing my 4th year at Camp Pendleton, California, I started mentoring under a photographer living out there! Once I moved back home, I dedicated myself to fix my fitness goals and became a manager and a personal trainer for anytime fitness in Romeo.  Read more>>
Antoine & Santoine Jackson

I'm Antoine, I'm Santoine and we're The Connected Experience. Our story started in the Womb, were Identical twin brothers so we came with a best friend. Our parents and grandparents instilled a good work ethic and morals in us. We have our 10,000 hours in a few different industries such as music, education, entertainment, entrepreneurship, and more. It definitely has not been a smooth road but the most high has always guided our steps down the correct path. Read more>>
Chris Hovansian

Started my business in 2020 in February. March 15th, 2020 we were faced with a life-changing event and probably not the most ideal time to launch a newly started business. I took a chance, kept faith and stood by my goal, and ended up pushing the branding launch anyway. Don't bend won't fold came to the table as an idea and an inside joke between me and a good friend. From that point slowly took the joke and started to create something with it. We have been dealt a once-in-a-lifetime opportunity as the intensity of the pandemic came along. With that being said I didn't know what the outcome would be. Read more>>
Yeli Romero

I arrived to Grand Rapids when I was 16 years old in 1998. I attended Adelante High School while also taking training courses at Kent Career Technical Center for Cosmetology. I finished those programs and graduated in 2002. I try working in food service, then in office administration before I found my passion at the La Poderosa radio station. Though I started as a secretary, my role soon grew to involve more task including promotional and fundraising activities. Read more>>
Total Education Solutions

TES is a privately held company established in 1997 by Dr. Nancy J. Lavelle, who also founded the nationally recognized non-profit Institute for the Redesign of Learning (IRL). From our early start as a consulting and staffing company to charter schools, we expanded our services in California and soon added Michigan and Ohio to our service areas. As we grew, we extended our expertise to include eight multi-specialty pediatric clinics. Read more>>
Jasmine Jelsema

Namaste, I am Jasmine! I feel called to inspire minds, nourish spirits, and enrich souls. My heart has led this life's journey to become an usui & crystal reiki master healer/teacher, yogi, crystal enthusiast, and creative. In 2012, I relocated from Michigan to Washington to pursue adventure and an education in alternative medicine at The Evergreen State College. I feel encompassed with so much gratitude to be able to share my passion of self-healing. Read more>>
Emily Lafeber

I've always known I had a passion for helping people since I was a little girl. I remember feeling other people's pain and suffering as if it was my own and wanting to do anything to help. I quickly learned to understand the concept of empathy. I was and am the go-to therapist friend. I graduated with my Honours Bachelor degree in Psychology and Family/Social relations and later went on to receive my Master of Arts in Counselling Psychology. I originally thought maybe family and child therapy until I started dealing with some personal and familial physical health struggles and recognized the impact this has on a person's quality of life and overall well-being. Read more>>
Danny Russo

Danny Russo started his design career in 2003 but he will tell you that it all started in the 7th grade while taking a mechanical drafting class. Danny has worked his way up through the industry and is now nationally known. A social media influencer, Russo is part of the first all-digital generation of designers and is well-versed in today's design technology and applications. He understands the balance between incorporating upcoming trends and a timeless perspective throughout all his designs—from space planning and lighting selection to material usage and variety. Read more>>
David Mosley

Snow Money is a Musical artist and founder of Super Loud TV/ Fat- G Entertainment. He is originally from Milwaukee, WI. He started making music professionally in 2018 and creating a media company Super Loud Tv in 2020. focusing on trending and up-to-date news on the hip hop genre. He released his first single self-titled "Snow Money" in 2018. Which gained traffic in Los Angeles, Chicago, Indianapolis, and his hometown of Milwaukee. Read more>>
Karin Beery

I've always been an avid reader, and fiction has been my escape for years. I hadn't read much since graduating college (after years of academic reading, I needed a break), but when my husband was diagnosed with cancer, I needed a way to forget about everything for a few hours each day. I read almost a book a day until I had gone through all of my favorite books by my favorite authors. At that point, I decided to write my own book. Read more>>
Rajul Pillai

I started in the industry with planning my own wedding. I had so much working on all the details from picking out floral to selecting invitations and even taking a trip to India for all the wedding shopping. I have been in the industry for 15 years and have been fortunate to work with so many amazing families. Weddings are a passion and I put my heart and soul into curating events for my clients. Read more>>
John Lawrence
John E. Lawrence, a lifelong resident of Ypsilanti is one of Michigan's most talented and respected guitarists. Mr. Lawrence credits his musical talents first and foremost to God, then to the late Dr. Morris J. Lawrence Jr. (no relation). Dr. Lawrence was an instructor and chair of the Music Department at Washtenaw Community College (WCC). Under the tutelage of Dr. Lawrence, John was challenged and inspired to continuously improve his skills as a guitarist. John Lawrence has published 16 instructional guitar books (three by Mel Bey Publishing), produced four DVDs, and recorded 10 CDs. Mr. Lawrence was employed by WCC in Ann Arbor, MI for 36 years, retiring on May 4, 2015. Read more>>
Zachary Lacey

We are a young family of four. I'm Zack, during covid my wife and I started designing an NFT Character line. By May of 22, we had 15 NFT Holders and an entire Merchandise Collection. Shifting our artistic attention to Fashion designing where we created a website with over 150 products designed by all members of our family. Dianna (Wife) and I both work full time and our two boys go to school. We all enjoy designing products and our family & friends are huge supporters. It isn't enough to live off of but it's a fun hobby for our family. Read more>>
Cherise Buchanan

Have you ever thought to yourself, there has to be more? I should be or I want to be doing more? Personally, I have had these thoughts many times. One day as I was having these thoughts and feelings, I was inspired by the Holy Spirit to do something to help women who may be in the same boat as me. As I prayed and began to write the vision and make it plain and an idea came to me. A way for me to mentor and provide coaching for women. Read more>>
Candace Purifoy

Growing up in Detroit, MI as the daughter of an Elementary School Principal and a Senior Executive at Chrysler, I was no stranger to the importance of leadership and communication. From an early age, my gifts as a communicator began to emerge. My family jokes that I was a "Little Oprah Winfrey", always trying to understand and help. I was the child who advocated for others or sat with a listening ear to all of my friends' challenges and struggles, always offering a word of support or advice. I couldn't see it then, but God was preparing me back then for my future. Read more>>
Kimberly Dedyne

I am Kimberly Dedyne (Rhymes with Divine)! I am a creative and a creator, I have always been ever since I could remember. I love to create things that make people feel and experience positive emotions. Creating is my stress reliever. I just zone out and I will paint, write, create whatever comes to mind. At the top of 2014, I started to work on all of my wedding decorations for my husband and I's wedding that was coming up in 2015. Read more>>
Nicole Lockhart

I started with photography at 8/9 years old. I had a MySpace fan page for Hannah Montana Because I bet my parents for me to have on my space and I really didn't want me to but that is what we agreed on as a Hannah Montana fan page. On my space, there were lots of people editing photos and stuff and I want to learn how to do it so someone told me to get Photoshop and I started learning editing photos through YouTube! That continued into middle school where I edited my friends' photos and then into high school where I joined a business program that my high school had! In that program, I wrote up my first business plan called awake dreaming Photography. Read more>>
Alexis Tyus

I started doing makeup on myself in 2016 during my sophomore year of college. My boyfriend started pushing me to do makeup on other people because he thought I would really enjoy the creativity and fun behind it. I took my first client that year and never looked back! I took breaks on and off from taking clients from 2016-2018 and focused on graduating college instead. I would take clients at my house or travel to them. Read more>>
Cody Contratto

Started in 2018 between Cody Contratto "Mayhem" and Carl Morris "Curly" when they crossed paths from the sale of 44" wide live edge slab. This maple slab sparked the conversation about milling large fallen trees with the almost cartoon-like Stihl MS 880 chainsaw with a 60″ Granberg Alaskan Mill. Both had the same passion for woodworking and an eye for detail and craftsmanship that planted the seed for a friendship and future business venture, bringing Curly Mayhem to life. Together we bring over 40 years of experience to Curly Mayhem. Read more>>
Danielle Evans

I was raised in Dowagiac but now resign in Niles Michigan. Looking back, I grew up singing all throughout my life. When I was younger at around five years old, I would always sing for my family, putting on little performances and constantly singing in the bathroom mirror like the little superstar I was, Music has always been my biggest passion. Rather it was singing, listening to my favorite artists, I loved everything about it. Read more>>
Rachel Barnum

I'm Rachel, the owner and photographer at Rose Memories Photography LLC. As a kid, I loved taking pictures with disposable cameras and getting them developed as soon as I could. I bought my first digital camera when I was 9 with my allowance, and ever since then I've loved taking pictures of people, events, and my loved ones.  After graduating college and working as a reporter and social media manager for several years, I gained a lot of great experience and skills with the camera while learning the business side of things. Read more>>
Thomas Terry

I had an interest in filmmaking since I was a kid. I would always use my parents VHS to make little movies with my army men figures haha. But since then, I have always still had an interest in filmmaking. I wasn't serious about it until 2007 when my parents got a digital recorder. With it I would make my own films (mostly about zombies or apocalyptic times) and edited on windows movie maker at the time. Editing and shooting has always come pretty natural to me. Read more>>
Scott Bettinger

I started my own business in 2002 because I recognized a gap in quality marketing services for the nonprofit sector. These organizations were impacting their communities in profound ways, yet had an issue properly branding and promoting their programs and services for their community and to attract or retain donors. Twenty years later, Echo Media has evolved into a full-service, strategic communications agency of highly skilled and diverse creatives and marketing experts. Read more>>
Tim and Melanie Griffith

Tim and Melanie met in 2003 at Beverly Hills Grill in Beverly Hills, MI. Tim was a line cook, and Mel waited tables. With each other's support, Tim moved up to Sous Chef, and Mel to Dining Room Manager. Melanie's family has a cottage in Empire, MI and they began visiting together and got married there in September of 2005. After working together at the Grill for 8 years, we made the move in 2011 Up north. We lived in Traverse City at first, Tim at Amical and Mel at Trattoria Stella. We settled in Empire in 2017. Read more>>
John Przybylek

I first started in the hospitality industry when I was sixteen, working for a corporate company and at the time, I didn't see it as a career path. I didn't have much guidance in life, except for my older brother that has always been there for me. As an adolescent, I was led down a path of delinquency, I never graduated high school, and when my mom sold our childhood home (where I lived at the time) I was thrown into the real world. I worked various jobs, but mostly in kitchens as it was consistent pay. Read more>>
Autumn Landrum

My story is pretty simple! I went to cosmetology school because I've always had a passion for hair. I remember telling my mom that's what I wanted to do and I remember almost feeling shame (so many of my friends were going off to college) but she was so excited for me like she was going too and I knew then like ok, I can do this. After cos school, I took a year off to work and save some money because I knew I wanted to be an assistant and if I wanted to dedicate my time to the program, I'd need to have something saved. Read more>>
Chris Hollis

I was born and raised in Detroit and always had a love for photography growing up. I was gifted my first dedicated camera when I moved to California for work. I wanted to explore and capture the beautiful landscapes there. From that, I actually began as a landscape and cityscape photographer. After I moved back to the city, I started to get into portrait photography and started VIII/VIII Photography (pronounced eight eight).  Read more>>
Eric Freeman

I grew up relatively poor, I say this with respect because my mother was a single mother from Cuba, and my brother and I had a PlayStation and new clothes every school year. I moved around a lot growing up so I found friends in different locations but never really had the stability that a young boy/man needs (ability to adapt). My father was absent, my brother was born when I was 6 considering my mom was single and very close to the poverty level, I had to grow up fast and help raise him (leadership).  Read more>>
Dan Cylkowski

I started of DJing wedding just out of high school. I did that for ten years. During that time, I helped out at a local radio station 93.1 WDRQ. My name on there was "SupermanDAN". Towards the end of the ten-year mark DJing weddings, I started to get burned out from that, for multiple reasons. I then started learning film and going out as a "second shooter" and learning how to edit. After about three years of editing and going out as the "second shooter" I started my own company (Daniel Nicholas Films) and I have now been doing that for just about ten years! Read more>>
Open Roads Bike Program

Open Roads Bike Program is a youth development program in Kalamazoo, Michigan. We provide job skill training, apprenticeships, bike repair services, and more to youth in the Kalamazoo community. Throughout the year we run a variety of programs designed to provide bikes and bike repair services to students for low or no-cost.  Open Roads Bike Program embraces and values the diversity of Kalamazoo and the world around us. Read more>>
Joanna Sterling

I have been playing music and creating songs for as long as I can remember. When I was little, I would make up songs and sing them all the time; it seemed to be that these songs would just pop into my head and visit and I'd do my best to translate them with my voice. When I was a bit older, I began to learn different instruments: first the violin and then the piano, which became my favorite. I could spend hours lost in a creative haze, just playing they keys and making sounds that were enjoyable to my ears. Read more>>
Kara Comstock

I quite literally stumbled into the world of beauty. There was a salon in Middleville where I would occasionally get my hair done and my hairdresser was very easy to talk to and knowledgeable! After we had a very in-depth conversation regarding toner and the color wheel, she recommended I look into cosmetology school myself. A few weeks later I had not only toured all of the schools in the area, I was enrolled to start that Fall, at Douglas J Aveda Institute! Read more>>
Jill Govan

Born and raised in Motown Detroit, an epicenter for music innovation, singer-songwriter Jill Govan brings a fresh perspective to soul music. Jill's eclectic sound blends sultry vocals, compelling stories, and acoustic-driven grooves reminiscent of great artists like Lauryn Hill, John Legend, and Norah Jones. Growing up in the church, Jill began singing in the youth choir and writing songs at age 11. Read more>>
Teresa Baker

Found in 2015 by Teresa Baker, Brown Boy Brown Girl, LLC is a family-owned multimedia publishing company whose core principles are Love, Social Benefit, Integrity, and Awareness. With a mission of celebrating the diversity of brown children by amplifying young voices of color, the company uses their products as a platform to assert positive representation in educational materials.  Read more>>
Sandy Dorsey

I founded Smiles for Speech in July of 2017, after working as a licensed speech-language pathologist in underserved communities for over 20 years in New York City. I wanted to bridge the gap globally to offer speech therapy services and training for teachers and caregivers living in disadvantaged communities with little or no access to the resources they need. My passion has always been for girls and boys that look like me to have access to the resources they need to live their best lives regardless of socioeconomic status, gender, race, or location.  Read more>>
Krystina Stefani

At a young age, I worked behind the screens of the event industry where I learned all the little details that make an event special. After many years of working for several different businesses, I soon learned that not only did I have a talent for planning but a passion. This passion for planning and design grew stronger with every successful event I was involved with. In 2012, I decided to follow my dream of becoming an entrepreneur and start Krystina Lynn Wedding & Event Design. Read more>>
Idasia Sellers

I've always wanted to be a profession/businesswoman as a little girl. When I thought of profession or professionals, I always thought of them wearing suits. I would dress myself up, glue on my mother's press-on nails and play "business woman" by myself. Lol. I did have other interest as I got a little older which was engineering. So, my mother enrolled me in a program called DAPCEP (Detroit Area Pre College-Engineering Program) for about 8 years for engineering where I traveled and stayed on different college campus in Michigan. Read more>>
Edward Black

Hey Voyage Magazine and all whom enjoy the content gifted so genuinely, I Am Edward Black: An all-encompassing creative entertainer driven by vision, passion, love, freedom and so much more. Please follow my journey as I share how my story began in the world of art, entertainment, and the driving force behind all that has allowed me to be able to thrive in such a chaotic, selective, and ever-changing universe of such creative souls: Art. Read more>>
Jenna Myers

I'm a Michigan girl that started her beer journey at World of Beer in Ann Arbor in 2013. The beer that got me into craft was Oddside Ales Java Chip Mint Porter. I didn't realize beer could taste so delicious! I dabbled here and there at trying new beers but didn't really dive in until 2017. I decided to make a beer-focused Instagram account in July of 2018 and since then I have amassed over 20k followers! It was a ton of hard work but I've loved every minute of it. It's allowed me to try so many beers, visit new breweries/restaurants, beer fests, and meet a lot of amazing people. Read more>>
Angela Anagnost-Repke

I started writing after resigning from my teaching job to help care for my mother with advanced cancer. It started as a hobby, and therapy really, but has slowly blossomed into a career. I love writing about parenting, nature, and slow living in general. Writing is a competitive career both externally and internally. When you see friends publishing books, it's hard not to play the compare game. But I've learned to trust my own timing. I believe that in life, different phases come with different kinds of work and focus. I had a good book idea about being an unscientific parent giving the gift of nature to kids and I got a literary agent right away. Read more>>
Shaunita Griggs

Body Language Collection started off as just a hobby/lifestyle. I've always been obsessed with mixing and pairing scents. I've dealt with eczema and dry skin so making concoctions with oils and creams is something that I naturally fell into. A few years back I began to journey into making my own skin products. For my 30th birthday, I gifted my travel friends with some of my concoctions. From there on, I would always be asked to make things for friends and family when they would sample my personal items, that sparked an idea to see about making in bulk for those interested.  Read more>>
Ellie DuRussel

I've always been a very creative and artistic mind, growing up I loved everything from drawing to working with my Cameo Silhouette. But as I got into middle and high school, there was a lot more emphasis on success in math and science which I also excelled at. I took the most rigorous academic schedule I could in high school to the point where I got super burned out and decided to take a small step back and take a photography course. I began this photography course just as the pandemic hit. Read more>>
Brianna Newlin

Ironically, I used to be a high school math teacher, obsessed with Geometry and investing in the lives of teenagers. However, after having my first child (total of 4 kiddos now) I realized that staying home to love on them was the best thing to do for our family. Yet, it wasn't long after leaving the classroom that the need to create, imagine, and eat cake became a fixation that I had to pursue. I was in awe over buttercream floral artists, abstract cake design, and edible texture! Read more>>
Seth Ortega

I always had a passion for photography! I started a small business on the side and would do senior pictures, weddings, and sometimes just make something creative to photograph using a model fake hair fake nails crazy makeup, etc. I loved getting creative and wanted to expand myself. I thought to myself "what if I got licensed for hair and makeup" not only could I set myself apart from other photographers I could have full credit for what's behind and in front of the photo.  Read more>>
Cydney Camp

I'm a visual artist and creative entrepreneur based in Hamtramck, Michigan. I thrive on consuming and producing culture! From making music, drawings, short films, and photography, I've created things for as long as I can remember. Art was a lifelong hobby until about 5 years ago when I began to study painting in earnest on my own. I earned my BA in political science from Michigan State, and I'm currently pursuing my MFA in Painting at the Cranbrook Academy of Art. Read more>>
Tami Lysher

For more than 35 years, I had a dual career. I have had many roles in the field of Early Childhood Education, from child care owner, child care director, an administrator for a non-profit profit organization that served low-income families. I also taught Early Childhood Education (15 years) classes for University Michigan Flint. During the same time, I taught group fitness classes, spinning, yoga, pilates, and children's yoga class. As well as training teachers motor development to early childhood staff. Read more>>
Woodschool

Woodschool was formed sometime in 2020 by Ethan Robinson (Guitar) and Benjamin Schenkel (Drums) in southern Grand Rapids, MI. The two had been friends for years, and each of them had a lifelong passion for music. Ben met Ethan after a friend referred him to play bass for a cover band. The cover band was an on and off thing for many years with friends joining and leaving. In 2020, Covid-19 struck, and the two ended up being stuck together for an extremely long time. Read more>>
Jill Zelenski

It was in college (at Michigan State University) when I realized how much painting meant to me. That was 11 years ago. And while I may have discovered my skill and love for it then, it wasn't until the past few years that I began appreciating it as an outlet—a way to further explore myself and the way I relate to the world. Like life, there are seasons of struggle and seasons of triumph. It all comes down to time, energy, and my favorite: imposter syndrome. Sometimes I don't have the time to get in the studio because of ya know, life. Read more>>
Kari Cummings

My aunt was my very first creative influence. She did it all… She introduced me to designing as a kid. We stayed up late and practiced sewing, cooking, and talked about literally everything. I always cared about creative things. I was that weird kid, who was wearing different clothes, writing stories, and inventing things – the one who wanted to travel to other planets. That was always my thing and I always had the feeling that I wanted to do something with creation, ideas, imagination because I just loved it. Read more>>
Ashley Guynes

Oh gosh lol where do I start?! I went Away for college (thee Howard University) graduated and never came back home. Worked in DC then moved to Tennessee for work. Tennessee is where I along with my sister started a personal chef and catering business (A2020reservation). We did brunches from Nashville to Atlanta to Philly! We were doing really well, but I always said if they bring back the Michigan central station i would then come back home. Well one day i saw the article – it was happening!! At the same time i had A vision for a business – custom create your own pizza business with the best toppings like no other pizza establishment.  Read more>>